true
As the crowds left theaters Wednesday after seeing The Passion of the Christ on the movie's opening night, I noticed three things: ashes on their foreheads, eyelids swollen from crying, and a stunned silence.
"I can't say I enjoyed myself," says Mario Perez, 38, of Plainfield, Illinois, emerging from a sold-out showing in a Chicago suburb.
All 13 people I interviewed at two different theaters felt pretty much the same way. But that's not to say they didn't like the movie. For most, just the opposite was true.
Anita Needham, 38, a Catholic whose forehead was still marked by ashes from an earlier Ash Wednesday service, put it this way: "To see that Jesus died for our sins, it made me feel so good inside. But it hurt my heart. I could leave here happy, but I'm sad at the same time."
Perez, who was baptized last July and joined the church last October, struggled to put his overwhelming emotions into words: "I feel grateful and humbled."
Justin Bardolph, 17, a Reformed Christian from Villa Park, was struck by the power of seeing the Passion as opposed to just reading about it. "I've grown up hearing the story of Jesus, but it's a lot more powerful when you can see it on the screen," he said. "There's only so much you can imagine in your head. When they put the crown of thorns on Jesus' head, and they were hammering it on, you could hear a big, 'Oh!' in the theater."
"It was riveting, amazing, shocking," said Woodstock's Evelyn Blackledge, 49, who described herself as a Pentecostal Christian. She believes every Christian should see the film because it puts earthly pursuits in perspective. "A lot of times we just give to ourselves, pour into ourselves, without being able to sacrifice," she said. "It makes the things that you give up so minute."
Not a popcorn movie
Holding a bucket half-filled with the butter-topped staple diet of moviegoers, Blackledge said that "once the movie started, I don't remember eating any popcorn."
Larry Hau's family didn't even bother with the munchies: "I couldn't see eating popcorn and watching the crucifixion," said Hau, a 42-year-old evangelical from Lombard. Bill Ford, an evangelical Lutheran from Brookfield, sat next to a youth group whose members bought popcorn and pop: "Soon after Christ's suffering started, they stopped eating."
Like many, Blackledge and her 17-year-old daughter had been crying. "I cried through the whole thing," says Madelyn Blackledge. Some were still shedding tears during my interviews. Evangelical Kathy Hau, 46, of Lombard, broke into tears while describing "how they were nailing him to the cross and how he asked God to forgive them. I don't know if I could have done that."
But not all viewers were moved in the same way. Some found the intense violence unnecessary or even gratuitous. An elderly couple was visibly upset, saying only that the film was "brutal" and "it should have never been done." Gloria Martino, a Catholic from Romeoville, said the movie was true to what her Catholic church has taught her, but thought "the beating on the way was just too extreme. I don't know how he could have lived that long when they kept flogging him so much."
Downers Grove's Joseph Morrone, 43, who described himself as a Catholic who doesn't believe in organized religion, also thought it was too violent. Morrone, whose wife "dragged" him to the cinema, says Passion director Mel Gibson tells an "engrossing story" but that the brutality made him divert his eyes away from the screen "90 percent of the time."
Justified violence
But others found the violence justified and necessary. "The crucifixion is a violent act," said Larry Hau. "I don't see how you can show it without being violent. I don't think this is a movie for young kids, but this is a movie that adults need to see."
Still, many parents brought their children, in spite of the R rating and a warning about its brutality posted at the entrance by theater management. "They've got movies nowadays that are worse than that and scarier than that," said Needham, who brought her tween daughter. "This is good for the kids to see because this is real life; you're talking about the Lord."
Morrone, the organized religion foe, complained that the movie "exploited God for commercial purposes." Gibson put $30 million of his own money into this movie, Morrone said, but "if he was truly a spiritual person, he'd say, 'I'll just make my $30 million back or maybe I'll show it for free.' He's supposed to be making close to $200 to $300 million off this because he has 90 percent of rights to the movie."
None of the 13 people I talked to thought the movie inspires anti-Semitism, as some, including Abraham Foxman of the Anti-Defamation League, had feared. "It's got nothing to do with race or nationality," said Morrone. Added Kathy Hau, "I honestly felt that I was the one [nailing Christ to the cross]. It was all of us doing it."
In fact, many hoped Gibson's Christ would introduce unbelievers to the real Christ. "This is what people who have no faith need to see," Needham said.
Larry Hau says he has a co-worker who is "on the fence about Christianity. He's now asking me questions, and said he would see the movie. So I wanted to make sure to see it first so we can talk about it."
As I left the York Cinema in Elmhurst, a fresh-faced young girl got out of a parked car, walked up to me, looked at me pleadingly with sincere blue eyes, and handed me an evangelistic tract, saying warmly, "Jesus loves you sooo very much."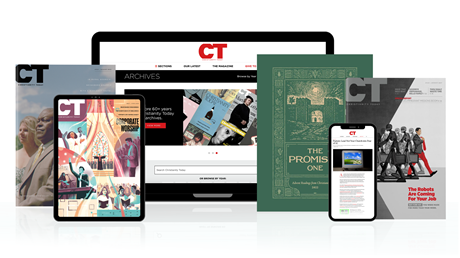 Annual & Monthly subscriptions available.
Print & Digital Issues of CT magazine
Complete access to every article on ChristianityToday.com
Unlimited access to 65+ years of CT's online archives
Member-only special issues
Subscribe
Passions and Tears Abound
Passions and Tears Abound