Sub-commander Mateo of the Revolutionary Armed Forces of Colombia knew that a good guerrilla obeys orders, so when his cadre arrived at the evangelical church, he did as told: he set fire to the building.
The 1999 attack took place about 7:30 p.m., in the dark, in Toches, a village so small it doesn't appear on most maps of the tiny Colombian state of Quindío. About 50 worshipers were meeting inside for a midweek service.
Mateo fired warning shots in the air to give the Christians a chance to flee to safety. His superior scolded him. The guerrillas then poured gasoline around the church and ignited it. When the church erupted in flames, the 50 worshipers rushed outside.
The pastor confronted the attackers. Guerrillas shot him and two church members, killing all three.
Two years ago, Mateo's crimes landed him in prison. Mateo is not his real name. Revealing his true identity and location would endanger his life. Prison is the best thing that ever happened to the former guerrilla fighter.
In early 2003, Mateo, now 24, accepted Christ through prisoners who themselves had become Christians while incarcerated in Medellín's Bellavista Prison. Bellavista has become a pulpit for all of Colombia, as prisoners who meet God there are transferred to other penitentiaries to plant churches behind bars.
Like thousands of other guerrilla fighters in war-torn Colombia, Mateo was born into a poor peasant family that eked out its living working coffee and plantain plantations. The rebel recruiter that called on teen-aged Mateo seven years ago was his older brother, who had spent 22 years in the guerrilla ranks.
Mateo eagerly received the message that taking over Colombia's government and imposing communism would solve all the woes that he, his family and other impoverished Colombians suffered. He believed rebel leaders who told him they were fighting for true democracy in Colombia. They intended to confiscate the riches of the wealthy and redistribute them to those in need. No one would ever again suffer lack.
Perhaps the biggest incentive to join the rebel army was the promise of 100,000 pesos ($100) a week -- more money than Mateo had ever dreamed of earning. He became a guerrilla.
Mateo enjoyed his first year as a fighter. Revolutionary educators taught him to read and write. He lived in the "demilitarized zone," territory that former President Andrés Pastrana conceded to the rebels in 1998 as an incentive to join peace talks. After peace talks broke down in February 2002, Pastrana sent commandos to retake the zone.
Rebel leaders called on Mateo to rob, kill and kidnap. Once he killed a 14-year-old boy to steal his plantains. He killed people accused of being allied with enemy paramilitaries. Other victims -- including children as young as five -- he killed for no reason at all. Once he massacred a family. "After that, I couldn't sleep," he said.
Then came the church attack. An informant had said the church was full of paramilitaries and that congregational members were storing weapons.
"It was a lie," Mateo said. "They did it for pure pleasure, no other reason."
Mateo's reward for carrying out the attack was $200. He said that at the time, he was proud of what he had done.
Then his crimes caught up with him. He was captured in 2002, charged with rebellion, kidnapping, extortion and cocaine growing. His sentence was 19 years and 10 months. A few months after being imprisoned, he began seeking God through a small Christian community. In February 2003 he accepted Christ.
"I was very bad when I belonged to this group," Mateo said. "I couldn't stay that way. I had to seek God to keep going." His Christian life has not been easy. Guerrilla leaders imprisoned him still hold power. A comandante burned his Bible, which guerrilla leaders don't want him reading. The rebel leaders maintain that those in the guerrilla ranks can't be involved in religion, Mateo said, and once a person joins the insurgency, there's no turning back. Still, he takes risks to sneak away to fellowship with other Christians in the prison; a friend holds in safekeeping the Bible that fellow believers gave him to replace the one the comandante destroyed.
Mateo carries a heavy burden for his past deeds. "I feel deceived and bad," he said. "I lost my family and my wife. They could visit me here, but they're afraid to."
He struggles to survive in prison with no money; his family is too poor to send him any. He cried as he shared with a fellow ex-guerrilla his grappling with guilt and doubts fostered during his tenure in the ranks. He fights constant temptation to forget his woes through alcohol and has fallen to its allure. Mateo asked for prayer to surmount the dangers, difficulties and temptations he must face for the next 17 years he serves in prison.
But the ex-guerrilla raises his hands in praise as he worships with his fellow inmates. He eagerly participates in a Bible study on the Gospel of Matthew.
"That isn't a life for anybody," he said of his years as a guerrilla. "I wouldn't go back and I wouldn't wish it on my worst enemy.
"That didn't motivate me," he said. "I was looking for peace and found it in Christ."
Copyright © 2003 Compass Direct
Related Elsewhere:
Also posted today is a story on the Bellavista Prison.
The Prison Fellowship International web site has more information.
More CT articles from Colombia include:
Kidnappers Release Two Christian Relief Volunteers in Colombia | Ransom demand paid for evangelical lawyer and businessman. (Jan. 05, 2004)
Colombian Rebels Kill Evangelical Pastors | Two church leaders ambushed in August. (Sept. 03, 2002)
Rebels Force Churches to Close in Colombia | Christians accused of political involvement in May 26 elections (May 16, 2002)
Missionaries Defy Terrorist Threat in Colombia | U.S. Embassy says North Americans are guerrilla targets. (April 30, 2002)
Missionaries May Be Target Of FARC Guerrillas | U.S. embassy in Colombia issues warning to missionaries and churches. (March 08, 2002)
New Tribes Missionaries Kidnapped in 1993 Declared Dead | Mission concludes Colombian guerrillas shot the three men in 1996. (Sept. 27, 2001)
Risking Life for Peace | Caught between rebels, paramilitaries, and crop-dusters, peacemaking Christians put their lives on the line in violent Colombia. (Sept. 07, 2001)
Hostage Pastor Released Unharmed In Colombia | Wife pledges to stay in Colombia because the kidnappers cannot stop the Lord's work. (Aug. 20, 2001)
CT articles on prison ministry include:
The Legacy of Prisoner 23226 | Twenty-six years after leaving prison, Charles Colson has become one of America's most significant social reformers. (July 29, 2001)
Prison Ministry in Mozambique | Missionary says women suffer grave injustices. (Aug. 4, 2000)
Setting Captives Free | It takes more than getting a woman inmate out of jail to turn her life around (Jan. 10, 2000)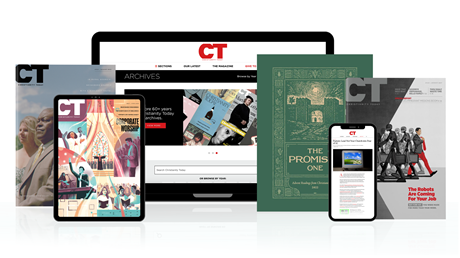 Subscribe to Christianity Today and get access to this article plus 65+ years of archives.
Home delivery of CT magazine
Complete access to articles on ChristianityToday.com
Over 120 years of magazine archives plus full access to all of CT's online archives
Subscribe Now
'I Was Looking for Peace and Found it in Christ'
'I Was Looking for Peace and Found it in Christ'