Rice is a staple served with most Colombian meals, but over a steak lunch at a sidewalk café, Juan Carlos Villegas didn't eat a bite of the fluffy white mound on his plate while he told his story.
Villegas, 28, was leaving a Sunday afternoon church retreat in his pickup truck on April 28, 2002. As assistant pastor at Family Christian Church in the hardscrabble Medellín suburb of Bello, he had just helped baptize 50 people in a stream running through a parishioner's ranch in Barbosa, a village 24 miles from Bello.
A few yards down the road from the ranch, guerrillas of the National Liberation Army (ELN) took Villegas hostage and demanded his church pay $25,000 for his safe return. He joined the ranks of perhaps dozens of Christian clergy that rebel groups have held for ransom or for political reasons in Colombia's four-decade-long civil war.
During his 12-day captivity, Villegas marched over mountains eight hours a day with the guerrillas, often soaked by driving rain, wearing the same clothes he wore at the baptism. He endured biting cold. He never knew where they were going or when his ordeal would end.
And he ate the only thing available to the guerrillas: "Rice, rice, rice," Villegas said.
Colombia is kidnap capital of the world, with more than 3,000 abductions in 2001. More than 600 were snatched in the department (state) of Antioquia and its capital, Medellín. Kidnappings fund insurgents' fight against the government and help them achieve political gain. A few hostages have been released through negotiations without ransom payment. Many more are released after paying ransom. Others are killed or die in captivity.
More than a year after Villegas was released, he is still rebuilding his life. The ordeal has left scars.
For the 12 days that the ELN held him, the rebels constantly told Villegas that if they ran into army soldiers or paramilitaries, the first one killed would be him. The rebels' machine guns were often trained on him, emphasizing their willingness to make good on the promise. After church members picked him up from the side of a road where the guerrillas arranged to leave him, he sobbed during the entire four-hour journey back to Bello.
Most unnerving to Villegas was learning from Colombia's special kidnapping investigation force, the Gaula, that his kidnapping had not been random. Guerrillas infiltrated the church and knew he would be at the baptism. They were waiting. Had they not abducted him at the ranch, they would have gotten him elsewhere.
Why?
"The general concept of a Christian pastor is of somebody who is an opportunist," Villegas said. Some people perceive that ministers live well—at other peoples' expense. Because a few pastors do accumulate wealth and maintain a showy appearance, a stigma carries to all of them, he said. "Here it's not an honor to be a pastor."
At his captors' request, Villegas read to them for hours from the Psalms and other books of the Bible. He read them the entire Gospel of Mark. He led four of his captors in prayer to receive Christ. He believes two of those guerrillas made sincere professions of faith.
Many expressed desires to leave the guerrilla ranks, which they joined because it offered poor young men and women a salary, a cause, and a hope for the future.
At least 3,000 fighters from Colombia's illegal armed groups have taken part in the government's "reinsertion" program to return them to civilian society. Villegas wonders about the spiritual seeds he planted among his captors, and what happened to the ones he led to the Lord.
During negotiations, the guerrillas lowered their ransom demand by half, after checking on the church's bank balance. Family Christian's head pastor, Andrés Puerta, told a rebel who phoned the demands, "You can't kill him or touch him because he's a servant of God." The ELN had earlier agreed to not kidnap pastors. The rebel commander finally freed Villegas in exchange for a Bible, Villegas said.
He marked the first anniversary of his kidnapping quietly with a special meal at his parents' house. The anniversary of his release fell on a Sunday and he preached on the kidnapping, saying that God's purpose was fulfilled.
Villegas knows that what happened to him could happen to any pastor in Colombia. He estimates that because about 10 percent of Colombians are evangelical, then about 300 of the 3,000-plus hostages in Colombia are evangelicals, as well. He seeks to raise awareness of safety measures all should take.
In Family Christian Church, for example, all deacons take security classes and are vigilant of those who congregate in the 1,000-seat auditorium. The church does not publicize its plans for events as extensively as before.
And the church has not held a baptism since the day of Villegas' kidnapping.
In the months following his release, Villegas lived in fear that people were pursuing him. Those fears have faded. He values life more and draws on his experience to counsel families of hostages. Israel's ambassador to Colombia called him for advice on the ELN kidnapping of four Israeli tourists in September.
Villegas says with conviction that he could not endure another kidnapping. Soon after he was taken, he contracted leishmaniasis—mountain leprosy—a flesh-eating disease that is fatal without antibiotics. To Villegas, more deadly was the overall despair and grinding misery of finding himself captive.
"If this happens to me again, free me right then or kill me right then, because I can't suffer this again," he said.
Villegas is seeking to use his platform as a former hostage to bring peace to his war-torn homeland through the gospel. He sees that God had His purpose in all that happened to him. "If we didn't have the Lord, what would we do?"
Copyright © 2003 Compass Direct.
Related Elsewhere:
Also posted today
Forgotten Casualties of an Uncivil War | Three million Colombians are displaced, with few prospects
Why the FARC Hates Evangelicals | The terrorist group has many misconceptions about Colombian Christians.
Yesterday, CT posted two dispatches from Colombia:
New Life in a Culture of Death | Hope for Colombia dwells inside its most lethal killing field—Bellavista prison (Feb. 2, 2004)
'I Was Looking for Peace and Found it in Christ' | A converted felon in Colombia reflects on life in the guerrilla ranks. (Feb. 2, 2004)
More CT articles from Colombia include:
Kidnappers Release Two Christian Relief Volunteers in Colombia | Ransom demand paid for evangelical lawyer and businessman. (Jan. 05, 2004)
Colombian Rebels Kill Evangelical Pastors | Two church leaders ambushed in August. (Sept. 03, 2002)
Rebels Force Churches to Close in Colombia | Christians accused of political involvement in May 26 elections (May 16, 2002)
Missionaries Defy Terrorist Threat in Colombia | U.S. Embassy says North Americans are guerrilla targets. (April 30, 2002)
Missionaries May Be Target Of FARC Guerrillas | U.S. embassy in Colombia issues warning to missionaries and churches. (March 08, 2002)
New Tribes Missionaries Kidnapped in 1993 Declared Dead | Mission concludes Colombian guerrillas shot the three men in 1996. (Sept. 27, 2001)
Risking Life for Peace | Caught between rebels, paramilitaries, and crop-dusters, peacemaking Christians put their lives on the line in violent Colombia. (Sept. 07, 2001)
Hostage Pastor Released Unharmed In Colombia | Wife pledges to stay in Colombia because the kidnappers cannot stop the Lord's work. (Aug. 20, 2001)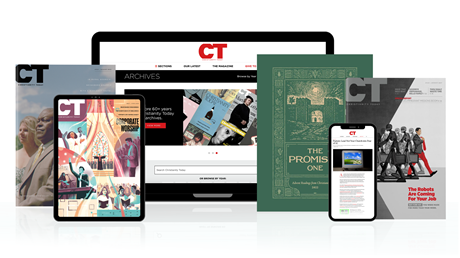 Annual & Monthly subscriptions available.
Print & Digital Issues of CT magazine
Complete access to every article on ChristianityToday.com
Unlimited access to 65+ years of CT's online archives
Member-only special issues
Subscribe
Lessons from a Hostage Pastor in Colombia
Lessons from a Hostage Pastor in Colombia