true
Note: This is a limited-release film, so it may not be playing near you.
A modern-day twist on the old Rip Van Winkle tale, Good Bye, Lenin! is a humorous yet poignant story about how difficult it can be to embrace change, yet still hold on to our dreams and the people we love.
The year is 1989, and East Berlin is celebrating 40 years of socialist rule by the German Democratic Republic. However, these are tumultuous times, and East Germany is on the brink of dramatic political and cultural change.
While on her way to an honorary state ceremony, loyal communist Christiane (Katrin Sass) sees her son, Alex (Daniel Bruhl), beaten by police as he protests the regime. The shock causes her to suffer a heart attack, collapse in the street and fall into a coma.
Christiane finally awakens eight months later, but East Berlin is a very different place. The Berlin Wall has fallen and Western influences dominate the city. However, Christiane's physical condition is still tenuous and doctors warn that any kind of excitement could kill her. Convinced that the new state will be too much for her socialist heart to handle, Alex decides to re-create the old East German world in his mother's bedroom.
Enlisting the help of his sister (Maria Simon) and his co-worker (Florian Lukas), Alex goes to humorously absurd lengths to keep up the charade. Using everything from phony television newscasts and staged birthday parties to recycled pickle jars, he spins current events to reflect his mother's communist worldview. (Who knew that Coca-Cola was really a socialist invention?)
But as Westernization continues to advance, Alex's ruse becomes more difficult to maintain. One day, Christiane wanders outside her apartment and is confused by the commercialism that has overtaken her city. Alex desperately concocts an explanation that it is the West that has actually fallen, and the East has now opened its arms to thousands of fleeing West Berliners.
As he weaves his meticulous web, Alex acknowledges as narrator that truth has become "a rather dubious concept." And along the way, he learns that his mother has kept her own secrets over the years, too—for the same reasons Alex is keeping the truth from Christiane. These revelations force Alex and his sister to reconcile the dreams of what might have been, against the reality of how things have turned out. At one point Alex even reveals, "The world I was creating for my mother was the world I wish had existed."
Alex's love for his mother is tangible. Having already lost his father, his relationship with Christiane is clearly more important to him than telling the truth. However, his zeal eventually puts a strain on his relationship with his sister and with his girlfriend Lara (Chulpan Khamatova), who feel that Christiane deserves to know the truth. Alex finds it increasingly difficult to live in two worlds—the past he has painstakingly re-created for his mother, and the present with all its changes, including his own coming of age in a tumultuous era.
Sass turns in an enjoyable performance as Christiane. While she seems to accept Alex's explanations for the increasing signs of reunification, by the end of the movie we wonder how much she actually knew of Alex's scheme. We also question how much she really bought into socialism, which served as a salve (or revenge?) for the pain of her husband's abandonment. And while Alex's sister was quick to embrace Westernization, there are signs that she is not completely comfortable with where the changes have taken her, either.
Looking at the film through Western eyes and with 20/20 hindsight, it might be easy to question why Alex goes to such lengths to preserve his mother's beliefs in such an obviously flawed political system. But while life behind the Wall was confining, it was also familiar—and while Alex generally welcomes the changes, they are happening so fast that it will take awhile to become completely comfortable with them.
The movie is well-directed and co-written by Wolfgang Becker, who inserts a keen sense of irony into the film. The East German motto, "We solve problems by marching ahead," obviously does not apply to Alex in his attempt to re-create the past for his mother. When Christiane ventures outside, we see an incredible, surreal shot of an enormous bust of Lenin being hoisted away by a helicopter. Becker also inserts home-movie footage from the late 1980s to add historic credibility to his tale.
While a bit implausible at times, Good Bye, Lenin! succeeds on several accounts: as a comedy, as an inside glimpse at a tumultuous time in European history, and as a thoughtful look at the great lengths to which people will go for important relationships.
Talk About It
Discussion starters
Was Alex right to keep the truth from his mother? Are there times when it is acceptable to tell a lie if you're trying to help someone?


Give some examples in the Bible of people who tried to hide the truth. What happened to them? Does God have an absolute standard when it comes to this area?


During one of the phony newscasts, the cosmonaut says, "Socialism isn't about walling ourselves in, it's about opening ourselves up to the world around us." Could the same statement be applied to Christianity? Why or why not?
The Family Corner
For parents to consider
This movie was filmed in German, with English subtitles. There are several instances of vulgar language, which are dutifully translated into the subtitles. There is also one brief shot of male frontal nudity, and an image of a topless woman.
What Other Critics Are Saying
compiled by Jeffrey Overstreet
from Film Forum, 04/15/04
Director Wolfgang Becker's new comedy Good Bye, Lenin! explores a cultural shift in Germany that proves more difficult for some than others. When Alex's mother fell into a coma in October of 1989, she was a proud socialist living in East Germany. When she wakes up, she finds that the Berlin Wall has come down, and now she's living in a capitalist country! To help his mother out, Alex scrambles to make her home something more comfortable for her—a sort of socialist museum—so that she can live under the illusion that the world has not changed at all.
Angie Ward (Christianity Today Movies) calls it "a humorous yet poignant story about how difficult it can be to embrace change, yet still hold on to our dreams and the people we love. [It] succeeds on several accounts: as a comedy, as an inside glimpse at a tumultuous time in European history, and as a thoughtful look at the great lengths to which people will go for important relationships."
If other religious press reviews of this film become available, Film Forum will feature them in the upcoming weeks.
from Film Forum, 05/13/04
If so, check out Goodbye, Lenin! The film, reviewed at CT Movies a couple of weeks ago, gets more attention this week from Evan D. Baltz (Christian Spotlight). Baltz says the film "reaches out beyond the boundaries of language, culture, and politics to grab the heart and stir the soul. It is an immensely profound, yet simple, beautiful, and funny adventure, crafted with care and originality. This movie may have you rethinking some of your own priorities in life."
Copyright © 2004 Christianity Today. Click for reprint information.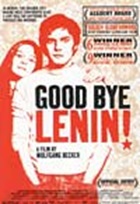 Browse All Movie Reviews By: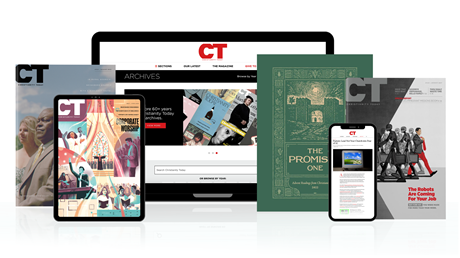 Annual & Monthly subscriptions available.
Print & Digital Issues of CT magazine
Complete access to every article on ChristianityToday.com
Unlimited access to 65+ years of CT's online archives
Member-only special issues
Subscribe
Good Bye, Lenin!
Good Bye, Lenin!