true
Parents and kids will find a lot to like in this charming film adaptation of Jim Davis's cross-generational comic strip. The cinema version of Garfield remains true to his lazy, fat-cat persona, lounging around the house, eating lasagna and generally slacking off. The physical comedy of the lethargic feline is faithfully transferred to the screen, with the overweight Garfield squeezing through openings and taking long breaks when he has to walk more than fifty feet. Jon's house is Garfield's domain. The cul de sac is the ragged edge of his universe
Garfield: The Movie is something of a prequel in that we meet Odie for the first time. Garfield's owner, Jon (Breckin Meyer), has a huge crush on the veterinarian, Liz Wilson (Jennifer Love Hewett). When she asks him to adopt the slow-on-the-draw pup, he gladly agrees, much to Garfield's dismay. Garfield is aghast when, on the way home from the vet, he finds a dog in his car seat. This must be a mistake! When they arrive home, Garfield uses poor Odie as a straight man for endless put-downs and jokes. While Garfield reclines on the chair, musing about this new pretender to the throne, we see the intellectually challenged Odie chasing his tail.
Writers Jim Davis, Joel Cohen and Alec Sokolow have captured the essence of the Garfield comic strip and distilled it into a movie. While some adaptations of comic characters end up scaring the children or offending the parents, Davis, Cohen and Sokolow have chosen to retain the charm and gentle wit of the strip. There is nothing in Garfield: The Movie to cause parents to shudder. Like the best comics, Garfield reaches across generations, and the film version does too. Those old enough to remember Rocky and Bullwinkle will recall laughing at ...
1
Browse All Movie Reviews By: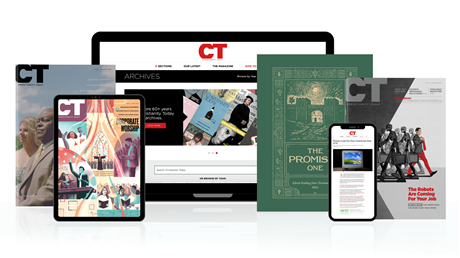 Find hope and historical insight. For a limited time, explore 60+ years of CT archives for free!
Daily devotions from Timothy Dalrymple during this pandemic.
Hundreds of theology and spiritual formation classics from Philip Yancey, Elisabeth Elliot, John Stott, and more.
Thought journalism that inspires you to think more deeply about your faith.
Garfield: The Movie
Garfield: The Movie