Democrats for Life opened its Washington office two and a half years ago with five state chapters and 300 members. Today, they have 32 state chapters and between 2,000 and 3,000 dues-paying members. The group has been active this week during the Democratic National Convention, holding events for pro-life Democrats. They have also been wearing buttons saying "43 percent can't be wrong," which refers to a Zogby poll that determined that 43 percent of Democrats agree that "abortion destroys a human life and is manslaughter." Christianity Today talked with executive director Kristen Day on Wednesday, while she was in Boston.
Do you think you're gaining ground, trying to gain recognition of a pro-life position within the Democratic Party?
It's amazing. When I opened the Washington office two years ago, the DNC would not return my calls and I was pretty persistent. I think I called every other week for maybe six or seven months. But now they return my calls. The conversation has started. We met with [DNC Chairman] Terry McAuliffe on Super Tuesday, one of the busiest days of his year. The dialogue is starting.
We received correspondence from Senator [John] Kerry saying why he supports Roe v. Wade and believes that life begins at conception. I don't know how those two mix, but he did say he wanted us to continue to bring this issue up and that there is a need for discussion on this issue. I think we're going to see more of it. Two years ago Democrats weren't even allowed to talk about this issue. I think we've made an important step here. It's going to be talked about now.
What do you think of Kerry's position that life begins at conception?
We were very pleased to see that he came forward and said that. But now he needs to follow through. Maybe this is a new thing for him. We would really like to meet with him after the convention, maybe in the next couple months to help him develop his new position and be consistent. If he believes that life begins at conception, then he should start to vote that way and really protect life.
Do you feel that the Catholic bishops' attention on Kerry's abortion stance helps or hurts the pro-life segment of the Democratic Party?
In a way, I think the pressure did bring Kerry to come out and say that he does believe that life begins at conception. I think that's one of the problems with being pro-life and Democrat. People are so afraid to come out and say that they're pro-life because of the backlash they might get from the party. That's what we are trying to stop. People who are pro-life and Democrat should be proud to stand up and say they are pro-life and Democrat. They shouldn't feel that they need to hide behind anything and be afraid of the abortion lobby, which is so powerful. I think that's what it comes down to is fear of the abortion lobby and their vast sources of money. Our efforts are to really give support to pro-life Democrats and hopefully support the people like Kerry and Jennifer Granholm, the governor of Michigan, who also says she believes that life begins at conception but doesn't vote that way. We want to give these politicians support and tell them they should vote their conscience, and they should protect life.
On that front we are going to start a PAC [Political Action Committee] next year. We've been working with one of Gov. Casey's sons, Pat Casey [of Pennsylvania], and we're going to kick it off next year.
In 1992, Gov. Bob Casey wasn't allowed to speak at the Democratic Convention because of his pro-life position. And there has continued to be debate over pro-life speakers. Have there been any?
[Tuesday] night, when Ron Reagan spoke, the person who introduced him was Representative Jim Langevin from Rhode Island. He is a pro-life Democrat. He's with us on all the issues except for the stem cell-issue. If you noticed his comments last night, he did say something—I'm paraphrasing—he did say, "I support protecting life on all levels." I was watching, and I thought there was a little pause for people to clap. Then people clapped because they were trying to figure out what he meant. But pro-life individuals know what he meant. He supports protecting life on all levels. However, he does support the one area where we disagree with him—human embryo stem cells.
What is your position on that?
We are opposed to using human embryos, because adult stem-cell research is making great strides, and we think we need to focus on that. What Ron Reagan was talking about last night was cloning. I don't believe that Rep. Langevin supports cloning. When Rep. Langevin was speaking, he didn't talk about human embryos, he was talking about stem cells. I think the adult stem cell research is where we should be focusing.
Is there a similar silence regarding stem cells as there is about abortion?
There does need to be more discussion on that too. I think people are really confused about what is involved here. When you hear—especially if you have somebody with Alzheimer's or you have somebody with Parkinson's—you can use these human embryos that are going to be discarded anyway to cure your father your mother, I think a lot of people could be persuaded that way. But when you talk to them about what this is, it's going down a slippery slope. If you start to do this, people are going to do what Ron Reagan was talking about last night, which is cloning. That's not the right direction.
What we really need to talk about is adult stem cells and the cord blood from umbilical cords. We need to focus on that kind of resource. Just think how many babies are born everyday, and the umbilical cord blood is discarded when it could be used for such good purposes. I just had a baby three months ago, and I was trying desperately for some place to donate, and there are not many options out there. I'm not a scientist, but I think it is an issue that we need to look into more, and have the people who know what they're doing come out and talk about it.
You were trying to get a link to your site from Democratic National Committee site. Have you had any success?
That was what we were trying to do when we first opened our office. We thought it was important that people started to hear about it, and we thought the best way was to have a link on the DNC website, because they had 187 links on their website, including to some organizations that we felt were more Republican than Democrat. So we tried for probably two years, and it ended when we had the meeting with Terry McAuliffe, in which we explained why it was important. Congressman Jim Oberstar from Minnesota explained why it was important to have a link to our website.
It's kind of curious though, two weeks later all links were removed from the website. They said that their thinking was the platform language was very pro-abortion so they couldn't use DNC resources to add a link to our website, but they said they would look into it and try to figure out some way. And then all links were removed, which is fine. It's kind of a draw.
Related Elsewhere:
More Christianity Today articles on this year's presidential campaigns are available from our Election 2004 hot topic.
Weblog has been looking at religion (second item) and Worshiping an 'Awesome God' at the Democratic National Convention.
More Christianity Today articles on abortion and other life ethics issues includes:
New Life for Prolife | Abortion is no longer the ghastly growth industry it was in the 1970s and 1980s. (Feb. 24, 2003)
Article continues below
CT Classic: Abortion and the Court | The Roe v. Wade decision runs counter to the moral sense of the American people. A 1973 Christianity Today Editorial
When Does Personhood Begin? | And what difference does it make? (June 18, 2004)
Another Small Step for Life | Recent federal bill recognizes the humanity of the fetus for the first time. (May 11, 2004)
Plan B (for Bad) | Christians fight to keep 'morning-after pill' under the counter. (March 10, 2004)
A Laughing Child in Exchange for Sin | What exactly does courage look like in an age of abortion? (Feb. 13, 2004)
A Heaven-made Activist | Joni Eareckson Tada is driven forward by hymns of praise and her sovereign God. (Jan. 09, 2004)
Complicit Guilt, Explicit Healing | Men involved in abortion are starting to find help. (Oct. 27, 2003)
Will the Partial-birth Abortion Ban Save Lives? | Most prolife groups say the ban in itself is not what is important. (Oct. 23, 2003)
Prolife Groups Ready to Defend Partial-Birth Abortion Ban | Court challenge to new law expected. (July 14, 2003)
The Pastor Without a Paycheck | Randy Alcorn learned to live what he had preached while fleeing the wrath of abortionists and the judgment of the courts. (April 22, 2003)
Prolife Advocates Herald Partial-Birth Abortion Ban | President Bush promises to sign May 13 Senate bill. (April 23, 2003)
The New Partial-Birth Abortion Bill and Old Myths | Unconstitutional? Rare? Dangerous? Don't believe the disinformation campaign. (Feb. 24, 2003)
Saved by Sonogram | Ultrasounds help crisis pregnancy centers reduce abortion. (Feb. 24, 2003)
The Abortion Wars | What most Christians don't know about the history of prolife struggles. (Jan. 22, 2003)
Prolife as Mafia? | Supreme Court to decide if racketeering laws apply to anti-abortion activities. (Jan. 15, 2003)
FDA Candidate Irks Abortion Pill Advocates | The Christian Medical Association says critics fear David Hager's "well-grounded" opposition. (Nov. 26, 2002)
Embracing the Unwanted | Chinese American Christians are starting to become more openly prolife. (May 9, 2002)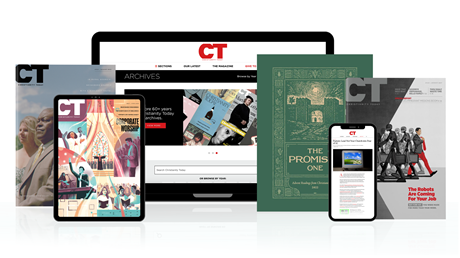 Subscribe to Christianity Today and get access to this article plus 65+ years of archives.
Home delivery of CT magazine
Complete access to articles on ChristianityToday.com
Over 120 years of magazine archives plus full access to all of CT's online archives
Subscribe Now
Putting (Pro)Life into the Party
Putting (Pro)Life into the Party