true
Jim Davis' Garfield comic strip has entertained people in daily newspapers for decades. But there's a big difference between a three-panel comic strip and a full-length feature film. Critics are saying that this feline probably should have stayed on the funny pages.
Family media watchdogs agree that this lazy self-absorbed cartoon character feline and his slobbering sidekick Odie are funny enough on the big screen to be entertaining for kids and parents alike. But is there anything truly excellent and worthy of praise here? Those who give Garfield a passing grade seem merely relieved to find a movie that doesn't offend them; they don't have much to say about what it does do.
Michael Elliott (Movie Parables) says, "The trailer leaves us with the strong and unmistakable impression that the film is going to be a boring, unfaithful, and unfunny bastardization of the popular comic strip. That's exactly what we get." He says the mix of live-action and animated characters "does not work. We are never drawn into this hybrid world, and are instead reminded as to how false and forced it is."
David DiCerto (Catholic News Service) says, "Despite some funny moments … [director Peter] Hewitt coughs up a hairball." He describes the cat's antics as "staler than three-day-old Purina Cat Chow."
But Stefan Ulstein (Christianity Today Movies) says, "Parents and kids will find a lot to like in this charming film adaptation. [The movie] is not terribly sophisticated, but there is enough to keep parents from squirming in their seats with boredom. There is nothing … to cause parents to shudder."
"Garfield: The Movie isn't bad," says Adam Holz (Plugged In). "But a three-panel comic does not an 85-minute movie make. The movie does a reasonably good job of capturing the spirit of [the] cartoon. But it would be a disservice not to say that its positive elements have been dealt with better in countless other movies."
Mainstream critics are rating it as one of the year's worst, inclined toward remarks about litter boxes and words like "cat-astrophe." Sean Axmaker (Seattle Post-Intelligencer) remarks, "This isn't a movie. It's a marketing ploy."
'
The Chronicles of Riddick

-ulous'

In 2000, a low-budget sci-fi adventure film called Pitch Black delivered enough enthusiasm and creativity to win a crowd of fans, largely due to one of its central characters. We were introduced to Riddick (Vin Diesel), a murderer in shackles who is freed when his spaceship crashes. His talent for killing comes in handy when he and the other stranded survivors are forced to contend with a deadly race of aliens that only come out during a rare solar eclipse. The character made enough of an impression that his creator, David Twohy (Below), decided to expand his story in a big-budget trilogy.

And so we now have The Chronicles of Riddick. You would think that a bigger budget, a cast that includes Dame Judi Dench (Iris, Shakespeare in Love), and a heavily publicized video game tie-in would get things off to a good start.

You would think so …

"Perhaps they should have called it The Chronicles of Riddick-ulous," writes Michael Elliott (Movie Parables). "The story and dialogue is beyond laughable. How else should we receive lines such as 'It's been a long time since I smelled beautiful' if not with incredulity? The names given to places and people would be more fitting in a Mad Magazine spoof of the film than in the film itself."

Gerri Pare (Catholic News Service) says, "It's not the kind of sequel where you need to have seen the first to comprehend the second; it's just that the better choice is to see the first and maybe skip the second. For all its density of plot and frequent shootouts … Twohy's script lags, with the necessary sense of urgency distinctly lacking. The characters … are left underdeveloped and end up being dull."

Tom Neven (Plugged In) says it's "a richly imagined world; the set and costume designs make for great eye candy, something like The Lord of the Rings meets The Matrix meets the recent remake of Planet of the Apes. Otherwise, the movie is confused. Some of that comes from unnecessary distractions in the story line. But most of it comes from the moral elements within it. I suspect many families won't be willing to expose their teens … to the moral ambiguity, dicey language, and violence it contains."

Todd Hertz (Christianity Today Movies) says, "Most of the time, Chronicles feels like a film student's attempt to make his own Matrix. The action is constant but rarely groundbreaking. In fact, in one major battle, the action is so passive it feels like a music video. All in all, this is a slightly above-average action flick with a solid ending that alone makes another sequel—and what Riddick could do in it—intriguing."

Mainstream critics are cataloguing the film's flaws here.
Stepford

has stars but no sting
When The Stepford Wives was first published, and when the first film version came along in 1975, it carried with it an anti-establishment attitude, lampooning a chauvinistic society that kept women from seeking careers or from thinking for themselves. Now, it's been re-made under the direction of Frank Oz, the Muppeteer who gave voices to Fozzie Bear, Miss Piggy, and Yoda, and who went on to direct such comedy hits as Dirty Rotten Scoundrels, In & Out, and Bowfinger.
Nicole Kidman plays Joanna Eberhard, a successful TV producer who suffers a nervous breakdown and moves away with her husband (Matthew Broderick) to a community that presents her with a whole new set of challenges. The women of Stepford seem programmed for strange behavior and early demise. The more she gets to know these women (Glenn Close plays the ringleader), the more Joanna suspects there is something sinister at work behind the scenes.
Mainstream critics are giving the film mixed reviews, praising the stars and acknowledging the laughs, but observing that this satire's time may have passed. It may be that the film is no longer criticizing an oppressive system so much as it is mocking the choices of some women to pursue marriage and motherhood.
Peter T. Chattaway (Christianity Today Movies) discusses the themes and contexts of the original story and its first film version. He observes that this new version is playing to a different audience. "These days … it seems the battle of the sexes is either so complicated or so passé —take your pick—that the only thing a mainstream film can do with the subject is to make fun of it all. So … The Stepford Wives has become an out-and-out comedy. And as comedies go these days, it's actually fairly funny, albeit in a light, superficial way which either hides or exposes the fact that the plot is a thick tangle of mutual contradictions and the social commentary is pretty much all over the place. In the end, the film is much more interested in lampooning traditional gender roles, and the debates around them, than in worrying about such things."
Michael Elliott (Movie Parables) says the filmmakers "misstep badly with this adaptation of the classic women's lib horror film. The original film was chilling in its depiction of women being mechanized into subservience by the husbands who resented gender equality. The remake instead tries to go for the laugh but absolutely fails to satirize or spoof the original. This film does not even attempt to comment upon the feminist movement or the woman's role in the world. If anything, this version of The Stepford Wives is about the stupidity of men."
Michael Ray (Hollywood Jesus) says, "The movie never settles into a distinct tone. The comedy is forced … and the dark aspects aren't dark enough. Sadly, the movie gets lost in a mess of its own cuteness, Hollywood shine, and worst of all—it suffers from a lack of inspiration."
Annabelle Robertson (Crosswalk) says the movie "missed a great opportunity to update its message and speak to the very modern issue of what it means to be real in a superficial world. It also could have explored what postmodern husbands expect of their wives, in terms of love, honor and respect, as they face the shared responsibilities of family life in an increasingly hectic society."
Bob Smithouser (Plugged In) observes that it "reinforces the notion that a homemaker is a slave bound by apron strings threatening to cut off circulation to the brain. It also does its best to emasculate and vilify husbands. Other targets include Republicans, corporate America, and insensitive Christians."
Harry, Saved!

and a war movie

This week, more Christian press critics stood up to praise director Alfonzo Cuaró n's work on Harry Potter and the Prisoner of Azkaban.

Alan Thomas (Movies Matter) writes, "Cuaró n lets the franchise grow up with the characters. He has changed the voice of the series for the better. Not only does that make this the best of the Potter films, but the magical world itself is liberated and more vivid. By not having everything explained to us, Cuaró n places this story in a newly mysterious place"

Mike Parnell (Ethics Daily) says it's "much superior to its two predecessors in the Potter film franchise. Azkaban deals with large issues. We see that the wizard world has problems with politics and injustice. Ambiguity arises out of the interpersonal relationships between wizards and the bureaucracy. Cuaró n taps into puberty's emotions and feeling powerless in the face of those with power. He thus develops a fine film about, essentially, being a middle-school kid in a world that doesn't understand."

He adds the opinion of another critic: "My son, who is a Harry Potter fan, did not like the movie because of its differences from the book."

Andrew Coffin (World) says it's "easily the most stylishly designed and directed of the three," but that the Potter franchise will continue troubling parents due to its "magical elements" and "the flimsiness of the film's moral structure." He adds, "Azkaban frequently relies more on the conventions of horror films than what one would expect for a PG-rated children's fantasy."

Elsewhere, Brian Dannelly's comedy Saved! continued to draw measured applause from Christian film critics.

Alan Thomas (Movies Matter) says it's "a ruthlessly funny film that is deeply perceptive and deeply troubling. And like most parody, it's a little bit off target." He defends the film against those Christian critics who classify it as an attack on the Christian faith. "While I do not think the film was intended to ridicule or provoke Christians, it will no doubt hit very close to home for some. Unlike other subcultures, particularly the Jewish community, Christians don't have a very good track record at being able to laugh at themselves."

He does, however, criticize it for concluding that Christians should "accept whatever anyone cares to think about sexuality."

Marking the DVD release of screenwriter Brian Godawa's war film To End All Wars, Ron Reed (Christianity Today Movies) writes, "I should have loved this film: It's about self-sacrificing heroism in the face of impossible circumstances, the power of forgiveness over hatred, the futile tragedy of war and God's way of peace in the midst of it. The premise is a great one, and the story true."

But, unfortunately, he did not love the film. "Godawa (a Christian) brings a passion and wisdom to the task of rendering these truths into cinema that is in turn inspiring. Unfortunately, it may be his very eagerness to convey these insights that undermines the effectiveness of the story he seeks to tell. The filmmakers don't want this picture to be described as 'a Christian film,' but for all its strong language and refusal to solve every problem with a conversion, I'm afraid it still feels like propaganda. That's the real problem with 'Christian films'—their preaching. To End All Wars doesn't hand us pat answers, but it hands us answers nonetheless, or at least theme statements, in a way that leaves little room for ambiguity or mystery."

The few mainstream critics that have reviewed the film offer mixed reviews as well.

Next week: Steven Spielberg's The Terminal, Jackie Chan returns goes Around the World in 80 Days, and Ben Stiller plays Dodgeball: A True Underdog Story.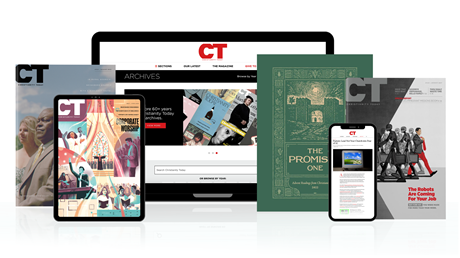 Subscribe to Christianity Today and get access to this article plus 65+ years of archives.
Home delivery of CT magazine
Complete access to articles on ChristianityToday.com
Over 120 years of magazine archives plus full access to all of CT's online archives
Subscribe Now
A Famous Feline, a Feminist Farce, and a Futuristic Flop
A Famous Feline, a Feminist Farce, and a Futuristic Flop