true
Take a mother camel with a heartbreaking case of post-partum depression. Add—slowly—her wobbly rejected newborn, and a family of resilient shepherds who will go to great lengths to make the mother accept her child. Set them all in Mongolia's arid Gobi desert where a TV set costs, oh, maybe 20 to 30 sheep, and the splendorous sight of sun setting over the brushed horizon seems to stop time. Let the camera linger, as does every minute of life in this far-off land. If it's a true story—better yet, one caught as it unravels—you've got yourself a visual oasis that will rest eyes wearied of choosing in the land of plenty.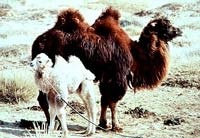 This is the fine idea of Mongolian-raised filmmaker Byambasuren Davaa, inspired by a drama she saw as a girl, one that depicted an old Mongolian legend in which nomadic herders reunite a mother camel and a baby she'd rejected. Some legends are true, of course. Knowing that the story—according to which an ancient musical ritual can undo a mother camel's rejection of her colt—is based in reality, Davaa partnered with Luigi Falorni to direct the old fable playing out in real life. For their seemingly natural and simple cinematography, the two credit as their teacher the vanguard documentary maker Robert Flaherty (Man of Aran, Nanook of the North).
At the time when camels are having their young ones and nothing but a sand storm interrupts the herders' watchful care over them, the filmmakers took their crew to the Gobi desert. Fortunately, they found what they were looking for: one red-coated dromedary, after going through a harrowing two-day labor, was so worn out she wanted nothing to do with a rare white colt that finally made his way out of her womb. The cameras capture the heartrending ...
1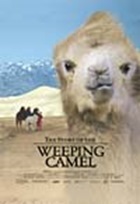 Browse All Movie Reviews By: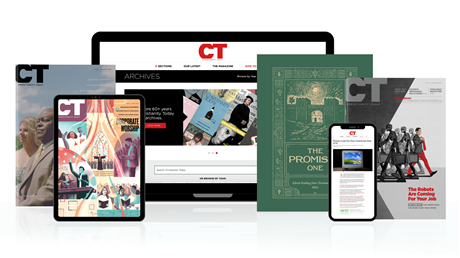 Find hope and historical insight. For a limited time, explore 60+ years of CT archives for free!
Daily devotions from Timothy Dalrymple during this pandemic.
Hundreds of theology and spiritual formation classics from Philip Yancey, Elisabeth Elliot, John Stott, and more.
Thought journalism that inspires you to think more deeply about your faith.
The Story of the Weeping Camel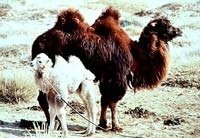 This slideshow is only available for subscribers.
Please log in or subscribe to view the slideshow.
The Story of the Weeping Camel