Ticket sales record:
Passion:
The sequel?:
'The Passion' could be a hard act to follow | Industry observers and players say the movie's windfall — some experts predict it will earn $350 million in North American theaters alone — will make studio chiefs take notice, if perhaps not action (

USA Today

)


One-hit wonder | Mel Gibson's "The Passion of The Christ" may be rewriting winter box-office records, but don't bank on a big-budget "X-ploitation" movie genre just yet (

New York Post

)


Passion viewers:
The power of 'The Passion' reverberates for believers | Folks can't talk after seeing film (

The Washington Post

)


American pious | Mel Gibson's 'act of faith', his film

The Passion of The Christ

, opened in the US last week and caused an ungodly row amid claims of anti-Semitism. But the Christian right loved it … and bought the T-shirt (

Sunday Herald

, Glasgow)


Religious film:
The uproar wrought by 'religious' films | An article from 1966 (Malcolm Boyd,

The Washington Post

)


The man who brought Judas to life | It seems to me a strange thing, mystifying (to quote the show), that singer and actor Carl Anderson, whom audiences knew from the stage and screen versions of the 1970s rock opera "Jesus Christ Superstar," died the same week Mel Gibson's "The Passion of The Christ" splayed itself into movie theaters (

The Washington Post

)


More than a movie, this is sacred art | Some may see a good deal of "Payback" or "Braveheart" in the graphic violence of Mel Gibson's "The Passion of The Christ," but a close look shows that this film is in many ways a dramatic return to a very old religious tradition (David Morgan,

Newsday

)


Scourging and buzz | Christian movies rarely inspire the word of mouth to launch a blockbuster (

US News & World Report

)


Passion violence:
Passion in France:
Controversies and critiques:
'Passion' tells free speech story of Crucifixion, Us versus Them | They say the movie is about love and sacrifice. I think it's about free speech (Laura Berman,

The Detroit News

)


Gibson's Passion forced to find sanctuary | Today, the Easter People, the dancers in sanctuaries, those who claim They Are Church and all the assorted Lollards and Fifth Monarchy Men who have converted Catholicism into a crankfest regard the Passion with as much alienation as any atheist (Gerald Warner,

The Scotsman

)


`Passion's' controversy is getting people talking | As a pluralistic society it is our ability to share experiences that has kept this country from sinking into the relentless interethnic bloodbaths that Europe and some other continents have known (Clarence Page,

Chicago Tribune

)


Arousing passion and interest in Jesus' death | Censorship is too blunt an instrument to be effective in a globalised era. It is, in any case, unclear why a society that has hitherto tolerated numerous dramatisations of the life of Jesus, some of them intended to be offensive to Christians, should now suppress one that may be unintentionally offensive to Jews (Editorial,

The Daily Telegraph

, London)


Agreed: All the publicity is a triumph for 'Passion' | The experts who gathered for a public discussion of Mel Gibson's film agreed he had succeeded, at least, in creating a frenzy (

The New York Times

)


Defending the audience's Passion | What's actually at issue here is the aesthetic, that the director depicts uncomplicated brutality without inspiring pity and fear (Suzanne Fields,

The Washington Times

)


Criticism of Passion criticism:
Reviews:
Catholic/Protestant response:
Jesus:
Hollywood holy land | Can anyone know the facts about the death of Jesus? (

Archaeology

)


The personal Jesus | Why are evangelical Protestants embracing Mel Gibson's ultra-Catholic version of the Savior? (Stephen Prothero,

The New York Times Magazine

)


The real Jesus | How a Jewish reformer lost his Jewish identity (

US News & World Report

)


Movies:
Passion and gay marriage:
What would Jesus do? Lots of folks think they know | It's a good season for the Holy Trinity, which is to say God, Jesus and Mel Gibson. All three are on everyone's mind these days due to the fuss over gay marriages and Gibson's blockbuster adventure movie "The Passion of The Christ" (Al Martinez,

Los Angeles Times

)


At the left hand of God | From same-sex marriage to Mel Gibson's gory take on the Crucifixion, the new wedge issue is religiosity, not to be confused with faith (Anna Quindlen,

Newsweek

)


The culture wars, part II | From Janet Jackson to Mel Gibson to marriage for same-sex couples, the nation's cultural divisions seem to be widening (

The New York Times

)


Hate nation | The culture wars are back on, with a vengeance (Gersh Kuntzman,

Newsweek

)


Gay marriage in Oregon:
Gay marriage in New York:
Marriage amendments:
Gay marriage and politics:
Kerry backs benefits for legally united gays | Candiate, under fire from gay Democrats for opposing same-sex marriage, has promised that if elected president he would grant state-sanctioned gay couples the same 1,049 federal benefits married heterosexuals enjoy (

The Washington Post

)


More on gay marriage:
Baylor's student paper endorses gay marriage:
Student stand on gay unions roils Baylor | In what was widely seen as another clash between faith and academics at Baylor University, the school's president on Tuesday condemned an editorial in the student newspaper supporting gay marriage, and made clear that the administration would exert tighter control over the paper's content (

Los Angeles Times

)


More on Baylor:
Baylor athletics:
Education:
Teacher in scarf issue resigns post | Lancaster instructor had ordered Muslim student to remove her hijab or leave his class (

Los Angeles Times

)


A clash over values in Australia | When Prime Minister John Howard recently said that parents were moving children out of the public school system because it was "too politically correct and too values-neutral," he stirred up a hornet's nest of controversy - not unlike a similar debate that has long brewed in the United States (

The Christian Science Monitor

)


Also: Labor backs Catholic schools boost | Catholic schools have won a $362 million boost under a federal funding overhaul in which they will be paid in the same way as other non-government schools (

The Age

, Melbourne, Australia)


French religious garb ban progresses:
French Senate approves ban on religious attire | The Senate vote, 276 to 20, was as lopsided as the vote last month in the lower chamber of Parliament (

The Washington Post

)


French Senate vote assures ban on scarves | With an overwhelming vote, France's Senate has assured that a law banning Islamic head scarves from public schools will be on the books for the new school year in September despite protests at home and abroad (Associated Press)


Life ethics:
Replacements on bioethics panel:
We don't play politics with science | This President's Council on Bioethics is easily the most intellectually and ethically diverse of the bioethics commissions to date (Leon Kass,

The Washington Post

)


Kerry criticizes Bush for bioethics panel | Democratic presidential candidate John Kerry criticized President Bush's replacement of two dissenting members of a bioethics panel that advises him on such issues as cloning and stem cell research (Associated Press)


Bush replaces advisers on cloning, medical issues | President Bush reshuffled his advisory council on cloning and related medical issues on Friday, adding a prominent neurosurgeon known for his work on conjoined twins and two conservatives who have spoken out strongly against cloning (Reuters)


Clergy abuse:
Gay priests cited in abuse of boys | Eighty-one percent of sex crimes committed against children by Roman Catholic priests during the past 52 years were homosexual men preying on boys, according to a comprehensive study released on the church's sex abuse crisis (

The Washington Times

)


Hedonism | Blaming things on "the culture" won't help. Accepting responsibility might (Editorial,

St. Louis Post-Dispatch

)


Catholic abuse report:
Books:
Suggest links and stories by sending e-mail to weblog@christianitytoday.com
Check out Books & Culture's weblog, Content & Context.
See our past Weblog updates:
March 3 | 2 | 1
February 27 | 26 | 25b | 25a | 24 | 23
February 20 | 19 | 18 | 17 | 16
February 13 | 11 | 10 | 9
February 6 | 5 | 4 | 3 | 2
January 30 | 29 | 28 | 27 | 26
January 23 | 22 | 21 | 20 | 19
and more, back to November 1999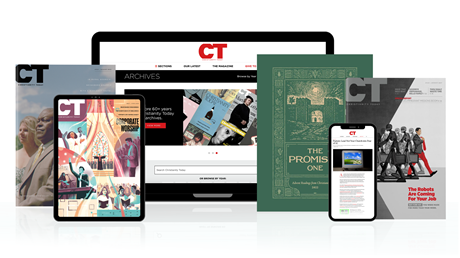 Subscribe to Christianity Today and get access to this article plus 65+ years of archives.
Home delivery of CT magazine
Complete access to articles on ChristianityToday.com
Over 120 years of magazine archives plus full access to all of CT's online archives
Subscribe Now
Is Christianity Oppressive to Women?
Is Christianity Oppressive to Women?