If the Richard Gere/Jennifer Lopez-fronted Shall We Dance? were indeed a dance, it would be something akin to the Macarena or the latest club dance craze. Crowd-pleasing. Fluffy fun. A temporary thrill.
In the opening scenes, John Clark (Gere), a successful Chicago lawyer, is going through his daily routine-rise early, mechanically kiss the wife goodbye, ride the El to work, spend all day buried in paperwork, go home late to an uber-busy family life. In case we somehow miss his ennui from these scenes and from his forlorn looks, Clark's voice-over explains a common question he fields when he's finished drawing up wills for his clients: "Is that it then?"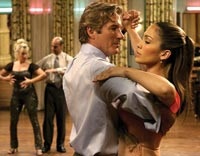 Into this life of quiet desperation waltzes J-Lo-literally. As he's riding home on the El one night, John sees Paulina (Lopez) staring with a matching melancholy expression out the window of Miss Mitzi's Dance School. After seeing her there three nights in a row, John impulsively hops off the train at the last minute one evening and follows her haunting countenance like a moth drawn to a lovely but dangerous flame. When he discovers this beautiful woman is a dance instructor, he signs up for ballroom dancing classes. And it's in this quirky little dance studio that the plot, kitschy characters, and John's well-ordered world unfold.
This soft-shoeing tale of being roused from life's ruts is based on a 1996 Japanese subtitled movie of the same name. In contrast to this American remake, if that flick were a dance, it would be a waltz. Nuanced. Sophisticated. A classic.
There are some fundamental reasons the Japanese version works better. In the opening scenes, a voice-over (likely added for American distribution) explains that in Japan, a country where even married couples ...
1