true
Editor's note: Jeffrey Overstreet, our regular Film Forum writer, is on vacation. Peter Chattaway is pinch-hitting this week.
Fall may have just arrived, but summer movies are still here! Sky Captain and the World of Tomorrow soared to the top of the box office last weekend as it gave audiences one last dose of breezy, action-packed entertainment. The film is a nostalgic thrill ride inspired by 1930s comic books, film noir, pulpy adventure stories and the like, but in its own way, it also looks to the future. Director Kerry Conran has gone further than even George Lucas has ever done in creating a world in which everything but the actors has been generated on a computer. The film stars Jude Law as Joe Sullivan, a mercenary flyboy who battles skyscraper-sized robots and mighty metal flying machines, and Gwyneth Paltrow as Polly Perkins, a reporter hot on the trail of the mysterious Dr. Totenkopf, an evil German scientist whose equally mysterious caped henchwoman is killing scientists one by one.
Christian movie critics, many of whom honed their faith-based appreciation of film on earlier Saturday-matinee revivals such as Star Wars and the Indiana Jones films, have generally welcomed Sky Captain as a fun return to the innocent entertainment of a bygone age.
Todd Hertz (Christianity Today Movies) admits the film may appeal more to "film junkies and adventure geeks" than to moviegoers who don't share his affection for movies with ray guns. "But because it is done well, most audiences will appreciate Sky Captain as a unique, imaginative, and family-friendly adventure story. … What makes the movie's plot work is genuinely witty dialogue, a cast of well-written characters, and surprises that keep the story from being predictable."
Jeffrey Overstreet (Looking Closer) appreciates the way Conran has stayed in touch with his inner child, and he praises the film for its "guilt-free fun." "How many filmmakers are capable of delivering such a harmlessly satisfying and thrilling treat? How many can so powerfully remind a theatre full of grownups of what it was like before we were burdened with the pressure of 'cool' when we were teens or the practical demands of adulthood? … It's the best cinematic antidote for a lamentable and dirty election year—something that's pure enjoyment start to finish, set in a world where right is right and wrong is wrong."
Phil Boatwright (Movie Reporter) also praises the film for its sheer enjoyment factor: "There's no deep intellectual motif, but Sky Captain has all the elements missing in this summer's popcorn-munching blockbuster supposed-to-bes (Catwoman, Thunderbirds, Scooby Doo 2, Spider-Man 2). Part tribute to the adventures of yesteryear and a satisfying exercise in the use of digital art direction, Sky Captain is a lot of fun."
Cliff Vaughn (Ethics Daily) is impressed by the look of the film, and by its obviously artificial style. He says "the visuals don't dazzle so much as they rest easy on the eyes. This reveals an oft-overlooked fact in today's Hollywood: It can actually be an advantage to have a movie—something that's make-believe—actually feel a bit make-believe. There's nothing wrong with realism, but it's just as delightful to have the hint of pretend ring your imagination as surely as the soft white light around Gwyneth's gold locks."
Annabelle Robertson (Crosswalk) is especially impressed by the acting, all of which was done in front of blue screens. She writes, "The acting is superb, which is astonishing, given the lack of setting and props they had to deal with. All the characters hark back to yesteryear, but are infused with just the right amount of modern-day sensibility. They take their roles seriously, resisting the urge to throw us a conspiratorial wink."
Sheri McMurray (Christian Spotlight) notes the film's biblical references and Christian themes. "The hero is gallant and above any kind of unrighteous act. He treats women with awe and respect. The friendships go beyond helping each other out to willing to give their lives for one another. There is a definite difference between evil and good, which is refreshing in this day of super heros who are just as evil as the bad guy, blurring the line between good and bad. I was just thrilled to see a hero that can be used as a modern day role model for young and old alike."
Other critics are not quite as smitten. Steven D. Greydanus (Decent Films) says Sky Captain fails to live up to the standard of earlier nostalgic throwbacks such as Star Wars and Raiders of the Lost Ark. "It entertains and impresses without ever becoming truly engaging. It's certainly a lot more fun than Final Fantasy [in which everything, including the characters, were computer-generated], in good part because it works not only as spectacle, but also as nostalgia and homage. Even so, it never quite comes to life in its own right." Greydanus also questions whether the film is appropriate for children, asking why filmmakers chose, "in a tame PG-rated film that could easily have been fine family entertainment, to add a few completely gratuitous elements that not only make it unsuitable for kids, but are also glaringly out of place in the film's nostalgic milieu."
Harry Forbes (Catholic News Service), calling the film "ultimately disappointing," writes, "Though the almost entirely digital set design is an impressive achievement (e.g., the New York scenes, the giant hangar out of which Sky Captain operates, all manner of futuristic aircraft), the camera barely stays still long enough to appreciate it in any detail. And the use of a muted color palette, which evokes a faded print of an old movie, is ultimately as monotonous as it is monochromatic. A lush Technicolor design could have been so much more effective in the long run."
Michael Elliott (Movie Parables) sums it up in two sentences: "The art is amazing. What the film lacks is heart." He adds that the film "doesn't really seem to build momentum or sustain dramatic tension."
Melinda Ledman (Hollywood Jesus) explores what the villain, Dr. Totenkopf, might represent: "If Totenkopf (literally meaning 'dead head' in German) is supposed to represent God, then the writer's intent is to suggest that there is no God at all. … The alternative is that Totenkopf is supposed to represent man's attempt to play God. In fact, Sky Captain makes the comment at one point in the film, 'He was trying to play God.' This comment implies that man can only pretend at such a game and can never hold the eternal wisdom needed to care for the earth … The implication is that man's attempt to play God ends only in his own destruction, the potential destruction of mankind, and the ruler's exposure as a weak, faulty, dead head."
Mainstream critics had mixed reactions, though generally positive.
Mr. 3000
Mr. 3000 stars Bernie Mac as Stan Ross, an arrogant baseball star who gets his 3000th hit and, figuring he's a shoo-in for the Hall of Fame, retires on the spot—only to learn, several years later, that due to a counting error, he's actually three hits short of that magic number. So he gets back into the game, and along the way he learns a few things about humility and being part of a team.
Lisa Ann Cockrel (Christianity Today Movies) finds the movie "disjointed" and notes that Mac has a talent for cussing. "But this movie shows he's also got some other tools in his acting arsenal—comedic timing, relate-ability, a penchant for physical humor and so on. He can make you hate him and make you love him. In that sense he's a little like his character, Stan Ross. Here's hoping that in the future Mac will find more interesting material with which to rouse his own 'better gods.'"
Michael Elliott (Movie Parables) takes issue with the "muddled" writing but is similarly impressed by Mac's performance. He writes, "Not only is Bernie Mac a very funny man, he is able to do something few actors can do. He is somehow able to play an arrogant and obnoxious character without losing any of his 'likeability.' Even when he is being rude or full of himself, we can't help but root for him anyway. He lets us see Stan's vulnerability that exists beneath and behind the showmanship."
David DiCerto (Catholic News Service) complains that co-stars Angela Bassett and Paul Sorvino are wasted in their thankless roles, as the token girlfriend and a baseball manager respectively, but he says Mac acquits himself well: "While it is hardly a grand-slam performance, he takes his swings with authority and doesn't strike out. … Mac's comedic charisma softens the character's more abrasive edges and succeeds in making even a self-absorbed braggart likable. Mac also provides many of the film's genuine laughs. Unfortunately much of the picture's humor is of the vulgar and sexually suggestive variety, which is unwelcome in a PG-13 movie."
Brett Willis (Christian Spotlight) notes that the film has a moral message at the end, but he is upset by the language and the casual sex: "What a strange culture we've become when family-oriented, stand-up-and-cheer movies are made as strong PG-13s that you might not want to take the family to."
Mainstream critics generally don't care for the movie, though they have good things to say about its star.
Wimbledon
The other big sports movie this week is Wimbledon, in which Paul Bettany plays Peter Colt, a fading British tennis star whose game happens to improve around the time he gets romantically—and sexually—involved with an American up-and-comer named Lizzie Bradbury, played by Spider-Man 2 star Kirsten Dunst.
Several religious critics are impressed by Bettany's performance. Harry Forbes (Catholic News Service) expresses appreciation for the humor and decency projected by Bettany, and he thinks the filmmakers, including Richard Loncraine (Richard III), did all right with both the romantic-comedy and sports-movie formulae. "The plot is contrived, of course, but the old-fashioned romantic elements (premarital sex notwithstanding), the excitement of the tennis match and the ultimate emphasis on good values make this an audience pleaser, much in the same mold as the same producers' Notting Hill and Bridget Jones' Diary. The film says a lot about unconditional love in all its permutations, and ultimately champions 'real' values."
Michael Elliott (Movie Parables) is also impressed by Bettany's "acting chops" and "easy-going charm." He is a little less satisfied with the plot, though. "The screenwriters try to fill out their threadbare script by including a few needless and distracting subplots … but the film works best as we track Peter's inexplicable success to his eventual championship match."
Annabelle Robertson (Crosswalk) thinks the tennis angle provides a nice twist to an otherwise cliché -ridden story, but it is not enough to redeem the "weaknesses" in the script. She is also upset by the prominent role that casual sex plays in the film, "not only creating the set-up but propelling the plot along, and it's clear that the filmmakers want us to believe that this is the norm for singles. Lizzie puts the moves on a guy she hardly knows, which has them in bed on the first date—and every date thereafter. … What a shame that more time isn't spent developing a real relationship that might go the distance."
Keith Howland (Christian Spotlight) is similarly bothered by the "unnecessary" sexuality. He does, however, appreciate the humility of Bettany's character: "He is likable because he remains humble and gracious throughout the tournament, even as he continues to win and grow in acclaim. It never goes to his head. In this respect he is reminiscent of Christ, who—though King of the universe—was more humble than all men. It is such a shame that this commendable character trait is spoiled by his shameless sexual activity."
Tennis buff Mark Moring (Christianity Today Movies) gives the film cautious approval, but takes exception to the portrayal of Lizzie's father, played by Sam Neill: "Interestingly, the film portrays Lizzie's dad as the bad guy, the obstacle standing in the way of true love; the production notes even refer to him as 'overprotective.' But I was thinking, Hold on just a minute. This man is being a good father who doesn't want his daughter having sex with a man she's just met, a man who might well be almost twice his daughter's age. Instead, he wants his daughter to concentrate on tennis and playing her best at the world's greatest tournament. What in the world is wrong with that? … I say he's a good dad who loves his daughter and takes the right steps to protect her."
Mainstream critics have had a so-so reaction to the film and its formulaic trappings.
Silver City
Silver City, a limited-release film from John Sayles (Eight Men Out, Lone Star, Limbo), takes a satirical look at a gubernatorial campaign that revolves around a candidate named Dickie Pilager (Adaptation's Chris Cooper) who bears an uncanny resemblance to George W. Bush.
Chris Monroe (Christian Spotlight) takes issue with the film's political agenda and its treatment of religion. He writes, "One aspect of Dick Pilager resembling President George W. Bush that is brought out several times is his Christianity. … While Christianity itself isn't necessarily assaulted directly throughout the film, overall it really doesn't seem to be respected at all."
Mainstream critics are generally underwhelmed.
A Dirty Shame
Meanwhile, John Waters has directed his latest foray into bad taste. A Dirty Shame, which is rated NC-17, is about a sexually dysfunctional family in a blue-collar Baltimore neighborhood that gets involved in a cult of sex addicts led by Jackass's Johnny Knoxville. Waters' obsession with all manner of sexual euphemisms and fetishes grows tiring very quickly, and Harry Forbes (Catholic News Service) says it just isn't funny. "What's really the dirty shame here is that … this movie is, at best, only fitfully amusing, and, for most of its 86-minute running time, less than that." He also objects to the film's more sacrilegious elements: "Toward the end of the film, there's a denigrating of Christian symbols and rituals which Catholic viewers will find particularly offensive, as if everything that preceded it wasn't bad enough."
The handful of mainstream critics who have reviewed it so far seem to like it.
Other Films
Catching up on some other, previously-released films:
Cellular: Andrew Coffin (World) finds that, despite the film's wild implausibility, there are still things to like. He writes, "The only question, with a film like this, is whether or not it will move fast enough, and include enough clever twists, to keep audiences distracted from the story's inherent implausibilities. Surprisingly, for most part, Cellular does just that."
What the Bleep Do We Know?: Mike Hertenstein (Looking Closer) takes aim at this pseudo-philosophical pseudo-documentary, which he says attempts to exploit pseudo-scientific ideas about quantum physics in the service of bad pseudo-religion: "What some may end up doing is writing off the quantum facts, and that would be too bad. For the facts of quantum mechanics really are amazing. A good faith presentation of those facts—without any particular New Age agenda—would have succeeded in achieving at least one of the filmmakers' goals: blowing the viewers minds. … Part Waking Life, part I Am Joe's Neural Network, part Est Seminar, this often-entertaining film offers lots of great questions and some true facts, but all woven together with a fair amount of horse bleep."
Also, now that The Passion of the Christ is on DVD, William Irwin (Metaphilm) has posted his essay from the upcoming book Mel Gibson's Passion and Philosophy, in which he defends Gibson's use of violent imagery by drawing a distinction between the beautiful, which Irwin says is often mistaken for truth, and the sublime, which leads to moral reflection. "A beautiful movie would have been an ill-suited form of expression for the passion of Jesus. To be true to the subject matter Gibson was forced to make a movie that would be difficult to watch. Thus we considered the perennial philosophical question: Why do we willingly watch works of art that bring pain with pleasure? In the case of tragedies it may be that Aristotle is right, that we experience a cleansing, a catharsis. But as we saw, the story of the passion cannot be told as a tragedy. So are the controversial blood and violence of The Passion simply gratuitous? No, they are justified by Gibson's attempt to deliver an experience of the sublime."
Video
Andrew Coffin (World) takes a look at The Three Musketeers—a straight-to-video release and reportedly the first feature-length film to co-star Mickey Mouse, Donald Duck and Goofy. Coffin says Walt Disney "is still producing decent entertainment for kids—it's just not necessarily found among their high profile releases. … The pacing is snappy, the songs are fun (and mostly tongue-in-cheek, thanks to the musical aspirations of the turtle narrator). What parents may find most refreshing is that the borderline offensive dialogue found in so many cartoons (that's so quickly and easily picked up by a young audience) is almost nowhere to be found."
And of course, the original Star Wars trilogy just released to DVD this week. Many fans are upset that the films they grew up with will never be seen again in their original forms, but Frank Smith (Christianity Today) notes that George Lucas is not the first author to insist on the supremacy of the artist's vision and to abandon earlier versions of his stories after releasing newer, "improved" versions of his tales: "While it's easy to criticize Lucas for his stubbornness, it's worth noting that he's not alone in this peculiar and passionate devotion. J.R.R. Tolkien, Dorothy Sayers and, more recently, Mel Gibson shared many of the same views that Lucas espouses." However, Smith goes on to note how Lucas's obsession with authorial control differs from that of these other individuals.
Next week: Jeffrey Overstreet returns with coverage of First Daughter, The Forgotten, and others.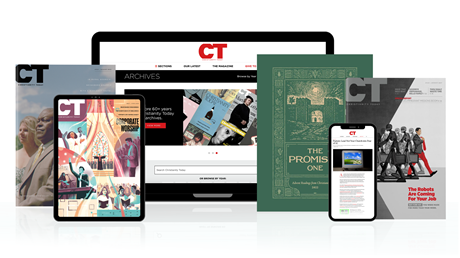 Subscribe to Christianity Today and get access to this article plus 65+ years of archives.
Home delivery of CT magazine
Complete access to articles on ChristianityToday.com
Over 120 years of magazine archives plus full access to all of CT's online archives
Subscribe Now
Nostalgia for Tomorrow's Simple Fun
Nostalgia for Tomorrow's Simple Fun