Rosy-cheeked and slender, still in good shape in his mountain-hiking years, Karol Wojtyla reassured me with his smile everywhere I looked.
Poland's greatest son showed up in the predictable spots—the walls of churches and people's apartments, fake gold-embossed standards carried by priests in religious processions, graveyard candles, postal stamps, coins, and book covers. But the likeness of Pope John Paul II was just as likely to turn up on the pen I took to school, a vodka glass at a black market, a stray button in my grandma's desk drawer, coloring books for children, a rayon shawl draped around the neck of woman on a bus, and on calendars hanging in our neighborhood butcher's shop.
Before my conversion to the religion of Billy Graham—which caused my hard-partying high school friends to openly lament my "illness"—I had never been to a home that didn't display the retouched images of Poland's holy trinity. I'm talking, of course, about Mary (commonly referred to as the Queen of Poland), the fruit of her womb Jesus Christ, and a devoted follower of theirs, the pope.
I was born only four years before my great compatriot's installation as pope. His near omnipresence meant that I grew up almost oblivious to the fact that my motherland had ever existed without the son she was so proud of. We Poles went nuts over our poet-turned-pope.
And for good reasons. How could Poland have, without him, become the first Eastern European country to kick out the communists? The ultimate slayer of communism and leader of Solidarity Lech Walesa talked to me about the role John Paul II played in Europe's history in an interview for Books and Culture magazine:
After the martial law, when I told [various foreign politicians] that in Poland we had begun to overturn communism and that we would overturn it, no one believed me . … But our compatriot had become the pope [in 1978]. At that time, I had maybe 10 people per 40 million citizens in Poland who wanted to fight communism. The rest didn't believe, they didn't want to fight. Some of them were afraid, some were part of the communist system. The pope arrived in Poland [in 1979]. A year after that, I multiplied those 10 people into 10 million . … People began to believe in themselves, they stopped being afraid, and this allowed for the union we called Solidarity. If not [for] the pope—and the pope is faith—if not [for] our compatriot, we would not have accomplished this."
It was obvious the late pope had our hearts whenever he visited and we showed up by the millions. In the nation where parents don't say "I love you" to their children, we held up signs unabashedly declaring that "We love you, Holy Father" and cheered him wildly.
He, in turn, knew the power he had over us and never abused it. Instead, he used it to mitigate the nationalist tendencies of some of the narrow-minded Catholics. (Most recently, he did it to calm a separatist panic when Poland's great poet Czeslaw Milosz died.) And he gently steered us—for whom to be Polish was to be Catholic and to be Catholic was to adore Mary the Mother of God—toward a virtue that Poland upheld in 16th century Europe but had since forgotten: friendship with other Christians (more formally called ecumenism).
The pope loved the youth, and knew that their open minds and hearts were most able to welcome Christ and cross the boundaries between various Christian faiths. He encouraged the open-minded renewal youth movement called Oasis.
It's through the Oasis meetings that I first heard of the ecumenical community of Taizé in France. There I and hundreds of thousands of young Europeans abandoned ourselves for a week in beautiful, simple, ceaseless worship and Bible study in 1993. That's when, for the first time, I met Christians of other faiths, and realized that, contrary to the common suspicion held by Polish Catholics, evangelicals weren't cult members.
This encounter, in turn, prepared my brain cells for the conversations I would have that year with an American evangelical missionary who popped in our town out of nowhere. Knowing of the pope's ecumenical bent alleviated the suspicions I would normally have had toward a missionary to a country that was 99 percent Catholic.
As we began meeting for conversational English lessons, which were free—under the shrewd condition that we use the Bible as our reading material—I met Christ in an evangelical way, and soon shed my devotion to Mary and the pope, forgetting how much I owed both of them.
But now I return to them. I buck against the stereotypes of evangelicals The New York Times propagates and I'm proud to be an evangelical. Still, I'm not as defensive as I used to be in my early post-conversion stage.
I return to Mary as to a sister whose obedience I wish I had. And I return to the late pope, with a prayer of gratitude. I thank God for his firm pro-life testimony, for his humility in steering the eyes of Poles from his image and toward Christ, for his sense of humor, for the way he gently worked to correct Poland's national sins.
And I thank God for his ecumenism, which gave me permission to explore the religion of Billy Graham—whom the pope, while he was still a cardinal, invited to preach in his pulpit in Krakow, against the annoyance of the Polish Catholic establishment, in a sign of things to come.
Agnieszka Tennant is an associate editor of Christianity Today.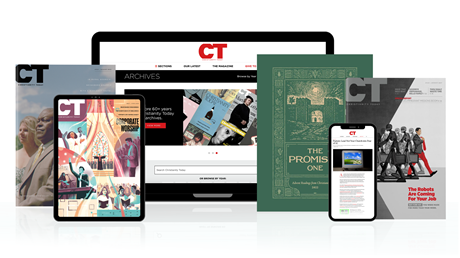 Subscribe to Christianity Today and get access to this article plus 65+ years of archives.
Home delivery of CT magazine
Complete access to articles on ChristianityToday.com
Over 120 years of magazine archives plus full access to all of CT's online archives
Subscribe Now
How the Pope Turned Me Into An Evangelical
How the Pope Turned Me Into An Evangelical