Reviews

|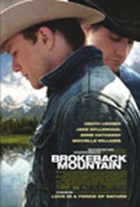 Editor's note: This film depicts a homosexual relationship, and includes a graphic sex scene between the two men. After much discussion, Christianity Today Movies has decided to review the film despite its controversial subject matter. It has been nominated for seven Golden Globe Awards and will certainly be an Oscar contender. The film is a hot topic of conversation around the nation, and we'd be remiss to simply ignore it. Part of our mission statement is "to inform and equip Christian moviegoers to make discerning choices" about what films you'll watch—or won't watch. And this review, just like all of our reviews, certainly accomplishes that. As for the 3-star rating, that is only in reference to the quality of the filmmaking, the acting, the cinematography, etc. It is not a "recommendation" to see the film, nor is it a rating of the "moral acceptability" of the subject matter.
It took eight years for Brokeback Mountain to make its way from the pages of The New Yorker to the big screen. Larry McMurty (Lonesome Dove) adapted the script from what was originally conceived as a short story by Annie Proulx, and Ang Lee finally took over the directorial reins after a couple of other helmers (Gus Van Sant and Joel Schumacher) took a pass. And while it's not unusual for a script to get stymied in production, it's undoubtedly true that, in this case, the central characters played a role in the delay—two cowboys who fall in love … with each other.
Spanning 20 years, the relationship between Jack Twist (Jake Gyllenhaal) and Ennis Del Mar (Heath Ledger) begins in 1963 when the two are given the job of watching sheep during a summer up on Wyoming's Brokeback Mountain. They're both gangly young Marlboro Men in the ...
1