true
According to The San Francisco Chronicle, Samuel L. Jackson has surpassed Harrison Ford to become the highest-grossing actor in movie history. Having recently participated in 2004 box office giants like Kill Bill, Vol. 2 and The Incredibles, and with a part in the upcoming Star Wars, Episode Three: Revenge of the Sith, Jackson seems content to play supporting roles in one blockbuster after another.
But in this week's box office champion, Coach Carter, Jackson has the lead, playing Ken Carter, the controversial high school basketball coach who set an example for the world of sports in 1999 by shutting down his own undefeated team because of how poorly they were performing in school.
Mark Moring (Christianity Today Movies) says the film is "well worth watching to see the portrayal not only of a man who sticks to his principles, but of life at a struggling inner-city high school, complete with all of its typical disadvantages—truancy, gangs, drugs, poverty, low graduation rates and even lower academic expectations." Moring, who also interviews the real Coach Carter here, says the film is "a pretty good sports movie, made a little better—and more interesting—by the knowledge that it's a true story."
Josh Hurst (Reveal) is not quite so impressed. "Jackson gives one of the finest performances of his career. He is commanding, magnetic, and suitably inspiring. Unfortunately, he's also stuck in an otherwise lousy film. The rest of the Coach Carter crew seems content to settle for mediocrity by giving us lackluster, workmanlike storytelling, hardly a fitting tribute to the great man for whom the film is named."
Michael Elliott (Movie Parables) argues differently, saying that the supporting characters are portrayed more effectively than Carter himself. He writes that Carter "is perhaps drawn to be a bit too saintly to be believed, but the strength of Jackson's performance overcomes the one-dimensionality and formulaic nature of the script. The screenwriters … do a better job with the supporting characters. The various players and their girlfriends are clearly delineated and given decent backstories to add depth and flavor to the otherwise predictable plot."
Marcus Yoars (Plugged In) says, "While Carter's homilies are terrific and the on-court drama rocks, this film plays to the MTV faithful with salaciousness that knocks it out of bounds. A party features alcohol, cheap hookups and kids stripping to their underwear for a scandalous swim. Teens grind suggestively at a dance, and a pregnant girl makes the 'brave' choice to redeem her future by having an abortion. Add nearly 100 profanities (two dozen s-words) and this well-intentioned film fouls out."
Cliff Vaughn (Ethics Daily) argues that this discomforting portrayal is necessary. "Coach Carter isn't as squeaky clean as some other recent sports movies, but not every story or situation can honestly be told that way. Ken Carter's task was different from Jim Morris' in The Rookie or Herb Brooks' in Miracle. An extreme situation called for an extreme approach, and Ken Carter's approach will inspire anyone to muster courage in the face of adversity."
Shannon Hammell (Christian Spotlight) points out, "The objectionable content seemed to be condemned more than condoned, which is a good thing. The movie teaches that in life we will always have obstacles. It's up to us to overcome them and be successful. I recommend this film, though I would suggest that parents go see it with their teen-age kids … and afterward talk about what transpired and the lessons that can be learned."
The star of TV's Malcolm in the Middle, Frankie Muniz, plays a very different character in Racing Stripes. He supplies the voice of an abandoned zebra who believes he's a racehorse and follows his dream to the Kentucky Derby, coached along by barnyard buddies and a young girl (Hayden Panettiere). Director Frederik Du Chau tries mixing animation and live-action in the tradition of Babe, and the resulting reviews aren't bad, but they're not exactly raves either.
Peter T. Chattaway (Christianity Today Movies) says it's "nowhere near as interesting or entertaining as the two Babe movies, but it is probably better than Cats & Dogs, if only because it has a fair bit of heart and takes place in a natural world that people of all ages can relate to. [The movie] may have its problems … but in its own modest way, it is a fun, charming little family film that should keep the kids happy while giving parents a chuckle or two."
David DiCerto (Catholic News Service) says, "Though its crowd-pleasing ending is never much in doubt, the film is a fun and lively ride right out of the starting gate and should leave the competition in the dust. The film imparts a positive message about acceptance and overcoming challenges by believing in yourself."


"It's a little bit Babe, a little bit Rudolph the Red-Nosed Reindeer," says Rhonda Handlon (Plugged In). "But it fails to retain the enduring qualities of either of those family classics. Adults will roll their eyes at such unimaginative construction. Children, however, will likely be captivated from the moment they lay eyes on the rain-soaked, frightened zebra and stay hooked through all the cheesy lingo to the predictable finish line. That's why it's necessary to note (again) that the film warranted a PG rating for lots of crude physical humor and scatological jokes. And its primary characters exhibit more than a couple of (uncorrected) character flaws."
But Annabelle Robertson (Crosswalk) disagrees, saying that it's "a lovely movie that everyone but the most cynical will enjoy."
Chris Monroe (Christian Spotlight) concludes, "This movie is a lot of fun and did not feel dumbed down because it is something for kids. There are good lessons exemplified throughout. This movie is very inspirational and can be a fun way to enjoy a Saturday afternoon with the family."
Cliff Vaughn (Ethics Daily) says it's "hilarious and satisfying. It's cookie-cutter storytelling … but well done. Laced throughout are product placements for Auto Zone and Kodak, as well as references to other movies like Chicken Run and Field of Dreams. The pop culture payoffs will keep most adults tuned in."
Elektra

is far from electrifying

Director Rob Bowman had a hit with The X-Files in 1998, but then he hit a foul ball with 2002's misguided, dissatisfying Reign of Fire. Now it's strike two. Elektra, starring Jennifer Garner, exhibits her athletic abilities, but it confines her acting talents to a shallow script and groan-inducing dialogue. While fans of the comic book character were hoping for something on par with the excellent Spider-Man 2, they ended up with something almost as bad as last year's "cat"-astrophe.

"2004 gave us the worst superhero film ever with Catwoman," says Michael Elliott (Movie Parables). "Here it is just a few weeks into 2005 and already we have a candidate for the usurper to the throne: Elektra. I'm pretty sure laughter was not the audience response director Rob Bowman was going for."

Russ Breimeier (Christianity Today Movies) calls it "rental-worthy at best, and primarily satisfying to comic book geeks. The action is sparse and isn't as good as it could have been, while in contrast, the dramatic relationships develop too quickly to be believed—this film has one of the most forced romances I've ever seen. It's a shame the script is so underdeveloped, because there's a better superhero movie at the heart of this film. During a pivotal fight scene, a character declared 'Enough! It ends now.' And in response, I thought It's about time! Now there's a sure sign of an action movie falling short of its potential."

Adam R. Holz (Plugged In) says, "Dialogue that's supposed to be detached and ironic is just plain silly most of the time. Garner's ice-princess portrayal of Elektra makes it difficult to warm up to her. Add cliché d villains, serious logical flaws, moral murkiness, profanity, nonstop violence and a problematic spiritual worldview, and you get a superhero film that earns a passing grade—as in, pass on by and don't watch it!"

Keith Howland (Christian Spotlight) writes, "The characters and dialogue are so insipid, the plot so thin and inconsistent, and the presentation so murky that any attempt at profundity is lost. Amidst the muddled mayhem there is some attempt at philosophical reflection, even though no character has depth exceeding those in a television commercial."

David DiCerto (Catholic News Service) says it all "adds up to little more than a series of frenetic and violent death duels sloppily strung together in a hackneyed attempt to distract viewers from the lame dialogue, muddled plot and lack of emotion which do not even provide much in the way of B-movie thrills."
Shakespeare's
Merchant

arrives in splendor

The new adaptation of William Shakespeare's The Merchant of Venice is earning high praise. Director Michael Radford (Il Postino) has a remarkable cast for this story of passion, religious intolerance, deceit, and confusion.

Set in Venice, a devious moneylender named Shylock (Al Pacino) does his business in a rash and dangerous way, drawing the disapproval of others who dislike his vocation. Meanwhile, a Christian merchant named Antonio who is facing some business trouble of his own falls in love with a beautiful woman named Portia, and finds himself in need of cash in order to win her hand. But the deal he strikes will cost him more than peace of mind … it may end up costing a pound of flesh.

Ron Reed (Christianity Today Movies) gives it a four-star rave. "The Merchant of Venice offers a complex and confounding window not only into our proclivity to mix racism and religion, but also into love and greed, mercy and justice, the contradictions of the human heart. I'm glad to see these battles rejoined, glad these questions will again be talked about, felt about, fought about. The long and terrible history of enmity between Christians and Jews leaves a legacy of guilt and unforgiveness and judgment. Perhaps this time, in at least a few of those arguments, Portia's plea will win out: our insistence on law and just recompense will give way, and Jesus' great prayer will at last teach us to render the deeds of mercy."

He raves about Pacino, saying that the veteran actor "reminds us that he is not just good but great, a performer of true genius who can dominate the screen, or an entire film. This acting is true, and you won't see better."
Bad Education

portrays bad behavior from everyone involved
Pedro Almodó var (Talk to Her, All About My Mother), who has never made a secret of his contempt for the Catholic church, is bashing the church again in this story of two Franco-era students who are abused by a priest in a Catholic school. But apparently there's enough bad behavior in Bad Education to make everybody look bad.
David DiCerto (Catholic News Service) says, "While the movie deals with the hot-button issues of priest pedophilia and homosexuality, the Iberian auteur manages to sprinkle in some of his trademark humor in exploring his touchstone themes of sin, seduction and cinema. While such unflattering portraits of ecclesiastical authority are hardly accidental, Almodovar's primary motive seems to have been to use Father Manolo's abuse of power as a catalyst for the story rather than as a weapon to target the church in general for condemnation. By dramatizing the devastating effects sexual abuse has on victims' lives, the film can hopefully … 'contribute to the church's continuing examination of conscience.' In that sense, even a Bad Education can offer an opportunity for learning."
Darrell Manson (Hollywood Jesus) says, "Gael García Bernal is brilliant in his multiple roles." He also addresses the objections that other Christian critics have to the film's negative portrayal of a Catholic priest. "The priest and the church are no more villains than any of the other characters. There are no innocents in this film. Each of the characters is in turn a victim and also a perpetrator of abuse of various kinds. Each is morally culpable for some of the evil that befalls others and themselves. Bad Education shows us how the struggle for power can bring ruin into many lives."
Director Shainee Gabel (Anthem) has drawn from John Travolta one of his bravest performances. Whether or not the performance is convincing … well, critics have different opinions on that.
In A Love Song for Bobby Long, Travolta plays the title character, an ex-professor in New Orleans who is stumbling into a downward spiral of drink and melancholy literary musings. He lives in a house left to him by a recently deceased friend, sharing the space with his frustrated biographer (Gabriel Macht), a former student who strives in vain to complete his book on Long's previous achievements. When a young woman named Pursy (Scarlett Johansson) shows up at their mess of a house and turns out to be the daughter of their recently deceased friend, there's immediate trouble. It turns out the dearly departed woman intended that the three of them share the house. Suspicious of these two reclusive drunks, Pursy struggles to find some way to trust … and live with … her new "neighbors."
David DiCerto (Catholic News Service) reports, "[It] has all the ingredients of a good film, including a solid cast and a setup for conflict, but the whole is somehow less than the sum of its quality parts. Like those of the Catholic Southern novelist Flannery O'Connor, the story is populated by misfits and explores the flawed human condition in all its fragility. Unfortunately what this film lacks in depth, it makes up for in length, and it would have benefited from some pruning. Still, the ultimately life-affirming movie ends on a redemptive, albeit contrived, note and imparts a strong message about repentance and second chances, which will resonate with Catholic viewers."
Les Choristes—

inspiring, predictable, popular, French
The directorial debut of Christophe Barratier, Les Choristes (The Chorus), to which he also contributed the screenplay and the original music, is a big hit in France. But critics are giving it a lukewarm reception here. The film follows the efforts of a struggling musician, Clement Mathieu, who accepts the formidable task of teaching music to troubled students in a correctional house for boys in the 1940s. Slowly but surely, he finds ways to employ music that will help the boys grow wiser and happier.
Russ Breimeier (Christianity Today Movies) says, "Les Choristes plays its audience like a violin. To some, that means being caught up in the emotions, sweetness, and touching message at the film's heart. Others, however, will simply leave the movie scratching their heads, feeling that they have indeed been played." He offers this suggestion: "A slightly stronger and longer script could have easily remedied the weaknesses in this movie by adding thirty more minutes of character development and details to potentially elevate it above its hackneyed devices."
Harry Forbes (Catholic News Service) says, "If you felt the tears welling during such European period weepers as Cinema Paradiso and Life Is Beautiful, be prepared to bring out the Kleenex again for The Chorus (Les Choristes). This is a glossily sentimental and heart-tugging French film. Barratier's film about the healing power of music features first-rate performances, including the children who are superbly cast, and heavenly singing by the boys—once they get going—making this a surefire audience pleaser even as the setup is transparently manipulative."
More reviews of recent releases
In Good Company: Two weeks ago, Film Forum featured an early look at In Good Company, along with some comments from cast members. This week, there are reviews available at most Christian film review sites.
Lisa Ann Cockrel (Christianity Today Movies) says, "There's much to applaud in this movie. It's got a 'Father Knows Best' sensibility about it that exalts character over profit margins. Dan is an honorable man and Carter, eventually, decides he wants to figure out how to be one too. But in my opinion, the story's execution falls short of its potential."
Steven D. Greydanus (Decent Films) asks, "How often does Hollywood take notice of a hero who values, say, building loyalty with customers and coworkers, or who actually has it together at home with a committed marriage and a happy family, as opposed to merely undergoing a cliché d third-act revelation that family is what really matters and that he's been wasting his life? In Good Company does this and more. It's not just about personal success versus professional success, it's appropriately interested in both. What's more, it's also interested in personal and professional ethics, personal and professional integrity. Imagine that."
Bob Smithouser (Plugged In) says, "It contains some terrific performances [and it] has its heart in the right place with solid statements about fidelity, preborn life, family ties and a man's need to keep his career in perspective. But in the final analysis, while I respect the film's message and its assemblage of onscreen talent, it doesn't supply enough fun or riveting drama to call it great entertainment."
Andrew Coffin (World) says this film "has more in common with About a Boy than [Weitz's] earlier projects. In Good Company has similar aspirations—getting at what's 'really important' about life. Regrettably, without much profound to say, the film doesn't register thematically."
Chris Utley (Hollywood Jesus) raves that it's "an excellent and enjoyable film. Weitz … continues his exploration into the deeper places of the masculine heart and mind through this film. Complex, funny, and real, it's a film about finding our way and it's a tribute to those who have helped us to find it. It's not a bad way to start the new year!"
Cliff Vaughn (Ethics Daily) says, "Weitz demonstrated a fine sensibility with About a Boy, and he does it again with In Good Company. It's not the plot that makes Company so much fun; it's the working out of the relationships that are both painfully and hilariously real."
Jonathan Rodriguez (Christian Spotlight) says the film "leaves us feeling good, and refreshed for having seen it. Weitz has given us something real: the humor is real, the characters are real, and the situations are real. If you are expecting something by the book and sub par, be prepared to be pleasantly surprised."
My full review of In Good Company is at Looking Closer.
White Noise:David DiCerto (Catholic News Service) says, "The story is as insubstantial as its spectral spooks. Director Geoffrey Sax tries to distract viewers with hokey horror sequences that are more silly than scary and migraine-inducing sound effects of static interference from snowy TV screens (thus, the title). It is a shame that Sax didn't time the static blasts to cover up the corny dialogue. The unwieldy script makes almost no sense at all."
Million Dollar Baby:Andrew Coffin (World) calls Eastwood's work "morally reprehensible. Million Dollar Baby is well crafted, moving, and full of challenging ideas. But readers be warned—if you watch it, prepare to be confronted, not uplifted and inspired."
Hotel Rwanda:Kevin Miller (Film Forum) says, "The majority of films are forgettable. A slim minority are entertaining. A precious few are insightful. And then, every so often, a film comes along that is truly significant. Hotel Rwanda is one such film. We need films like Hotel Rwanda to help us fend off indifference and remind us that giving is not a one-time event. If we truly want to make a difference, if we truly want to prevent tragedies like Rwanda from happening again, generosity must become a lifestyle."
Next week: Assault on Precinct 13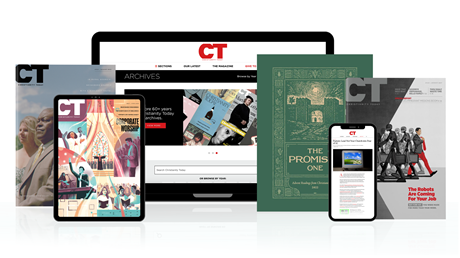 Subscribe to Christianity Today and get access to this article plus 65+ years of archives.
Home delivery of CT magazine
Complete access to articles on ChristianityToday.com
Over 120 years of magazine archives plus full access to all of CT's online archives
Subscribe Now
The World's Biggest-Grossing Star Has Another Hit
The World's Biggest-Grossing Star Has Another Hit