When writer Phebe Gibbons caught a train to Lancaster County in 1871 to visit a Brethren love feast, she prepared herself to enter what she thought would be a strange world. As a reporter for a major magazine she intended to write about what would no doubt be an odd, perhaps even bizarre practice by an obscure religious sect.
What she experienced was the equivalent of a three-day slumber party.
Surprised by love
The love feast was quite different from other religious practices of the day. It stemmed from the peculiar theological synthesis of the Brethren—part Anabaptist, part Pietist, and fully determined to implement those ordinances that they found in Scripture as the result of joint Bible study.
Their reading of John's version of the Last Supper mandated both a full meal and a feetwashing service. John 13:14-15 indicated to the Brethren that Jesus had commanded they wash each other's feet. Moreover, the meal, therefore, did not precede or follow worship. It was worship, and was as essential to Communion as breaking the bread and drinking the cup. Finally, Paul's command to greet one another with a holy kiss (Romans 16:16, 1 Corinthians 16:20, 2 Corinthians 13:12, and 1 Thessalonians 5:26) meant that men kissed men and women kissed women on the lips.
Gibbons was surprised by more than the kissing. First, she had thought of the Brethren as a homogenously German group. But the Lancaster love feast was multicultural: she was astonished to discover folks named Murphy back when the Irish were nearly as reviled as blacks. She was also surprised by the almost raucous good fellowship among these quiet "plain people." The plates of sweet pie and cups of hot coffee never stopped. Venerable patriarchs and matriarchs held court, to be sure, but infants suckled, teens courted, and children hollered during worship. ("Want pappy! Want pappy!" one toddler complained, while struggling to break loose from his mother's restraining arms.) Relatives, friends, and relative strangers mixed freely together as one family.
It was, in short, a feast founded on love.
Gibbons was also surprised to discover she was drawn into everything—hearty meals, sermons in German and English, inspiring hymn singing, good fellowship, and a giggly sleepover in the church attic with the women—the men slept only a few feet away beyond a partition.
In some ways Gibbons's description of a 19th-century love feast is just as true today. Some things are different, of course. Three days have become compressed to a single evening. You won't hear much German anymore, although Spanish is spoken now upon occasion. And the menu includes more fruit and vegetables than in the old days.
But after nearly 300 years, the love feast, based on John 13, remains an essential Brethren practice. Though it is a movable feast, it is also Holy Ground—a place where all people can come together, remove their shoes, and meet Jesus.
A feast for the senses
If you arrive at the love feast (usually held twice a year, often on Maundy Thursday and the first Sunday of October, to many known as World Communion Sunday), you will be welcomed at most congregations as a full participant. The evening will begin with a short service of examination, prayer, and meditation. Generally the congregation then moves to the room or rooms where the feetwashing takes place, men with men, women with women, and children with whomever they choose to sit.
Never will you see such clean feet as those that are brought to the feetwashing! One believer will gird him or herself with a towel, bend a knee, and wash the feet of another in a simple basin, drying the feet with the towel that is wrapped around the waist. The two will then rise and embrace, and sometimes (depending on the congregation) share the Holy Kiss, once again men with men, women with women. The person whose feet were washed will then don the towel and wash the feet of another, and so on. Throughout this time people sing, usually from memory.
After hands are washed, the meal follows. Generally it had been cooking all day, and the smell filled the church even as people arrived. Now the food is served. Often there is some form of beef and broth, with bread soaked and sinking into the soup.
In some churches there is a tradition of absolute silence, but at most love feasts the conversation is lively. This is a joyful occasion, a time spent with people who matter, which leads to many words and a good deal of laughter.
Finally, the bread-and-cup communion is shared. Communion bread is often thick and sweet like shortbread, a cookie really. Even in those congregations where children do not take part in the communion until they are baptized, it is normal to share the bread with them afterwards. It is considered a real treat.
The service engages all five senses—the sights of the tables, the smell of the meat, the taste of the meal, the sound of singing and praying aloud, the touch of water and feet as well as the feel of venerable old eating utensils still in use after decades or even a century of service.
Jesus turned the world upside down when he took on the role of a slave and washed the disciples' feet. The common meal of the early Christian church was just as revolutionary. The Roman Empire was every bit as our age: rich and poor, slave and free, male and female, Jew and Gentile, Roman and Celt. Yet the meal named Love crossed cultural, economic, ethnic, and gender lines. So it is today.
Frank Ramirezis pastor of the Everett (PA) Church of the Brethren. He has written over 20 books includingThe Love Feast (Brethren Press), a coffee table book, andHe Took A Towel (CSS), a short guide for those celebrating the love feast for the first time. More Christian history, including a list of events that occurred this week in the church's past, is available at ChristianHistory.net. Subscriptions to the quarterly print magazine are also available.
Related Elsewhere:
Christian History Corner, a weekly column from the editors and writers of Christian History & Biography, appears every Friday on Christianity Today's website. Previous editions include:
The Doctrine Doctor | Jaroslav Pelikan has written a history of the Christian tradition on a scale no one else has attempted in the twentieth century. (Dec. 30, 2004)
The Real Twelve Days of Christmas | Celebrating Christ's birth with saints of the faith during the actual Christmas season. (Dec. 23, 2004)
Compassionate in War, Christian in Vision | The man behind the Geneva Conventions knew the heights of success and the depths of failure. (Dec. 16, 2004)
A Problematic Mission? | Would the Spanish friars of California's historic missions have lobbied for the separation of church and state? (Dec. 10, 2004)
Advent: Close Encounters of a Liturgical Kind | 'Tis the season when even the free-ranging revivalist pulls up a chair to the table of historic liturgy. (Dec. 03, 2004)
Shaken Up by the Peace-Lovers | A trip through Pennsylvania's Lancaster County. (Nov. 24, 2004)
Eat, Drink, and Relax | Think the Pilgrims would frown on today's football-tossing, turkey-gobbling Thanksgiving festivities? Maybe not. (Nov. 19, 2004)
Now That You've Got Political Power, What Are You Going to Do with It? | History offers warning and hope for our modern-day Christian populism. (Nov. 12, 2004)
How to Pray for Our Troops | This Veteran's Day, let's commend our men and women of the services to the God who brings good even from the most evil circumstances. (Nov. 05, 2004)
Reports of the Revival | The Confederate camp became "a school of Christ." (Nov. 05, 2004)
Courting the Catholic Voter | A new book tells the fascinating story of how America's Catholics decided past elections. (Oct. 29, 2004)
The Politicians' Patron | As the Roman Catholic "patron saint of politicians," Thomas More is not quite a model for all seasons. (Oct. 22, 2004)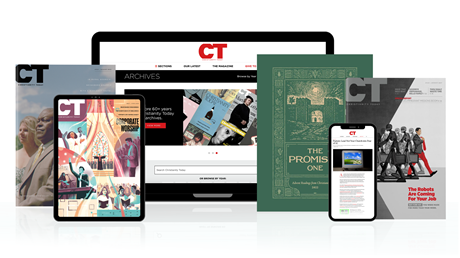 Subscribe to Christianity Today and get access to this article plus 65+ years of archives.
Home delivery of CT magazine
Complete access to articles on ChristianityToday.com
Over 120 years of magazine archives plus full access to all of CT's online archives
Subscribe Now
Holy Ground
Holy Ground