Kurt Ver Beek, assistant professor of sociology and third-world development at Calvin College in Grand Rapids, Michigan, recently published a study that questioned whether short-term missionaries and those served by such missionaries experienced long-term life changes from such missions. We summarized that study and last week published a conversation between Ver Beek and Robert Priest, associate professor of mission and intercultural studies at Trinity Evangelical Divinity School in Deerfield, Illinois. Today, Ver Beek answers readers' questions about the study and short-term missions.
Day One | Day Two | Day Three | Day Four | Questions
What would happen without short-term missions?
What would happen without short-term missions (STM) efforts? Some people argue that American evangelicals are looking for engagement and experiences, and that this is driving the short-term missions wave. If we didn't have short-term missions projects, what would be the result? Would people find some substitute activity that engages them? If a single church opts out of the short-term missions wave, do young people and their families tend to find another church or youth group to get involved with?
- Paul E. McNamara, Urbana, Ill.
Dear Paul,
First of all it is an interesting question—what would happen without short-term missions? First, I can't envision it happening in the near future—nor would I recommend an end to all short-term missions. I think you are right: If one church decided to stop all of their STMs, many people would just look for other outlets.
What my study suggested to me (I hope you will read the study, at least the recommendations at the end) is that we need to try to make short-term missions a part of a structure that will have the greatest possible positive impact on both the North American and third-world participants. I think this will happen by making sure that both groups think through what they are doing before and during the trip, and afterwards get involved in groups that encourage and hold them accountable to their goals.
I think it is important for North Americans and Hondurans to meet each other, to see how the "other" lives, and to see how we can love and support each other. But if the trip doesn't result in lasting positive change for both parties, we need to rethink it.
Kurt
Do STM youth experience vocational change?
When young people go on these STMs, does it have any impact on their future career choice or church service? I've known some college students who did secular semester-abroad programs that changed their lives and directions of their careers (e.g. toward NGOs or other types of nonprofit humanitarian agencies). Does participating in STMs result in greater involvement in long-term mission work, or other vocational Christian work, or involvement in lay ministries in the home churches?
-Maria L. Boccia, Chapel Hill, N.C.
Dear Maria,
This is an interesting question and one that is especially relevant for me since my wife and I run a semester-abroad program in Honduras for Calvin College. Students come down to Honduras for four months and we do our best, with God's help, to share our passion for creating a Honduras and a world more pleasing to God—more just, less poor, and filled with more people truly knowing and serving him. We have seen many students change their majors and careers goals based on their experience. I think the time here is very powerful for all of them.
But then they return to the United States, to their busy life with friends, family, studies, a consumerist culture, and churches that do not often emphasize these issues. Their experiences have lent support to my belief that we all need encouragement and accountability if we're to turn powerful experiences into lasting change.
Two students may leave Honduras equally motivated and "changed," but the ones who returns to their old group of friends without staying in touch with their Honduras friends or joining a group with similar interests is unlikely to seem much difference after a few months. The ones who stay in touch and get involved in a social justice or mission group on campus will often end up making even more radical changes than they talked about in Honduras. So I think the young person who does a STM trip for only one or two weeks would need even more support in making sure those weaker impulses translate into action.
Kurt
Should STMs only work with career missionaries?
Might there be better outcomes for STMs that coordinate with a church's own career missionaries? It seems that when our church has sent teams (as approved from the field) to serve our own missionaries, there has been a marked increase in prayer, care, and partnering in their long term ministry.
- Becky Scoon
Dear Becky,
I think this is a very good idea for several reasons. When I worked with the Christian Reformed World Relief Committee, I always told the churches supporting us that they should come down and take a critical look at what we were doing. When we give to ministries in our own community, we look at who is doing good work and who isn't. We should do the same with missions. I think many churches might be surprised by what they find—some pleasantly and some not so.
If STM trips were to work with missionaries the church already supports, they would understand better what the missionaries are doing and how to better support them. I would be especially pleased if churches came more for a visit than to impose ideas on the missionary. Many times churches dictate, "We want to do a Vacation Bible school," or promote the trip around all the things the group will accomplish (for example, "We will be evangelizing eight hours a day"). A better approach would to show humility, a willingness to learn more than do, and to see the trip as the first step in being a better support to career missionaries.
- Kurt
Might the problem be hedonistic youth? Should we limit STMs to older adults?
In my observation of teens, and even those in their earlier 20s, they appear to have minds like sieves—nothing stays with them for long. Even long ago in my own 20s (don't even ask when), my values and worldview were so unstructured that I had the personality of Jell-O — I took whatever form my mold of the moment happened to provide. I would be curious to see if, after these kids have a chance to grow up a little, their heart for missions grow also.
- Sandy Brownlee
Maybe you are looking at short-term investments the wrong way. Most of us are pretty hedonistic in our 20s; we want all that the U.S. has to offer. I went on STM in my late 20s as a cheap way to have a safe adventure. After one later in life, the lens of my life changed. If you do a survey of short-term mission trips, check out the long term returns of the older adults.
Mary McGuire, Houston, Tex.
Dear Sandy and Mary,
Actually, the median age in my study was between 45 and 56, and only 9 percent were under 25, so the results suggest it is older adults who did not change as much as they would have liked.
I think we could make a strong argument either way. It is harder for older people to make significant lasting change in their lives because after their two-week trip they are behind at work, have to pay all the bills, and the changes they had wanted to make (pray more, volunteer more, give more … ) quickly get swallowed up by daily commitments and routines.
At the same time, a 15-year-old may be excited to go to do Vacation Bible School in Jamaica. While there he may decide that he is going to commit to getting involved in missions in his church. But then he returns to driver's education, a girlfriend, and homework—his goals, too, are quickly forgotten.
I think we all have pretty hedonistic tendencies. On our own it is difficult for any of us to overcome them. We need both God's help and the support of others who will make it happen.
Kurt
Related Elsewhere:
See our earlier coverage of Ver Beek's work, "Study Questions Whether Short-Term Missions Make a Difference."
Ver Beek's study, along with a PowerPoint synopsis and bibliography, are available at his Calvin College site.
Ver Beek presented his paper at the 2005 missiology conference at Trinity Evangelical Divinity School in Deerfield, Illinois.
Earlier parts in this series include:
Who Gets 'Socially Rich' from Short-Term Missions? | How communities feel about themselves after receiving a group may be more important than the number of latrines dug or homes built. (July 8, 2005)
Mission Trips or Exotic Youth Outings? | Not everything in your church's missions budget may be about missions. (July 7, 2005)
Do Short-term Missions Change Anyone? | Or do one week's good intentions fall flat without a concerted effort to follow through? (July 6, 2005)
Are Short-Term Missions Good Stewardship? | More than 2 million teens go on such trips ever year, and giving may exceed that given to long-term missionaries. But is short-term ministry built to last? (July 5, 2005)
Study Questions Whether Short-Term Missions Make a Difference | Missionaries don't keep giving after they return; hosts prefer money to guests, Calvin sociologist finds. (June 20, 2005)
STEM Int'l has more information on short-term missions, including missions opportunities. The ministry will launch Mission Maker Magazine in late September.
Peterson's "Maximum Impact Short Term Missions," "Is Short-Term Mission Really Worth the Time and Money?" and "Can Short-Term Mission Really Create Long-Term Missionaries" can be purchased at the STEM International site.
Earlier Christianity Today coverage of short-term missions includes:
Agencies Announce Short-Term Missions Standards | Similar codes have been established in Great Britain and Canada. (Sep. 30, 2003)
McMissions | Short-termers have their place, but not at the expense of career missionaries. A Christianity Today editorial by Miriam Adeney (Nov. 11, 1996)
See also Marshall Allen's October 2001 article for FaithWorks magazine, "Mission tourism?"
This American Life, a public radio show, spent a week with the youth group from Covenant Presbyterian Church in Chicago as they took a missions trip to West Virginia.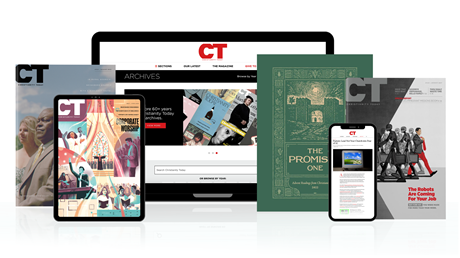 Annual & Monthly subscriptions available.
Print & Digital Issues of CT magazine
Complete access to every article on ChristianityToday.com
Unlimited access to 65+ years of CT's online archives
Member-only special issues
Subscribe
Do Young People Make Poor Short-Term Missionaries?
Do Young People Make Poor Short-Term Missionaries?