true
Part 4: Filmmaking As Manipulation?
We've been wrestling with the question of just how explicit, in the things of faith, a Christian film should be. Should it be in your face with Jesus and the gospel, or should it be more subtle?
We asked two sharp-thinking filmmakers to help us wrestle with the question. Rik Swartzwelder is an L.A. filmmaker whose short, The Least of These, won numerous awards on the film festival circuit. Atlanta's Angela Harvey is a filmmaker, writer, graphic designer, and founder of Crimson, which produces independent films, gospel tracts and greeting cards.
In an oversimplified nutshell, Swartzwelder believes Christian filmmakers should feel free to be direct with spiritual content—including the gospel—in the context of cinematic storytelling, while Harvey believes such things should be communicated in a more subtle way, if at all. With those assumptions as the starting point, we asked Rik and Angela to debate their positions in an e-mail exchange—which we're now sharing with you in a special four-part series, starting today and running through Thursday.
In yesterday's Part 3, the wide-ranging conversation further explored the purpose of film, and whether "Christian" movies are actually recruiting tools. In today's Part 4, our final installment, the debate wraps up with our filmmakers agreeing on some issues, but continuing to disagree on others …
Angela Harvey writes:
There are two more points on which we agree. We don't need to create movies solely by/for Christians or any other niche audience. And please, Lord, may we never, ever see the advent of "Christian" movie stars!
I'm not going to reiterate my definition of a you-know-what kind of film. But if you run Raising Helen or My Big Fat Greek Wedding through the aforementioned definition, you'll find that they don't pass the litmus test of intent.
Presenting positive images of Christians and Christianity is not an attempt to dupe anyone. This is a good thing we've embraced, is it not? Again, I'll say that a positive perspective doesn't mean a falsely perfect one. And a well-rounded character absolutely must face struggles and have flaws. But there are more than enough voices in the world portraying Christians and Christianity in a negative light. We don't need to add our own voices to this off-key chorus.
Jesus went about preaching good news. And when he met people in trouble or need, he didn't tell them to take up their crosses without first offering a message of grace. When he saved the woman caught in the act of adultery, he gave her good news first; "I don't condemn you either." With that statement, he offered hope to a woman who thought she was about to die. That short sentence was fuel for her to embrace his harder message: "Go and sin no more." Life is hard, Christian or not. But it's the good news, the positive messages that help us get through.
There is nothing manipulative or deceitful about hiding profound meaning inside a film. Jesus' parables are the ultimate examples of spiritual messages hidden in stories. Even today, we're exploring those stories for the truths they hold. It's not a matter of the audience "sniffing out an agenda," rather it's about the audience having the opportunity to explore and analyze the deeper meaning of what they've seen—if they should choose to do so.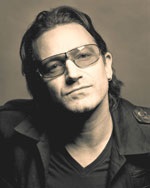 A friend of mine named Terri works for a Christian relief agency. Terri became a Christian because of a U2 song. When she researched the lyrics to her favorite tune, she found out that some of the lines were quoted—unreferenced—from the Psalms. She said to herself, "If the Bible is good enough for Bono, it's good enough for me." Terri has not had an easy go in life. And working for a disaster relief agency, she's certainly seen enough ugliness in the world. But she's still clinging to the faith that was born from that song. In the book U2 at the End of the World, Bono says this about the expression of faith in his music:
"We've found different ways of expressing it, and recognized the power of the media to manipulate such signs. Maybe we just have to sort of draw our fish in the sand. It's there for people who are interested. It shouldn't be there for people who aren't."
Rik Swartzwelder responds:
One of my film professors at Florida State used to always say, "Filmmaking is manipulation"—and definitely not in a Christian context. She was right, of course; it's not her fault that the word "manipulation" has such a negative slant. The trick, she'd say, was in making the manipulation invisible to the viewer. So, don't get me wrong, I'm not knocking manipulation—I'm a fan! I can still remember the first time I saw The Sixth Sense and, sitting in a packed movie house, actually began chuckling out loud with childlike joy when M. Night Shyamalan let us in on his film's little secret.
But, I wasn't manipulated into changing what I believe about God or life or whether or not children can see dead people. So, I'm not saying that we shouldn't have twists or turns in our stories or shouldn't layer them with metaphor and meaning. Those things are givens, I believe.
Certainly, Jesus knew what he was doing when he was sharing his parables with the masses. Your nod to his use of story as a means of helping others draw nearer to God is dead-on accurate. Jesus was, in a sense, manipulating folks to try and see the world in a new way all the time. And he was good at telling stories. In fact, his manipulation was so invisible in his storytelling that many often missed the point altogether; and, unfortunately, those that did "get it," often walked away more angered than enlightened. Even so, the crowds stayed and listened—in no small part because Jesus was good at spinning a yarn. He knew his craft and his audience. The fact that not everyone "got it" every single time didn't seem to dissuade him or cause him to alter his approach for broader appeal. He told his stories boldly and then let them take on a life of their own, which they're still doing today. And at other times, well, Jesus was … direct.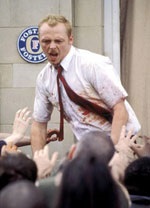 Likewise with cinema, there's a place for being direct and there's a place for being ambiguous—there's room for all kinds of films. I never claimed that all films should have direct "Christian" content, just that we shouldn't be so afraid of it. The most fun I had at the movies, by far, in 2004 was Shaun of the Dead. There, I said it. Now, I'd be hard-pressed to come up with any deep spiritual meaning to the film, but it sure made me laugh a lot and, as far as I know, there's no biblical mandate against killing zombies, per se; so, I'm still able to sleep at night—with the closet light on anyway.
Point is, zombie-flicks aside, it all comes back to authenticity and lasting impact—just like the parables of Jesus. I wonder which films from 2004 will be treasured and referenced years from now? Dodgeball may have reached a broader theatrical audience, made more money, and not contained anything that was "too" anything or might cause someone to feel alienated; but, I bet the very personal and iconoclastic Tarnation and Sideways and Garden State will all fare better in the long run. And, whether or not I personally like any of these films is irrelevant—I stand firmly on the side of filmmakers that are willing to risk failure and reach for a voice that is their own.
I completely agree with you that Bono and U2 have done this with music in a way that is remarkable; and I rejoice with you that one of their songs was such a milestone on your friend's spiritual journey. On so many levels, the influence of that quartet is hard to fathom. They have endured—miraculously enough, wearing their faith and doubt on their sleeves the whole time. Sometimes ambiguous, sometimes direct—always artful. It's the music—the craft—that paved the way for the message, though. The band created a unique sound that, combined with Bono's voice and lyrics, set them apart and caused heads to turn. It's important to note that when U2 was starting out, many said it was impossible to sing about God and find a mainstream audience—just like many persist in saying similar things about God and mainstream movie audiences today.
In essence, what I would love to see—and believe can happen—is some filmmakers of faith breaking through and consistently achieving with cinema what U2 continues to do so elegantly and effectively with music. It's possible. It absolutely is.
Angela Harvey is a filmmaker, freelance writer and graphic designer in Atlanta. She's also founder of Crimson, which produces independent films, gospel tracts and greeting cards. Angela holds a degree in Organizational & Interpersonal Communications from Oral Roberts University and she worked in full-time ministry for seven years. Angela enjoys hiking, yoga and cooking.
Rik Swartzwelder is a writer-director-producer whose films have screened at more than 120 film festivals and garnered more than 40 major awards, including a Crystal Heart for his 35mm short, The Least of These. He earned his M.F.A. in Motion Picture Production from The Florida State University and is currently in Los Angeles developing several projects. For more info, please visit www.oldfashionedpictures.com.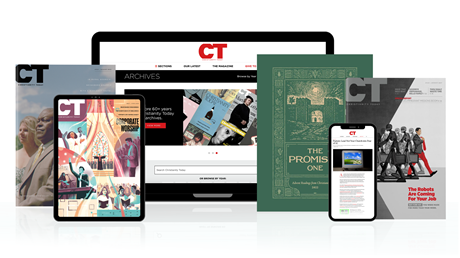 Subscribe to Christianity Today and get access to this article plus 65+ years of archives.
Home delivery of CT magazine
Complete access to articles on ChristianityToday.com
Over 120 years of magazine archives plus full access to all of CT's online archives
Subscribe Now
Should Films Be Faith-Explicit?
Should Films Be Faith-Explicit?