When people think of Billy Graham, they think "evangelist," "preacher," or even "godliness." They don't think "leader." This is a mistake according Harold Myra and Marshall Shelley inThe Leadership Secrets of Billy GrahamMyra and Shelley, Christianity Today International CEO and editorial vice president respectively, interviewed dozens of people who have observed or worked closely with Graham, and they describe the many ways Graham has exerted strong and wise leadership. The following excerpt shows Graham leading on race, especially during his 1957 New York City crusade.
At first Graham tried to carve a middle ground that opposed both forced integration as well as forced segregation. He relied on the example of Billy Sunday, who had followed local custom by preaching to integrated audiences in the North and to mostly segregated audiences in the South. So, in many of his earliest meetings, Graham followed suit.
But the dramatic times left little maneuvering room for moderates. Reporters demanded to know why he could not speak to integrated audiences in South Carolina and Georgia just as he did in California and Massachusetts. They asked why he never addressed racism in the South.
Graham chose to make his stand in the heart of the segregated South. He initially agreed to segregate the audience during his 1952 campaign in Jackson, Mississippi, but rejected Governor Hugh White's suggestion to conduct separate meetings for blacks. Meanwhile, Graham prepared to make a much bolder statement. Holding segregated events had always struck him as wrong, but he'd never chosen to take decisive action—until now. Walking toward the ropes that separated blacks and whites, Graham tore them down.
Mystified and uncomfortable ushers tried to put the ropes back up. Graham personally stopped them.
This symbolically powerful gesture marked a major ministry watershed. He never again led a segregated campaign.
"There is no scriptural basis for segregation. It may be there are places where such is desirable to both races, but certainly not in the church," Graham told his Mississippi audience. "The ground at the foot of the Cross is level, and it touches my heart when I see whites standing shoulder to shoulder with blacks at the Cross."
Nearly two years before the famed Brown v. Board of Education decision, when the U.S. Supreme Court declared "separate but equal" arrangements unconstitutional, Graham threw his clout behind the civil-rights movement. Though tearing down the ropes in Jackson seems in retrospect a simple decision, his action earned the respect of many blacks and the enmity of segregationists. In so doing, he signaled to his followers that racial inequality should not be tolerated in the church.
"He outgrew Southern racism much earlier than his Southern colleagues did," long-term colleague Sherwood Wirt in a letter to us said of Graham. "He thought like a large ruler. His vision outstripped all of us."
As he had ministered throughout the country, he had widened his contacts with the black community. At the same time, he knew where the growing edge of the white community was, and if he went too far ahead of it, they would write him off, and he would lose all influence. He had to strategically communicate his message of love and hope, including his vision of racial harmony and reconciliation, to a wide range of constituents.
His stance had its effect. Charles Marsh, author of God's Long Summer: Stories of Faith and Civil Rights, grew up in the South. In his memoir, The Last Days: A Son's Story of Sin and Segregation at the Dawn of a New South, he tells of how his father, a pastor in a small Mississippi town, was influenced in his pilgrimage "from a son of the segregated South to preacher of the sermon 'Amazing Grace for Every Race.'" Writes Marsh, "Billy Graham had long refused to hold meetings before segregated audiences, and this conviction stirred my father's willingness to change, if not to see racial equality as ordained by God. 'The ground at the foot of the Cross is level,' Billy liked to say."
Yet for all those who resonated with his convictions, there were many who did not. Segregationists continued to disparage his efforts, and then he had to factor in church leaders from the other side of the spectrum like Reinhold Niebuhr, who criticized him for not moving quickly enough.
Coaxing Change
Graham's 1957 New York City campaign illustrates just what he faced and the tactics he employed. During the first few nights, critics and supporters alike noticed a disturbing trend: The audiences looked more like a cross section of Middle America than the diverse streets of New York City. Especially notable was the absence of African Americans. Lamenting this fact, Graham called Cleveland pastor Howard Jones, an African American, and asked him how to reach the city's minorities. Jones pulled no punches and told Graham to go where the blacks lived—Harlem. Jones even left his job in Cleveland to organize this effort. Eight thousand people attended the first event there. One week later at a similar event in Brooklyn, Graham for the first time voiced his support for civil-rights legislation. Though Graham focused his efforts on spiritual change and emphasized the necessity of inward transformation, he also lobbied for institutional reform. Graham's leadership tactics reflected his belief that a variety of devices would be needed to coax change.
Jones later noted Graham's leadership with admiration. "When Billy approached me to join him in New York, it was more or less understood that white Christians worshiped with white Christians and black Christians worshiped with black Christians. Our evangelical churches seemed to believe that heaven too would be 'separate but equal.' We recited the Lord's Prayer and prayed: 'Thy will be done on Earth as it is in heaven' but then proceeded to bow at the altar of Jim Crow. Talk about being countercultural; what Billy did was radical. There's no getting around it. He weathered the barrage of angry letters and criticisms. He resisted the idea of pulling the plug on the whole thing and playing it safe. There was never any hesitation on Billy's part. He remained faithful to his convictions."
Graham's brief foray into Harlem produced the intended result of involving African Americans and marked the beginning of an important relationship. Two rally organizers were close friends and advisers of Martin Luther King Jr. Together with King, they huddled with Graham in private strategy meetings and even swapped dreams of conducting joint evangelistic crusades. But the union was not to be. King's approach was too political for Graham's taste, and they agreed to seek change in separate spheres.
Graham did invite King to give a prayer at the meetings, a symbolic move that further solidified his commitment to the movement toward racial equality. "A great social revolution is going on in the United States today," Graham said as he introduced King. "Dr. King is one of its leaders, and we appreciate his taking time out of his busy schedule to come and share this service with us tonight."
Graham's relationship with King affords a telling glimpse into Graham's strategy. He sympathized with King's motives and admired his peaceful tactics, but he also recognized that much of his own core constituency was not ready for civil disobedience. Graham broke custom and tradition where necessary, but he would not break the law. This cautious approach doesn't impress many modern observers, who eagerly point out how much more Graham could have done to aid King's cause. At the time, however, Graham bolstered King's agenda among a constituency not yet reached by civil-rights activists. Graham knew his followers and their limitations, identified their growing edge, and helped shape their perspectives on race relations.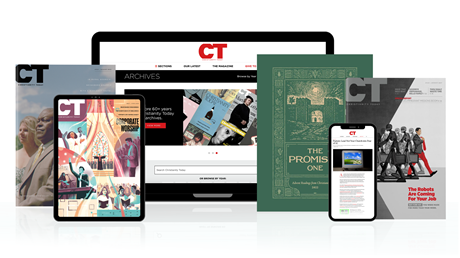 Subscribe to Christianity Today and get access to this article plus 65+ years of archives.
Home delivery of CT magazine
Complete access to articles on ChristianityToday.com
Over 120 years of magazine archives plus full access to all of CT's online archives
Subscribe Now
Jesus and Justice
Jesus and Justice