true
The title Cinderella Man was originally coined by classic New York journalist Damon Runyan, who is cited at the film's start as calling James Braddock the ultimate human interest story. Which is perfect for Ron Howard, one of the greatest human interest film directors of our time. He's re-teamed with his Oscar-winning A Beautiful Mind crew of producer Brian Grazer, screenwriter Akiva Goldsman, and actor Russell Crowe to bring this historical sports fairy tale to life.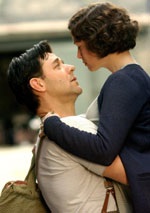 The story of Jim Braddock is at heart similar to that of Seabiscuit, though the boxer was already a phenomenon before the horse. It begins in 1928 with Braddock well on his way as an undefeated light-heavyweight boxer. All seems well for the so-called "Bulldog of Bergen" with his rising career, his loving wife Mae (René e Zellweger, Oscar winner for Cold Mountain), their young children, and a nice house across the river in New Jersey.
But as any student of American history can tell you, hard times hit most everyone soon after because of The Great Depression. Not that boxing lost its popularity during that period, but money became tighter for the Braddocks, partly because of some bad investments. The boxing great also fell into a string of losses, eventually breaking his hand in a match and decommissioned from the sport as a result. Suddenly, Braddock has no way to provide for his young family, and work is scarce—especially for a laborer with a hand injury. Poverty threatens to tear his family apart, but rather than send the kids away to stay with his sister-in-law, he's committed to keeping his loved ones together at all costs.
Time passes and things don't become easier, but then Braddock's manager Joe Gould (Paul Giamatti, Sideways) drops by with an opportunity he can't pass up: a chance to stand-in for the opener to the 1934 heavyweight match at Madison Square Garden. The idea was to collect some fast money for Braddock's family while going out in a blaze of glory boxing bout. Things work out differently, leading to one of the most amazing comebacks in sports history and inspiring hope among a hopeless generation.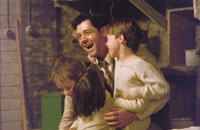 Let me qualify praise for Cinderella Man by saying that the film's greatest weakness is that it's somewhat conventional, much like 2004's biopics Ray and Finding Neverland. The boxing arc leads to the inevitable climactic match—a "Seabiscuit vs. War Admiral" showdown against the imposing Max Baer (Craig Bierko, The Long Kiss Goodnight). There's the concerned wife who doesn't want to lose her husband to the perils of his sport, and the manager who morally wrestles with the success and the well being of his star and friend.
Yet truth is often stronger and stranger than fiction, and it's the mark of a well-made film when you know almost exactly where it's going, yet still find it suspenseful and engaging despite that. Cinderella Man succeeds not because of originality, but with excellence in filmmaking.
Technically speaking, this may be the best film I've seen about boxing. A classic with a lot of heart, Rocky's melodrama hasn't aged well with time, and both Raging Bull and Million Dollar Baby are ultimately more focused on character study than sport. Cinderella Man also loves its characters, but it also builds some respect for the skills of boxing. Brutal as it is, the pugilistic strategies and techniques are on blow-by-blow display here. Howard's intuitive storytelling through point-of-view camerawork places the viewer in the ring to help understand the fighters both physically and mentally. I found nearly every second of every match riveting, not simply learning whether or not Braddock wins the match, but also how.
Cinderella Man also succeeds because it's two different movies working tandem, thus making it a seemingly breezy two-and-a-half hour film experience. It's possibly the best movie about the Depression since The Grapes of Wrath, successfully personalizing the plight of the Braddocks with casual visuals rather than heavy-handed scripting. At the film's start, we see the good life in the family home. Then the film jumps ahead four years without ever seeing the crash or the ensuing panic.
What we do see is a camera pan across a bedroom dresser crowded with trinkets that suddenly becomes bare. Milk is watered down to feed a family, a single birthday cake is used to celebrate for multiple children, and cheap graves are used to economically bury more than one at a time. Suddenly, every story about the hardships suffered by your parents or grandparents come to life in an effective new way.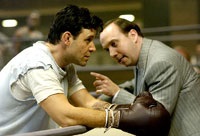 Perhaps the greatest strength of the movie is the way it consistently champions morality. Early on in the midst of the family's struggles, Braddock's eldest son steals a salami from the butcher. After his father makes him return it, he explains why he did it in one of the film's most emotionally resonant moments. It soon becomes clear that this isn't a movie about a man trying to recover honor or glory, or a boxer trying to defeat the bad guy (though Baehr is rightly portrayed as a self-serving "killer and clown," but he's not a murderer or evil). Instead, this is about a man fighting poverty (and its subsequent effects like illness and starvation) to save his family. He's lost the battle if he loses his wife and children.
Russell Crowe solidifies his place as one of today's greatest actors. Much like Robert DeNiro, he's a proven chameleon, gaining weight for roles in Master and Commander and (dramatically so) in The Insider. In this, he's not buff and muscular like in Gladiator, but he's in good shape and seemingly thinner than ever, dropping 50 pounds for the role. He's also similar to Harrison Ford in the way he subtly communicates so much with simple expressions. Watch for the joy and surprise on his face after his comeback win, or the way he shows love and devotion for his family while interacting with his children. And oh how heartbreaking is the shame on his face when he begs for money to support his family. Braddock comes off perhaps a little too saintly in this movie, always doing the right thing, but Crowe makes him believable every step of the way.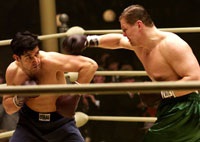 And maybe it's because she was so good in the adaptation of the musical Chicago, or perhaps it's just the haircut, but Zellweger feels authentic and of the era. She's got the mannerisms and the Jersey accent down as the concerned wife and mother, balancing fear with strength. Though loving and supportive of Braddock's actions, she's also vocal in expressing her emotions and concerns.
Then there's Giamatti, vastly underrated as reflected by his Oscar nomination snub for Sideways. An amazing character actor, he's pitch perfect in the role of Joe Gould. Here again is a classic character type that personifies the time period and setting with the smart mouth and mannerisms. He has great chemistry with Crowe in this film, and while it's still early in the year, a Supporting Actor nod seems very likely.
This serves as a fine alternative to the generally louder and more brainless summer movies competing with it—an excellent drama that relies on heart and action instead of schmaltz and melodrama. It's not quite a heavyweight champion worthy of Best Picture, but it is one of the year's first serious Oscar contenders because of its strong performances and skilled directing. Cinderella Man deserves a space on the shelf next to excellent dramatic sports films like The Natural, Hoosiers, and Seabiscuit.
Talk About It
Discussion starters
Can poverty be a blessing in disguise? How so? Where does it focus our priorities?


How does the film portray prayer through the hard times? What does it say about showing thankfulness, hope, and honor when things are tough? Is it understandable to feel "all prayed out" like Braddock says in the film?


Was Braddock justified in trying to keep his children with him at all costs? Are there situations in life where it makes sense to split up a family, either temporarily or permanently?


What does this film say about pride? Braddock seems to be fighting to keep it in some parts and willing to sacrifice it in others. Are there different kinds of pride? Which is worth keeping and which should we throw away?


The movie depicts a fine line between reality and dreams. When does it make sense to be practical and when should we go with our intuition? When does one supercede the other, and how do we know which one to let guide our lives?


Does Braddock's story parallel anyone's in the Bible? (Hint: There's at least one from Genesis, and another with her own book in the Old Testament.) What can we learn about hardship and hope from people like these?


The Family Corner
For parents to consider
Cinderella Man is rated PG-13 for "some language," but there's actually a lot of it, which you might expect from a movie set in the streets and boxing rings of New York and New Jersey. None of it is R-rated, but there are irreverent uses of God's name. The film also earns its rating more for the intense boxing violence, which is very realistic but not as bloody or intense as it was in Million Dollar Baby. Take the rating seriously, but those mature enough for a PG-13 film will appreciate this moving true life story that champions family values amid Depression era hardships.
What Other Critics Are Saying
compiled by Jeffrey Overstreet
compiled by Jeffrey Overstreet
from Film Forum, 06/09/05
Ron Howard, director of Apollo 13 and A Beautiful Mind, knows a crowd-pleasing story when he sees one.
In 1935, boxer Jimmy Braddock completed one of the most amazing comebacks in sports history, going from a Depression-era soup line to a title bout with heavyweight champion Max Baer, who was famous for doing severe—even deadly—damage to his foes. Braddock inspired not just sports fans, but a whole nation. He was a savior to his family, who had fallen on hard times.
Howard, reuniting with the Oscar-winning team of screenwriter Akiva Goldsman and star Russell Crowe, in combination with the talents of actors Paul Giamatti and Rene Zellweger, has turned Braddock's story into a heavyweight Oscar contender. It's a handsomely crafted film, winning cheers from viewers and critics.
Article continues below
Most Christian film critics rate it as a knockout.
Steven D. Greydanus (Decent Films) raves, "Cinderella Man is a rousing picture and a genuinely inspiring one, and represents some of Howard's best work. It's one Cinderella story that goes the distance without turning into a pumpkin, and fully earns its happily ever after."
Annabelle Robertson (Crosswalk) says it's "captivating on many levels," despite her count of 30 to 40 "obscenities and profanities throughout the movie." And she observes, "Despite the awesome prayers and faith of his wife, there is somewhat of a humanistic, 'man can pull himself up through sheer determination and belief' tone to the Jimmy character." But she concludes that the film is "an amazing study in the heart motivations of men vs. women."
Jonathan Rodriguez (Christian Spotlight) says, "We have all heard of 'self-made men' and Braddock seems like a perfect example of someone who felt that way about himself." But he concludes that this "is a great movie, plain and simple. We are given a hero to sympathize with, a good family man who adores his wife and kids and who is willing to do whatever it takes to provide for them. And the final scenes are genuinely thrilling."
Greg Wright (Hollywood Jesus) says, "The true story of Braddock's riches-to-rags-and-back-again career is compelling enough in its own right. But the real power of Howard's rendition of the story, and Russell Crowe's performance as Braddock, lies not in the inevitably predictable and triumphant boxing scenes but in a series of very real, quiet human moments—moments that portray the universal struggle for dignity and peace."
At the same site, Darrell Manson writes, "It is a well made, uplifting film that speaks to the hope that the American dream holds out to those who need a little bit of luck or a second chance. But … I just felt there was something missing. Maybe it's because as well done as it is, it doesn't make the top of any of the genres you could put it in. It just doesn't make it to greatness."
Harry Forbes (Catholic News Service) writes, "What's especially commendable about the film is that [Braddock] is motivated, not by the quest for personal glory, but to support his wife and children. Those unsettled by the grim denouement of Million Dollar Baby will be relieved to find Cinderella Man a good old-fashioned boxing movie with an infinitely more upbeat feel by the final bell."
Article continues below
Marcus Yoars (Plugged In) says, "Ron Howard has done it again. … With outstanding performances from a trio of premium actors, he's brought yet another true story to the big screen, loaded it with both tear-jerking and heart-swelling moments, packed it with honorable leading characters and artistically conveyed some wonderful morals. … In short, Cinderella Man is as powerful as its hero's punches."
Michael Elliott (Movie Parables) is thrilled. "This inspirational biopic is the best film I've seen this year and a sure contender for an award or two come season's end."
Barbara Nicolosi (Church of the Masses) liked the movie, but doesn't like boxing: "The heroism of the main character revolves around his success in beating other men's faces to a bloody pulp. As a secondary high-stakes goal, he also sets new standards in hitting hard to the body and breaking ribs. The movie tries to set his heroism up as a man conquering fear … but yeah, he still triumphs by nearly killing other guys. I loved so much of this movie, but I hate, hate, hate watching long sequences in which two men hit each other harder and harder in close-up … It's exciting to watch in a perverse way."
While other Christian critics are cheering the film, I saw a number of troubling problems. My full review is at Looking Closer.
Many mainstream critics are calling it an early Oscar favorite. Roger Ebert writes, "Most serious movies live in a world of cynicism and irony, and most good-hearted movie characters live in bad movies. Here is a movie where a good man prevails in a world where every day is an invitation to despair."
Copyright © 2005 Christianity Today. Click for reprint information.
Related Elsewhere:
A ready-to-download Movie Discussion Guide related to this movie is available at ChristianityTodayMoviesStore.com. Use this guide after the movie to help you and your small group better connect your faith to pop culture.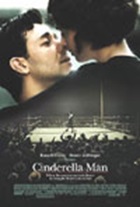 Browse All Movie Reviews By: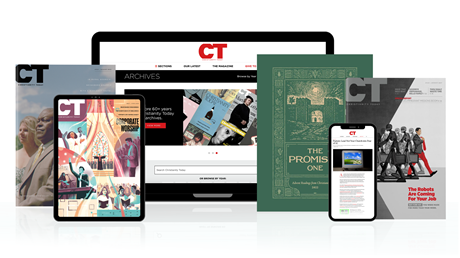 Annual & Monthly subscriptions available.
Print & Digital Issues of CT magazine
Complete access to every article on ChristianityToday.com
Unlimited access to 65+ years of CT's online archives
Member-only special issues
Subscribe
Cinderella Man
Cinderella Man