true
SALEM, Oregon—In what he called his last U.S. concert, 58-year-old Larry Norman came out of retirement Friday at the historic Elsinore Theatre and wowed a sold-out audience that included fans from England, Scotland, Ireland, Germany, and Australia.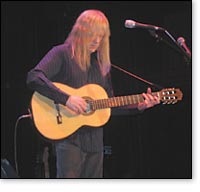 Norman played his last U.S. concert on Friday night


(Photo by John Dutton)
"As far as I can tell, this is the last time I'll be able to play in America," Norman, known as the Father of Christian Rock, told the crowd, an enthusiastic and eclectic mix of all ages and styles of appearance.
Since suffering head injuries in an airplane accident 27 years ago and severe heart problems 14 years ago, Norman has been unable to tour regularly. He officially retired in 2001, the same year he underwent quadruple bypass surgery and was inducted into the Gospel Music Hall of Fame.
Norman opened the show with a solo set, starting by singing, "I was born and raised an orphan / In a land that once was free," the first lines of "The Great American Novel" from Only Visiting This Planet, regarded as one of the top contemporary Christian music albums of all time.
When Norman appeared to forget the lyrics halfway through his first song, he made a joke, recovered well, then stumbled again. The third time, Norman asked his audience, "Does anyone know the last verse?" They knew it, gave him a few words, and he finished strong.
At the conclusion of the song, Norman gave his trademark "One Way" gesture, pointing an index finger toward heaven. People throughout the crowd joined him in the salute.
Norman began singing "Song for a Small Circle of Friends," stumbled, and started over with help from his fans.
Before beginning his third song, Norman joked, "I better slow this one down so we both know the words." He came through with strong performances of "Reader's Digest," "If God Is My Father," and "Let the Rain Fall Down."
Halfway through his solo set, Norman talked about the Elsinore Theatre where his grandfather performed in vaudeville acts many decades ago. Norman then showed a bit of his own vaudevillian side, cracking up the audience with some funny lines about Hollywood and Jesus movies.
Norman then recalled childhood memories of bomb drills at school, in a day when America dealt with fears of nuclear attack. He remembered reading in the Bible that Jesus would return to earth someday, prompting Norman to say, "They can't blow it up, because then what would he return to? So I stopped worrying about it right there and then. I never worried about it again." He then sang "U.F.O," "Six Sixty Six," and "I Believe in God."
Following the solo set, friends and family began joining Norman on stage. First up was Julie Hoy, who joined Norman for a duet on perhaps his most famous song, "I Wish We'd All Been Ready." Everyone sang along.
Norman's sister, Nancy Norman-Overmeyer, then joined him on stage as Norman reminisced about their childhood. They then sang a medley of childhood songs, including several brief forays into early rock 'n' roll. When the audience applauded, Norman smiled and chided, "You can't clap—Christians didn't have emotions in the fifties."
Norman briefly discussed the rich heritage of black music in American history before he and Nancy closed the set with the haunting yet hopeful nineteenth century spiritual, "Drinking Gourd."
Michael Manning then accompanied Norman for a bluegrass version of "The Outlaw." Manning played a musical saw, one of a variety of exotic instruments he's played on Norman's albums.
Norman then introduced the African Gospel A Cappella Choir, five blind men dressed in rich blue shirts with white circles, black slacks, and matching sunglasses. They enjoyed enthusiastic applause after all four of their songs. Norman returned to join them for "Put Your Life into His Hands."
After an intermission, Norman returned wearing a white dress shirt and tuxedo. He sat at the piano for a humorous song—"For the kids," he said—before renowned pianist Dan Cutrona took over, accompanying Norman on "As Time Goes By," "The Moon Is a Harsh Mistress," and his classic anthem "One Way." At the end of that song, audience members again flashed their index fingers heavenward.
Norman then recalled his father saying in 1956, "No son of mine is going to grow up to be Elvis Presley." He banned Larry from listening to the radio, saying, "I don't like rock 'n' roll music. It's only about one thing."
"What's that?" Norman asked.
Stuttering as if trying to say the word "sex," Norman's father ultimately replied, "Uh, romance."
Norman then spoofed his father's music from that time—which just happened to include a lot of sex and romance. Then he told a sober story about writing "I Am a Servant" on a plane after his father's futile efforts to get his grown son to conform. Norman sang "I Am a Servant, "Still Standing" and the melancholic "Piano" with great feeling.
After the audience watched a fast-paced, MTV-quality video that he produced last December, Norman walked back on stage in black jeans, a black T-shirt, and white jacket. Joined by special guests Mark Lemhouse and Gary Pomeroy, Norman sang "My Feet Are on the Rock," tossing his jacket during the acoustic guitar solo. Two Softcore band members joined them on stage—Silver Sorenson on bass guitar and Jason Carter on drums. Norman and Lemhouse then did a rousing version of "Can't Get That Stuff No More."
Before his last set, Norman thanked the fans and said, "I know I'm a bit more restrained than maybe you've seen with other bands. I just realized I better not put off till next year what I ought to do."
Norman announced upcoming concerts in England and Norway, and then was joined by his full band—Cutrona, Lemhouse, Pomeroy, sister Nancy, brother Charles, and the rest of the Softcore band. They rocked the Elsinore with "Why Don't You Look Into Jesus?"
The biggest surprise of the night followed when Frank Black from the Pixies joined the band for "Watch What You're Doing." After "Twelve Good Men," Norman stood still, looking out at the audience for a long time before saying, "As far as I can tell, this is the last time I'll be able to play in America, in Europe, and planet earth."
After Norman and band closed with a high-octane version of "The Last Time," the crowd rewarded them with a lengthy standing ovation.Norman and friends came back out for an encore, "Why Should the Devil Have All the Good Music?"
After singing the lines "I ain't dead yet" and "Jesus is the rock and he rolled my blues away" for the last time, Norman smiled and walked off the stage. A full minute of loud cheering failed to bring him back for a second encore.
Norman has all but closed one of the most important chapters in contemporary Christian music, a chapter he started more than four decades ago. The next night, more than 100 band members, relatives, and friends celebrated with Norman at his "Party Gras."
Several days before the concert, Norman had said in an interview, "My ministry has never just been on stage. It's also been out in the street before the concert and talking to people after the concert. I have to go out to the people. I'm going to keep on witnessing."
Despite his poor health, Norman says, "These are the best years of my life. I can't do much, but I can still minister."
David Sanford is a widely published author, editor, and literary agent. He serves as president of Sanford Communications, Inc., in Portland, Oregon.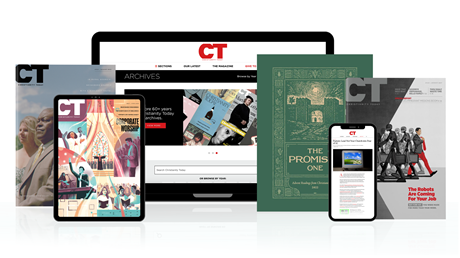 Subscribe to Christianity Today and get access to this article plus 65+ years of archives.
Home delivery of CT magazine
Complete access to articles on ChristianityToday.com
Over 120 years of magazine archives plus full access to all of CT's online archives
Subscribe Now
Farewell, Larry Norman
Farewell, Larry Norman