How ironic that the God-man, who freely gave the living water of eternal life, should face his death thirsty. Christians believe that before the eternal Son of God came to earth to pay the penalty for our sin, he had no needs. He lived in perfect fellowship with the Father and the Holy Spirit. Yet here he was, skewered to a cross, his tongue cleaving to the roof of his mouth.
Jesus was not a spirit trapped in a shell. He was perfect man with an imperfect body, and now, before the Resurrection, his body betrayed him. How like us! Jesus knew firsthand the frustration, the agony of the physical. The writer to the Hebrews says of him, "For we do not have a high priest who is unable to sympathize with our weaknesses." Yes, until the end we will face physical pain, disability, and thirst.
But Jesus knows. More than that, suspended between heaven and earth, he has shown us how we should respond to our thirst as we await our own resurrection. Again, the writer of Hebrews says, "Let us fix our eyes on Jesus, the author and perfecter of our faith, who for the joy set before him endured the Cross, scorning its shame, and sat down at the right hand of the throne of God."
Related Elsewhere:
Stan Guthrie is senior associate news editor for Christianity Today. More thoughts are available from his website.
More about the editor of Echoes from Calvary, Richard Young, and his quartet, which recently recorded The Seven Last Words of Christ, is available from the quartet's website.
Echoes From Calvary is available from Amazon.com and other book retailers.
God's New Family | Rethinking Jesus' words, "Woman, behold thy son … behold thy Mother," an excerpt from The Seven Last Words from the Cross.
'It Is Finished' But It Is Not Over | God's work of redemption continues in the redeemed, an excerpt from Cross-Shattered Christ.
And Jesus Stood | An excerpt from Holy Week Sonnets, by Philip Rosenbaum.
The Last Words of Jesus | A new book renews a classic musical meditation.
Other Holy Week articles include:
Maundy Thursday | Part one of "The Great Reversal," a CT Classic article, by Walter Wangerin, Jr. (April 20, 2000)
Good Friday | Part two of "The Great Reversal," a CT Classic article, by Virginia Stem Owens (April 20, 2000)
Holy Saturday | Part three of "The Great Reversal," a CT Classic article, by Eugene H. Peterson (April 20, 2000)
Easter Sunday | Part four of "The Great Reversal." by Philip Yancey (April 20, 2000)
The Goodness of Good Friday | An unhappy celebration—isn't that an oxymoron? (April 17, 2003)
The Other Holy Day | In the rush toward Good Friday and Easter, don't forget Maundy Thursday. (March 22, 2002)
More Easter articles include:
Who Killed Jesus? | After centuries of censure, Jews have been relieved of general responsibility for the death of Jesus. Now who gets the blame? (Aug. 24, 2000)
The Scars of Easter | He knows the wounds of humanity. His hands prove it. By Paul Brand with Philip Yancey (April 18, 2000)
Grave Matters | Take away the Resurrection and the center of Christianity collapses. By N. T. Wright (April 6, 1998)
Jesus v. Sanhedrin | Why Jesus "lost" his trial. by Darrell L. Bock (April 6, 1998)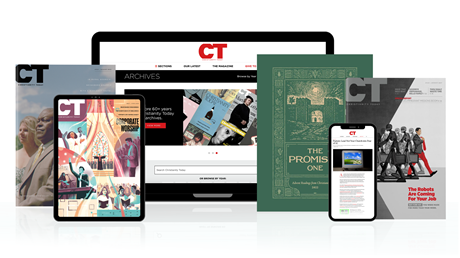 Annual & Monthly subscriptions available.
Print & Digital Issues of CT magazine
Complete access to every article on ChristianityToday.com
Unlimited access to 65+ years of CT's online archives
Member-only special issues
Subscribe
When the Giver of Eternal Life Thirsts
When the Giver of Eternal Life Thirsts