In-out-in-out-in-out.
In-out.
In. Out.
Inhale.
Exhale.
Inn … Outt …
Innn …
It's 7:45 p.m. on a weekday and for the first time today, I consciously slow down my breathing. I send the air deep down into my belly, letting it rise and fall like a wave. Inn … Outt …
Along with a group of 30 people in a darkened exercise studio at a Lifetime Fitness gym near Chicago, I use the unhurried cadences of the air filling and leaving my lungs to lull my muscles and joints into daring postures. My body becomes a mountain. An eagle. A warrior. A pigeon. A downward dog. A cobra. Finally—my favorite pose that comes at the end of each workout—a corpse, during which I lay down and relax every muscle.
Oh, and I'm an evangelical—mostly, a proud one. Proud of Christ, of Mary Magdalene, of G.K. Chesterton, of the way the Bible cuts through all cultures and all times and all hearts, and of smart evangelicals like historian Mark Noll at Wheaton College who have pried open the collective evangelical mind.
Sometimes though, I admit, I'm a tad embarrassed to be a member of the diverse evangelical family. Like yesterday, when I heard on NPR that the National Association of Evangelicals had led a charge at the Supreme Court opposing out-of-state wine shipments. May the finest wine maker have mercy on us!
Also yesterday, shame rushed through my face as I read on The Huffington Post, the hot, new, militantly liberal website, a reference to an article on yoga published by Christianity Today's sister publication Today's Christian Woman. In it, Max Blumenthal rightly pokes fun at the admiring article's main voice, which belongs to Laurette Willis, who believes yoga is pretty much of the devil. "Yoga's breathing techniques (pranayama) may seem stress-relieving, yet they can be an open door to psychic influences," Willis says.
Willis, who used to be a yoga instructor, believes that the practice opened her mind to New Age spirituality and led to her depression and alcoholism. After she was born again, she's remade herself into a PraiseMoves instructor (and skilled marketer). She wouldn't say this, but let's face it: she's still a yoga instructor—thus acknowledging yoga's healthful benefits—but now offers biblical explanations and biblical-sounding names for the poses.
Now, Willis and other Christians may have good reasons to feel uneasy about yoga. With her background in New Age, which was clearly an oppressive force in her life, I could be weary of what yoga reminds me of, too.
But it bothers me that people like Willis demonize a healthful exercise regimen, and engage in fear mongering (or is it fear marketing?) among evangelicals. The stereotype of evangelicals they reinforce I'd rather live without. We can leave the spreading of wrong-headed stereotypes about evangelicals to the more experienced bashers—some columnists at The New York Times, for example.
To dispel the stereotype at hand, let me witness that yoga has never had any negative influence on me, and it doesn't trigger any harmful religious impulses. Just the opposite is true. The three hours a week I spend doing yoga not only make me more flexible, tone my muscles, and relax me. They also draw me closer to Christ. They are my bodily-kinetic prayer.
Need I say that it was Alpha and Omega who first thought of and then created the common graces of oxygen, stretching, flexibility, breathing, and soothing music?
My natural response to any deep-breathing exercises is an emotionally felt love of God. Soon after I take off my socks and do a couple of poses, spontaneous prayers soar to Christ. Give me five minutes of yoga, and my mind immediately goes to the metaphor of God's spirit being as omnipresent and as necessary as the air.
In the same way that measured breathing is essential to yoga, the Spirit—which in both biblical Greek and Hebrew also means breath—is indispensable to my soul. Breathe in. Breathe out. Holy Spirit in. Anything that's not from God out. Come Holy Spirit. Renew my mind. In. Out. Thank. You. As I twist my body into places it hadn't been before, I can't help but pray this. Why fix what ain't broke?
Now, my enthusiasm for yoga doesn't mean I'm in denial about its Hindu roots. The magazine Hinduism Today editorialized that "the knowing separation of hatha yoga from Hinduism is deceptive." I know that hard-core yogis believe that yoga is more than exercise or a relaxation technique. To them, it's a religious ritual.
But the Hindu gods don't make it onto my mat. Yoga purists don't lead classes at mainstream American gyms. Could it be that some of them learned yoga from the purists? Yes. But no one's making me repeat any mantras. The closest any of my gym's several yoga teachers get to religious utterances is by bowing and saying "Namaste" at the end each class, which can be translated as "The soul in me honors the soul in you" or "The image of God in me honors the image of God in you." I like it! It just reminds me that, as C. S. Lewis put it, there are no mere mortals.
But let's suppose an improbable scenario: that one of these religious yoga proselytizers sneaked into my gym with the intent of spreading Hinduism. Say she'd put on a beautiful, rhythmic melody with an Oriental boy choir chanting words of worship that address an idol. Could she seduce my soul, over time, away from Christ?
I don't think so. I don't, for one, because worship is a conscious act of the mind. If it's busy overflowing with gratitude to Christ for the way he made my body, I simply don't have the mental space to give up to an idol. Second, can a non-existent idol snatch me away from Father God who has adopted me as his child? No chance.
In other words, yoga is like the meat that had been offered to idols. Can I put it on my sandwich? That, more or less, was the question on the minds of some of Christians in Corinth. "We know that an idol is nothing at all in the world and that there is no God but one," Paul wrote to them. "For even if there are so-called gods, whether in heaven or on earth … yet for us there is but one God." Food "does not bring us near to God; we are no worse if we do not eat, and no better if we do," he said.
But some people, he acknowledged, are "so accustomed to idols that when they eat such food they think of it as having been sacrificed to an idol, and since their conscience is weak, it is defiled." Willis, by her own admission, falls in this category when it comes to yoga.
As for me, put that meat on my sandwich! Yummy! Thank you, Jesus!
Christ in.
Stress out.
Holy Spirit in.
Fear out.
God the Father in.
Carbon dioxide out.
Related Elsewhere:
Other Christianity Today articles on yoga and meditation include:
Good Question
Dangerous Meditations | What harm is there in achieving a higher state of consciousness through meditation? (Nov. 16, 2004)
The Higher Self Gets Down to Business | An old movement appears anew—in the corporate world. (Jan. 24, 2003)
sidebar
Prosperity Consciousness | How the higher self gets into business. (Jan. 24, 2003)
sidebar
Utopia or Kingdom Come? | Discerning wheat from chaff in the new business spirituality. (Jan. 24, 2003)
Weighed Down by Karmic Debt | Aspects of Tibetan spirituality should give Christians pause. (June 8, 2001)
Buddhism's Guru | The Dalai Lama, a spiritual hero to millions, works to liberate Tibet, calls on spirits, and believes Jesus lived previous lives. (June 8, 2001)
Basic Buddhism | What the Dalai Lama and his followers believe about God, Buddha, and other teachings. (June 8, 2001)
Article continues below
Blood and Tears in Tibet | The Dalai Lama says he appreciates Christian attempts to address persecution in his homeland. (June 8, 2001)
Inside CT: Straight Outta Dharamsala | Behind James A. Beverley's report on the Dalai Lama (June 8, 2001)
Field of TM Dreams | Fairfield, Iowa, of all places, is now a major world center for Transcendental Meditation, and local Christians are figuring out how best to evangelize Maharishi's devotees. (Jan. 12, 2001)
SIDEBAR
Mere Transcendental Meditation | The basic concepts of neo-Vedanta philosophy. (Jan. 12, 2001)
SIDEBAR
Sometimes It Takes a Miracle | Jim Sieber found Christ more sufficient than self-realization. (Jan. 12, 2001)
Our sister publications have more articles on yoga and New Age religion:
The Truth About Yoga | Yoga led Laurette Willis into a New Age lifestyle. Now she's warning others of the spiritual pitfalls—and offering an alternative. (Today's Christian Woman, March/April 2005)
Is Yoga Really So Bad? | The truth behind this exercise sensation (Today's Christian Woman, September/October 2001)
Escape from the Spirit Guides | How one woman's quest led to the dark side of the New Age, where she encountered spirits that wouldn't let her leave (Today's Christian, July/August 1997)
Beliefnet has an article about Christians trying to bring yoga into a Christian context.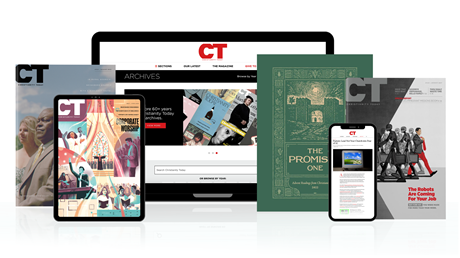 Annual & Monthly subscriptions available.
Print & Digital Issues of CT magazine
Complete access to every article on ChristianityToday.com
Unlimited access to 65+ years of CT's online archives
Member-only special issues
Subscribe
Yes to Yoga
Yes to Yoga