| | |
| --- | --- |
| | • |
President Bush faces a defining question of morality on which he has yet to receive any discernible guidance from the faith-based coalition that helped put him in office. The question: whether it is ever right for Americans to inflict cruel and degrading treatment on suspected terrorist detainees.
We read credible reports—some from FBI agents—that prisoners have been stripped naked, sexually humiliated, chained to the floor, and left to defecate on themselves. These and other practices like "waterboarding" (in which a detainee is made to feel as if he is being drowned) may or may not meet the technical definition of torture, but no one denies that these practices are cruel, inhuman, and degrading.
Today, the practical application of that question is whether the President should fight the efforts of a group of Republican senators, led by John McCain, who has introduced amendments to a defense bill that would outlaw such abuse. Two weeks ago, the Senate passed the McCain amendment, but whether it is put into place will be determined by the conference committee charged with resolving differences between the Senate and House defense bills.
For the President's base of evangelicals and conservative Catholics, no practical expediency, however compelling, should determine fundamental moral issues of marriage, abortion, or bioethics. Instead, these questions should be resolved with principles of revealed moral absolutes, granted by a righteous and loving Creator.
Indeed, recent survey results from the Pew Research Center indicated that, in rating the importance of Supreme Court issues, the treatment of terrorist detainees is a close second only to abortion on the list of concerns of evangelical and Catholic voters. Where, then, are the robust voices of theological reflection and moral reasoning that we have come to expect in these debates?
I do not know how others would advise the President theologically on these matters, but as a convinced Christian who has tried for 20 years to apply principles of evangelical faith to issues of human rights, here are three principles of a biblical worldview that seem applicable:
• The state has the authority to protect its citizens by detaining criminals and using force to restrain those who seek to destroy innocent life.
• All those whom the state detains retain the image of God and are due a standard of care required by God.
• Because the power of the state over detainees is exercised by fallen human beings, that power must be limited by clear boundaries, and individuals exercising such power must be transparently accountable.
Therefore, even if it is expedient to inflict cruelty and degradation on a prisoner during interrogation (and experts seem very much divided on this question), in my view, the moral teachings of Christ, the Torah and the Prophets do not permit it for those who bear the Imago Dei.
On the face of it, religious leaders from the President's base might demur by saying, first, the President has already said that torture is not an option, and, second, these are all technical questions for lawyers, not ethical questions for theological discourse. To this latter point, indeed, lawyers and judges will need to argue about what standards of treatment are required as a matter of domestic and international law. In the meantime, however, the Commander in Chief must tell those acting under his authority what standards apply as a matter of policy today.
Moreover, it will not do to say that the President's policy on the treatment of detainees already rules out torture because serious ambiguities still remain—ambiguities that carry heavy moral implications and that are intended to preserve options that some would rather not publicly defend.
For instance, while the President may have ruled out torture, the administration is currently reserving the right to treat some of its detainees with "cruel, inhuman, and degrading treatment." The U.S. government is a signatory to an international treaty that bars such treatment, but the administration has maintained that such standards only apply to detainees held on U.S. soil. In fact, since April 16, 2002, Secretary of Defense Donald Rumsfeld has explicitly authorized interrogation techniques that constitute cruel, inhuman or degrading treatment.
The implications have not been theoretical or insignificant. More than 11,000 people are currently in U.S. detention in Afghanistan, Iraq, and Guantanamo Bay, and 108 detainees have died in U.S. custody in Iraq or Afghanistan—with the Pentagon indicating that between 28 and 31 of the deaths are suspected or confirmed criminal homicides. Former Defense Secretary James Schlesinger's investigative panel acknowledged that interrogation techniques at Guantanamo Bay went beyond traditional Army rules and that such techniques "migrated to Afghanistan and Iraq, where they were neither limited nor safeguarded." According to the Pentagon's own findings, torture, murder, rape, and "systematic," "sadistic, wanton, and blatant abuse" has been perpetrated against U.S. detainees in Iraq.
Or what about "ghost detainees"? The CIA has been permitted to hold scores of people in undisclosed locations with no notification to their families, no access by the International Red Cross, or any other oversight of their treatment. Credible reports have emerged that such detainees have suffered torture and even death.
As the numbers of detainees mount, pressing events of national security and American traditions of decency have raised an urgent moral question: How shall we treat those who are detained by the U.S. government during this new era of war to protect our citizens from terror?
How ought the President, as a man of faith and moral conviction, think through the ethical questions posed by these practices? In shaping practical answers, the President should be able to draw upon the serious theological reflections of leaders from his religious base.
In my view, biblical principles of humanity's fallen nature suggest there is wisdom in applying the clear rules of the Army's own standing regulations on detainee interrogation and in eliminating the ethics-free zone of ghost detainees. Especially when a senior administration official from the intelligence services tells me bluntly about the tactics for fighting terror: "If it's not prohibited, it's compelled."
Perhaps others would come to a different conclusion. But in navigating this difficult moral question, our nation's religious leaders owe this President their best counsel in a public forum on the basis of text and tradition.
It would be good for the President to get their advice soon. The McCain amendment suggests straightforward answers to these questions. The amendments would require military interrogations to conform to the Army Field Manual, and make clear that cruel, inhuman, and degrading treatment is never acceptable.
We do not serve this President by failing to engage the question. Surely, some partisan critics may seek to use these issues politically. But silence from the President's supporters is not helpful as he sorts through the legitimate questions of moral weight that have been placed upon his shoulders.
The Commander in Chief must provide U.S. authorities with the practical tools and policies to fight a committed, well-resourced, and immoral terrorist threat. At the same time, the President must also defend the deepest and best values of our moral tradition. In the midst of that struggle, the voices of practical expediency have made their case to the White House. Now we must ask: Where are the voices of transcendent moral principle from the President's friends of faith?
Gary A. Haugenis CEO/President of International Justice Mission (IJM), a human rights agency that rescues victims of illegal detention, sexual exploitation, slavery, and oppression around the world.
Related Elsewhere:
See also our area on prison abuse.
Senator McCain's statements from the Senate floor on the amendment are available on his website.
News elsewhere includes:
Anti-torture provision may face House GOP attack | Leading House Republicans signaled Friday that they will try to weaken a Senate effort to limit interrogation techniques that U.S. service members can use on terrorism suspects. (Associated Press, Oct 8, 2005)
Senate defies Bush with vote to stop torture of US prisoners | In a sharp bipartisan rebuff to President George Bush, Republican and Democratic senators alike defied intense White House pressure to insist on clear limits on interrogation techniques on suspected terrorists and other detainees in US military prisons. (The Independent, UK, October 07 2005)
Bush will veto anti-torture law after Senate revolt | The Bush administration pledged yesterday to veto legislation banning the torture of prisoners by US troops after an overwhelming and almost unprecedented revolt by loyalist congressmen. (The Telegraph, UK, October 07 2005)
Senate adds amendment banning torture to defense spending bill | The Senate delivered a stern rebuke to the Bush administration Wednesday night, adding language banning U.S. torture of military prisoners to a $440 billion military spending bill in defiance of a White House threat to veto the whole bill if the anti-torture language was attached. (Knight Ridder Newspapers, Oct. 05, 2005)
Senate bill sets stage for battle with Bush over a ban on torture | Congress may be heading for a showdown with President George W. Bush's administration if an anti-torture provision included in a $440 billion defense spending bill makes its way to the White House. (Post-Dispatch, St. Louis, Oct11, 2005)
Previous CT article about the International Justice Mission and its work includes:
Weblog: International Justice Mission Gets Notice and Results | Dateline NBC, Forbes, and others show the undercover work of ministry that fights sexual slavery. (Jan. 27, 2004)
Good News for the Lost, Imprisoned, Abducted, and Enslaved | Lawyers and investigators at the International Justice Mission have learned that sharing the gospel means going into the heart of darkness. (Aug. 9, 1999)
Overseas Justice Ministry Launched | Mission workers are ill-equipped to make social justice a reality in their host countries, according to a study of more than 70 overseas ministries released by International Justice Mission (IJM) of Alexandria, Virginia. (Oct. 7, 1996)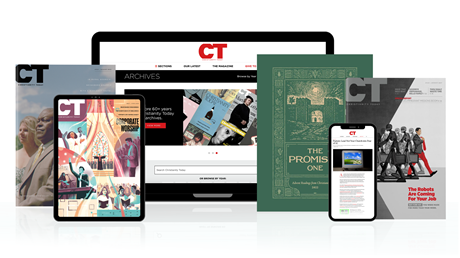 Annual & Monthly subscriptions available.
Print & Digital Issues of CT magazine
Complete access to every article on ChristianityToday.com
Unlimited access to 65+ years of CT's online archives
Member-only special issues
Subscribe
Silence on Suffering
Silence on Suffering