| | |
| --- | --- |
| | • |
In what appears to be the latest consequence of broadcaster Pat Robertson's August call for Venezuelan President Hugo Chavez's assassination, Chavez announced plans to expel from the country New Tribes Mission, a church-planting and Bible-translating mission agency.
Describing New Tribes Mission (NTM) as a "true imperialist infiltration that makes me ashamed," Chavez declared he was fed up with "colonialism" and accused the mission group of links to the CIA, spying on Venezuela, and exploiting indigenous people. "We don't want New Tribes here," he said.
Vice President Jose Vicente Rangel repeated the accusations on Thursday. "We have intelligence reports that some of them are CIA," he told reporters. "The president's decision was based on reports that their actions create situations that compromise the country's sovereignty."
Rangel also said that Chavez's action is supported by the local Roman Catholic church. "Even Cardinal [Rosalio] Castillo Lara supported President Chavez's measure to remove New Tribes from the country," he said. "We have the cardinal's blessing in this decision." Castillo, who has called the president "a paranoid dictator" in need of an exorcism and whom Chavez has called an "outlaw, bandit, immoral Pharisee, and a pantomime," has not issued a statement of his own on the New Tribes expulsion.
Chavez said his decision was "irreversible." He did not set an expulsion date but will allow the missionaries time to "gather their stuff."
Chavez made the statements at a nationally televised gathering in Venezuela's southern Apure state, where he granted indigenous groups land titles and farm equipment. The comments came on Indigenous Resistance Day—Chavez's rechristening of Columbus Day.
Additionally, Chavez said that New Tribes missionaries have built luxurious compounds, electric plants, and airfields amid poor indigenous villages. He accused NTM of violating national sovereignty by flying private aircraft in and out of the country without passing through customs. The president offered no proof to support any of his statements.
Success and sadness
Since 1946, New Tribes has served Venezuela's indigenous communities through translation, church planting, literacy, humanitarian aid, and community development projects, almost entirely in the country's western-central Amazonas state, which borders Colombia. NTM works with twelve ethnic groups in Venezuela, nine with established churches, and has completed five Bible translations. Four other translations are in progress. Thirty of the 160 NTM missionaries in the country are Venezuelan nationals. Worldwide, 3,200 NTM missionaries minister to indigenous peoples in more than 18 countries in Latin America, West Africa, and Southeast Asia.
In recent years, kidnapped NTM missionaries have made international headlines. Martin and Gracia Burnham were held for more than a year in the Philippines where Martin piloted NTM aircraft, ferrying supplies to remote missionaries. Martin died in a botched Philippine army rescue attempt June 7, 2002, in which Gracia was freed. In 1993, Revolutionary Armed Forces of Colombia guerrillas snatched Dave Mankins, Rick Tenenoff, and Mark Rich near the Panama-Colombia border. After years of negotiation and later investigation, NTM concluded in 2001 that the missionaries had been killed in captivity in 1996.
Pointing fingers
Robertson, a 1988 presidential candidate, said on his August 22 broadcast of The 700 Club television program that the U.S. government should assassinate Chavez to protect American oil interests and because Chavez "has destroyed the Venezuelan economy, and he's going to make that a launching pad for communist infiltration and Muslim extremism all over the continent." He later apologized, but Chavez's government stopped issuing foreign missionary visas and reportedly tightened regulations on preachers in the country. Venezuela's religious affairs chief, Carlos Gonzalez, told Reuters that the government had already been working on the move "but these declarations have made us speed things up."
Robertson told CNN on Sunday that Chavez "is negotiating with the Iranians to get nuclear material. And he also sent $1.2 million in cash to Osama bin Laden right after 9/11." Robertson offered no evidence to support his accusation.
In response to Chavez's plan to expel NTM, another mission group wrote in a confidential prayer e-mail, "While we believe that Chavez has been planning to expel foreign missionaries for some time, statements like those made by Robertson have provided him with an excuse to do so and might actually justify his actions in the eyes of many Venezuelans who otherwise would have been more ambivalent."
"We are confident that President Chavez wants the best for the people of Venezuela. New Tribes Mission considers it a privilege to have served the indigenous people of Venezuela for the past 59 years. We deeply desire to be able to continue serving them."
NTM spokesperson Nita Zelenak said that the mission has not received any formal notice from the government demanding its departure from Venezuela. "We always respect the laws of countries we work in," Zelenak said. Should such a notice come, "with sadness" the mission would leave Venezuela.
Asked whether the mission saw Chavez's move coming, Zelenak said that similar accusations have come up in the past in Venezuela. The government has investigated, each time concluding all charges against the ministry were unfounded. "We're there to help the indigenous people," Zelenak told Christianity Today. "We're not involved with any government agencies, not involved with the CIA, not involved with uranium mining. Our purpose there is to help the people."
Specifically addressing Chavez's accusations, she said, "Any kind of air travel we do, we always do within the guidelines of what the government allows. We always file reports." On the lavish lifestyle issue she said, "(The missionaries) live in homes that make it possible for them to continue the work that they do. The homes that they live in are very simple."
In Venezuela as in every area where NTM ministers, "our goal is to help and to eventually work ourselves out of a job," Zelenak said. "As the church is established and the Bible is translated, they don't need us any more. Until that time, we want to stay so we can help them."
Why New Tribes?
Samuel Olson, president of the Evangelical Council of Venezuela, said that the council, of which NTM is a member, will meet Friday afternoon to discuss the government's plan to expel NTM and the council's response. He said that he didn't know why Chavez has singled out NTM.
Olson praised NTM's almost six decades of ministry in the country. "It's unfortunate that this has happened," he told CT. "New Tribes has done very, very fine work among many of the tribes in Venezuela."
Olson cited NTM's many endeavors among Venezuela's indigenous people: building health units and dispensaries, schools where children are taught academics in their own indigenous languages by indigenous teachers. In addition, the group has planted churches with indigenous leadership. At NTM's Bible institute, Venezuelans have become involved in reaching unreached groups within the nation's borders.
While Venezuelan evangelicals "shrug Pat Robertson off as goofy," Olson said, the nation's evangelicals are coming under popular disfavor because of Robertson's remarks.
"That certainly isn't a wise thing to say," Olson said. "It certainly smears the evangelical world for all it's worth."
Related Elsewhere:
Christianity Today's Weblog covered Robertson's comments and their fallout.
The New Tribes Mission website may have more updates over the weekend. Google News will track newspaper reports, but readers who understand Spanish will find Google News's Argentina site more informative.
Christianity Today's earlier coverage of New Tribes Mission includes articles on Martin and Gracia Burnham and the Panama hostages. Christianity Today sister publication Today's Christian recently published missionary daughter Joanna Harris's account of a mission compound invasion in Colombia.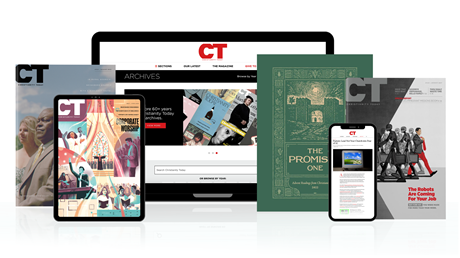 Subscribe to Christianity Today and get access to this article plus 65+ years of archives.
Home delivery of CT magazine
Complete access to articles on ChristianityToday.com
Over 120 years of magazine archives plus full access to all of CT's online archives
Subscribe Now
Venezuela to Expel New Tribes Mission
Venezuela to Expel New Tribes Mission