It is noon, time for the shift change for the police in New Orleans' Sixth District, on the first Sunday since Hurricane Katrina struck. Hy McEnery, a Baptist chaplain with Child Evangelism Fellowship, knows he has to encourage the officers to keep going. In the face of the unrelenting pressure, danger, and temptation caused by the chaos in the Big Easy, some officers have committed suicide. Others have joined the looters. Still more have simply left their posts.
These men, although still on the job, have been "crunched," as one puts it. The ones going off duty on this hot, sunny day look weary and smell of oily water and decayed matter. The ones coming on look just as weary and smell only a little better.
McEnery picks Psalm 69, discussing the topic, "Why have the waters overwhelmed me?" The officers stand quietly as McEnery tells them that God will help them "in the deep mire." Jesus, he says, can give them refreshing waters.
Work and worship
As many Gulf churches as could tried to provide spiritual encouragement. At Woodland Baptist's service in Hammond, Louisiana, Leon Dunn preached on Jeremiah 29 and God's plans for his people. He said, "My idea of camping out is the Holiday Inn. But this storm didn't catch God by surprise.
"I don't care how dark the night is, let's keep helping our neighbor and keep Christ first. God has a plan. Not only God has a plan, we still have a purpose. I will be honest with you: it has been a difficult season. But our purpose hasn't changed since last Sunday. God put us here to give a cup of cold water to our brother." Woodland so far served 18,000 meals right out their front door.
Many pastors and church members are still dealing with shock. At the Southern Baptist disaster station in First Baptist Church in Pascagoula, the building is relatively undamaged, although almost every building from it down to the beach was heavily damaged or destroyed.
Associate pastor Dennis Smith stayed at the church during the storm. Early Monday morning, while it was still dark, a 22-foot storm surge hit the city. Smith prayed and watched. The water surged all the way to the church door and then played out. Smith started thinking about the future after the storm. He prayed, "Lord, you gave a home to me the first time, and you'll give it back to me."
Smith went over to his house after the storm. Southern Baptist crews were cleaning it up and hauling out the wreckage. They hauled out his old roll top desk and opened the bottom right drawer to his Bibles. As they showed the pastor the Bibles one by one, Smith broke down. "Most of my stuff had to be thrown it into the trash," Smith tells Christianity Today, and points to a book. "That was my first Soul Winner's Bible."
Most of the wreckage had to be discarded to prevent mold from growing in the house.
Smith finds it hard to sleep at night. He worries over a missing church member or the relief effort. "Last night, two church members were very near death from illness."
Other local churches are going full throttle on attending to physical needs. In Metairie, volunteers with Victory Fellowship bring in four trailer loads of supplies. The local deputy sheriff says in amazement, "Guys, you have done more in an hour than FEMA [Federal Emergency Management Agency] has done all this time."
Several Christian groups are out rescuing people from flooded buildings. Christianity Today spent time with a ragtag group of Veterans Hospital patients, local residents from New Orleans, and a small contingent from outside churches, such as Quentin Road Bible Baptist Church of Lake Zurich, Illinois. Leading them are McEnery and James Caffin, an experienced rescuer who has come from Dallas.
The rescuers, who have been driving themselves from sunup far into the night, face their task exhausted and with their nerves on edge. But they persevere. "When these people come onto the boat and hug me," Caffin says, "I feel like I am being hugged by Christ."
The rescuers are scrounging for gas, because lives can be counted by the number of gallons on hand. "Each full gas of tank in the boat is 20 to 25 lives that are rescued," Caffin calculates.
The big picture
The Southern Baptists are a presence to contend with in the South, and that is a good thing this week. With a strong and long-established presence in the region, have set up disaster stations up and down the Gulf Coast. Their disaster relief effort is a marvel of efficiency, timetables, trucks, mobile ham radio centers, and mass production of meals. Their equipment gleams and their people are fresh and beaming due to a constant rotation of teams of volunteers bringing order to chaos. CT visited Southern Baptist centers in Mobile, Alabama, Biloxi and Pascagoula, Mississippi, and Hammond, Louisiana.
As the third-largest relief organization in North America, the Southern Baptists' North American Mission Board works closely with the Red Cross and the Salvation Army
By Wednesday, two days after the hurricane, the namb had 1,000 volunteers preparing meals, operating two Red Cross kitchens and two kitchens for the Salvation Army.
Burton says Southern Baptist churches are the main means through which the Convention will provide relief. Those that are relatively undamaged will provide shelter both for the hurricane refugees, as well as for relief workers.
Tony Carnes is senior news writer for Christianity Today.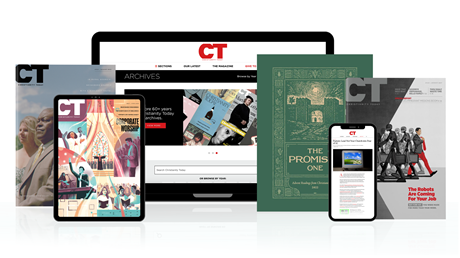 Annual & Monthly subscriptions available.
Print & Digital Issues of CT magazine
Complete access to every article on ChristianityToday.com
Unlimited access to 65+ years of CT's online archives
Member-only special issues
Subscribe
The Sunday After
The Sunday After