true
End of the Spear, the new feature film telling the story of the five Christian missionaries who were martyred in 1956 in the jungles of Ecuador, features an openly gay man in one of the lead roles.
Chad Allen, who plays Nate Saint (one of the martyred missionaries) and the grown-up Steve Saint (Nate's son), is an outspoken homosexual actor who has lobbied for gay rights and gay marriage.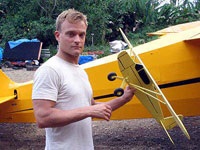 Allen told Christianity Today Movies that he didn't tell End of the Spear's filmmakers about his sexuality until after they had offered him the job in late 2003. The filmmakers also say they didn't know about Allen's lifestyle until after they offered him a contract, but they felt obliged to honor it even though it had not yet been signed.
"We found out Chad was gay after we offered him the parts," said executive producer Mart Green of Every Tribe Entertainment, the production company behind the movie. "We felt like when we offered him the contract, we were obligated to honor it."
Green said that learning of Allen's homosexuality presented the Every Tribe team with "an obvious dilemma," but that after discussing it with director Jim Hanon, writer/producer Bill Ewing, and Steve Saint, who served as a consultant for the film that tells his father's story, all agreed they should keep their word and honor the contract that had been offered.
In an e-mail to Christianity Today Movies, Saint said, "I could not imagine how something like this could slip through a professional screening process." He continued, "After I got over the emotional shock of realizing that a man who has chosen to live a lifestyle in stark contrast to my dad's would actually be playing his role in End of the Spear, I realized I would likely be held responsible for that decision. I wanted the issue to go away. Finally, I realized I was going to have to face what was happening, and there was little chance of coming out unscathed."
Allen was also concerned about both parties remaining "unscathed." He was concerned not only that his homosexuality would be a public relations nightmare for Every Tribe, but also that profits from the film would be used in a culture war against gays and gay rights.
"I wanted to know that the money from this movie wasn't going to wind up being used to hurt people," Allen said. "Having been on the other end of some attacks from Christians, I wanted to make sure people like me weren't going to get hurt."
Green said Every Tribe assured Allen that they had no such intentions, so both parties moved forward with the agreement—which pleased Allen, because it was a role he very much wanted.
"This is one of the most extraordinary stories of love and forgiveness that I've ever known," Allen said. "But I also realized the incredible responsibility of playing these two men, especially as I learned more about how important Nate Saint and Steve Saint are to people around the world. I really felt the weight of that."
Allen didn't meet Steve Saint until about three months after he was hired, when shooting began in January 2004 in Panama. When they finally met, Allen says he told Saint, "If you don't want me to do this movie, because I respect you and your family so much and I respect this story so much, I will walk away from this—contract or no contract, even if that means I'm liable for breaking the contract."
But Saint had already decided to keep Allen on board. He said he had been praying about it, and that God clearly revealed the answer in a dream.
In the dream, Saint says he was "being chased by a mob of Christians who were angry with me for having desecrated 'their story.' The answer to their hostility was easy: Just ask Chad to remove himself. But as quickly as this thought came to me, I found myself standing before God. His look was not as compassionate as I had expected. God said, 'Steve, you of all people should know that I love all of my children. With regard to Chad Allen, I went to great lengths to orchestrate an opportunity for him to see what it would be like for him to walk the trail that I marked for him. Why did you mess with my plans for him?'
"I was fully awake by the end of this sleepy mind play. I knew that there would be a price to pay for any position I would take on this issue, regardless of the fact that I had not wanted to be involved. I knew one thing for sure: I would rather face the anger and even hatred of people who feel I have let them down, than to take any chance of having to stand before my Savior and have to answer for messing up his plans for Chad."
Allen, who says he's a Christian and attends Pasadena's gay-friendly All Saints Church, says he doesn't know what those plans might be. "But," he says, "I know God does have great plans for me. And I ask him every single morning to reveal those plans to me."
Green is convinced those plans include hiring Allen for End of the Spear.
"To be honest," Green said, "I would not have hired Chad had I known everything about him. But God had to work around me to get Chad on this project. He wanted Chad on this project. I wish I were able to articulate all the things that led me to understand that. It is very hard to share the ways the Lord leads, especially when you can't fully grasp why he is doing things that don't make sense to the natural man.
"It is hard to see people have to defend a decision that I was responsible for, for people to have ugly things said about them because of a decision I made.But I have total peace about the decision, and that Chad Allen was the man God intended to act in the movie. I will be held accountable for this decision, and I feel I have made the right decision."
Saint added, "Mart has told me that he feels responsible for putting me in a difficult position by hiring Chad. I have known Mart for seven years; he has as pure a heart as any man I know. I don't think this is Mart's doing. God planned the death of his own Son. I believe he planned the death of my dad and his four dear friends. Now, I believe God is at work again. I don't pretend to know what God is going to do with this controversy, but I am confident that he is behind this."
Both parties acknowledge that many have been hurt by the decision to cast Allen in the film.
"It hurts me to watch Mart and Steve and these amazing people have to walk through the pain that they're walking through," said Allen. "I hate to see that, let alone feel like I'm the cause of it."
Saint concluded his e-mail with an apology to those hurt by Allen's appearance in the film. He also referred to Mincaye, the Waodani tribesman who speared his father—and to whom Saint has been reconciled. Today, Mincaye is like a father to Saint.
"I am sorry for any pain that this issue might cause anyone," Saint wrote. "But, I would not change what is happening any more than I would change what happened to my dad. Mincaye, who is sitting beside me as I write this, is proof that 'God works in mysterious ways, his wonders to perform.'"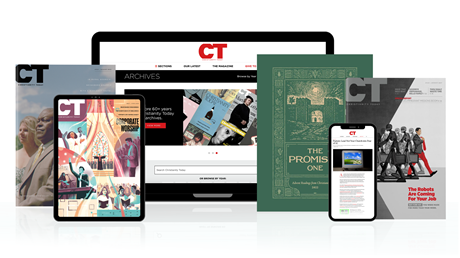 Subscribe to Christianity Today and get access to this article plus 65+ years of archives.
Home delivery of CT magazine
Complete access to articles on ChristianityToday.com
Over 120 years of magazine archives plus full access to all of CT's online archives
Subscribe Now
Christian Studio Explains Hiring of Gay Actor
Christian Studio Explains Hiring of Gay Actor