Last month's federal court decision declaring unconstitutional a prison ministry run by Prison Fellowship has placed the status of other faith-based initiatives in question. Fallout for other Christian social services is limited for now while Prison Fellowship appeals the ruling. The appeals process could reach the Supreme Court.
In 1999, the state of Iowa partnered with InnerChange Freedom Initiative, a biblically based rehabilitation program designed by Prison Fellowship (PF), to reduce recidivism rates. Inmates from nine state prisons are eligible to apply for a transfer into the two- to three-year program.
U.S. District Judge Robert Pratt issued his verdict in a 140-page decision following a three-year trial that included a personal visit to the facilities of the disputed program. He ordered InnerChange to disband within 60 days and return about $1.5 million in funding it had received from the state of Iowa.
PF president Mark Earley said the organization is preparing to post bond and file an appeal with the Eighth Circuit Court of Appeals, where he is confident the judgment will be overturned. PF says that advocates of InnerChange and its upcoming appeal include Sen. Sam Brownback (R-Kan.), Ted Haggard, James Dobson, and Rick Warren.
Earley said Pratt overstepped his constitutional bounds by ruling the program unconstitutional even if it accepted no state funds. Earley said the judge ignored the voluntary nature of InnerChange, which allows inmates to quit without punishment. "Based on this judge's ruling, the only way to improve this program is to move it out of the prison," said Earley. "And there are not many escapees that we can minister to."
Americans United for Separation of Church and State (AU) filed the lawsuit in 2003 on behalf of inmates who said InnerChange discriminated against non-Christians. "It certainly makes sense that Christians want to help prisoners," said AU executive director Barry Lynn. "What does not make sense is for the state to pay. The government simply cannot support and promote programs that are essentially religious efforts to provide service and convert people to a particular religion at the same time."
Secular service, faith-based approach
InnerChange embraces a transformative—rather than therapeutic—model that was developed by Charles Colson. Inmates who participate in InnerChange can attend Bible studies and worship services along with non-religious classes such as substance abuse counseling, and academic and life skills training.
In 1997, when President George W. Bush was governor of Texas, he oversaw the introduction of InnerChange in his home state.
PF leaders met with President Bush in the White House in 2003 to discuss the results of a University of Pennsylvania study that concluded InnerChange graduates were half as likely as non-participants to be reincarcerated within two years of their release.
But when the study sample was broadened to include both graduates and those who dropped out of the program, InnerChange participants were reincarcerated at the same rate as the control group that did not participate in any rehabilitation program. (The program has a 58 percent dropout rate.)
After meeting with PF, Bush told then-Attorney General John Ashcroft to look into the possibility of implementing InnerChange in federal prisons. Bush also proposed a $400 million, four-year initiative to reduce recidivism in his 2004 State of the Union address.
The Bureau of Prisons is currently running a multi-faith rehabilitation program in five federal prisons, but it has temporarily withdrawn its request to implement a single-faith rehabilitation program in six federal prisons, for which $3 million had been appropriated.
Separating out the sectarian
Charles Haynes, senior scholar of the First Amendment Center, believes the InnerChange case is "the most significant case to date" for faith-based initiatives, because it may lead to legislation in Congress that will mandate additional oversight. Haynes says state authorities should perform "audits" to make sure faith-based programs are not using state money for sectarian purposes.
"Right now, there are a lot of religious organizations that fall into this gray area," Haynes said. "There are programs where it is really difficult, if not impossible, to determine what is the religious and what is the secular part of the program."
The state of Iowa funded 40 percent of the InnerChange program. Those funds paid for InnerChange's designated "non-sectarian" expenses such as office supplies, an employee appreciation dinner, and 82 percent of the program director's salary.
InnerChange programs in Arkansas—dedicated one day before the Iowa ruling—and Texas are privately funded, while programs in Kansas and Minnesota receive some state funding. About 1,100 inmates are currently enrolled in InnerChange programs.
Earley said that the recent ruling strikes a blow to the religious liberty of inmates and emphasized that Muslims, Wiccans, and Druids have all graduated from the program, which does not require inmates to convert to Christianity.
"Governments don't have the money or the willpower to provide rehabilitative services for prisoners that work," Earley said. "By definition, their programs are secular. If they are denied the opportunity to partner with faith-based organizations, we are in for a darker future when it comes to the prison system in America."
Related Elsewhere:
Prison Fellowship's Mark Earley responded to the ruling in several radio shows, linked to from PF. He also wrote this op-ed in The Washington Post.
Russ Pulliam commented on the decision in the Indianapolis Star.
A copy of the decision is available from Americans United for Separation of Church and State.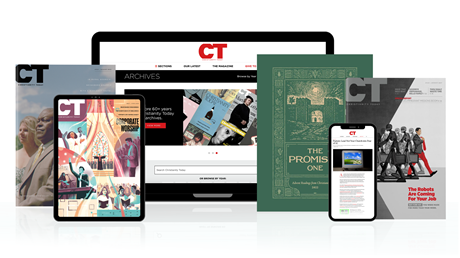 Annual & Monthly subscriptions available.
Print & Digital Issues of CT magazine
Complete access to every article on ChristianityToday.com
Unlimited access to 65+ years of CT's online archives
Member-only special issues
Subscribe
Imprisoned Ministry
Imprisoned Ministry