Nearly three months after the April 26 Taylor University van crash that took the lives of five staff members and students, Whitney Cerak, one of the accident's four survivors, began walking on her own again.
"We were in tears when she stood up on both legs, took three steps forward, and looked at us with a huge smile and said, 'Let's take the stairs,'" Cerak's father wrote in a blog the family set up to track her recovery.
Cerak had suffered a number of broken bones, along with head and facial injuries, in the accident. The injuries made it difficult to recognize her, which is part of the reason Cerak was misidentified as Laura VanRyn, one the students killed on the highway, for more than a month.
The women's mistaken identities were traced to the accident scene, where VanRyn's body had been tagged with Cerak's name. Then, during a visit to the hospital to pray with grieving classmates, three Taylor administrators had confirmed the incorrect identification. It wasn't until Cerak began to say and do things that didn't make sense for VanRyn that her true identity was discovered.
"There have been many times in these past couple days where I've been mad at God, and I questioned how he could allow this to happen to me," Aryn Linenger, VanRyn's boyfriend, said at her June 4 memorial service, according to a USA Today report. "Like it was the biggest trick he'd ever played on me in my life."
Laura's father, Don VanRyn, said in his tribute that people had suggested the family should sue, but he preferred to follow Jesus' command to forgive. "He calls us to imitate him," he said.
The university did receive at least one warning that the young woman in the hospital wasn't VanRyn. On May 17, after visiting Cerak, VanRyn's college roommate told a school administrator that she thought VanRyn had been misidentified. The school's security chief made inquiries of state and local officials and requested files from the prosecutor's office, but took the matter no further.
In retrospect, Taylor spokesman Jim Garringer said, the university could have handled the situation differently. "[But] how do you respond to something like that? In the family's mind there was no question, and so in our mind there was no question."
The VanRyn family's blog later revealed, perhaps, some of the emotional strain the confusion caused them. On May 31, VanRyn's sister, Lisa, wrote that they hoped the Ceraks would continue the blog they had created for VanRyn in Cerak's name. A week later, the VanRyns announced instead they would be shutting down the blog within 24 hours. It has since been deleted. "How the Ceraks choose to update on Whitney's progress is up to them," the final post concluded. The Ceraks started their own blog a few days later.
The senior pastor of Gaylord Evangelical Free Church, Jim Mathis, talked with both families the morning Cerak's identity was confirmed. "I saw a mother reunited with her daughter that she thought was dead," he said, "and [it] reminded me of the reunions we'll have in heaven sometime."
Related Elsewhere:
USA Today's full coverage, carried from the Detroit Free Press, of the mix-up includes:
Mourners remember girl in mistaken ID case | For weeks, the young man sat at the young woman's bedside, pouring his heart out to her, praying that she would recover from her injuries. It never occurred to him she might not be the woman he loved. But she wasn't. (June 5, 2006)
Faith bonds families of mistakenly identified students | Pastor Jim Mathis had fallen asleep in his basement while working on his upcoming Sunday sermon when the phone rang. That worried him — when the phone rings at 2 a.m., it's rarely good news. (June 4, 2006)
Families of mistakenly identified students struggle with feelings | In the blur of days following the revelation that Whitney Cerak lives and Laura VanRyn does not, a delicate drama is playing out as both groups of family and friends attempt to manage a miracle chained to a tragedy. (June 4, 2006)
Anguish follows tragic case of mistaken identity | Whitney Cerak and Laura VanRyn looked remarkably alike. But so much alike that a coroner investigating a traffic accident could confuse one, who died, with the other, who lived? That Laura's family could tend the injured Whitney for five weeks before realizing that she was not their daughter? (June 4, 2006)
Mistaken identities: Confusion of horrific accident resulted in wrong tag | The run from the school's campus in Fort Wayne, Ind., back to Taylor's Upland home was a straight 55-mile shot southbound on I-69. They were carried into an astonishing journey full of faith, celebration and anguish caused not only by death but by an inexplicable mix-up where two women would be confused for one another. (June 3, 2006)
The latest information about Whitney Cerak is available from her family's blog.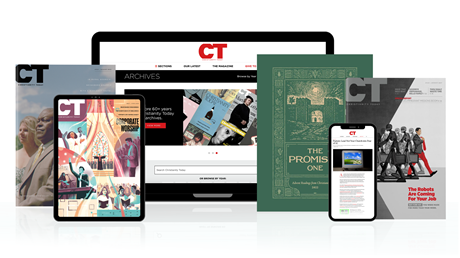 Annual & Monthly subscriptions available.
Print & Digital Issues of CT magazine
Complete access to every article on ChristianityToday.com
Unlimited access to 65+ years of CT's online archives
Member-only special issues
Subscribe
Steps to Recovery
Steps to Recovery