true
The Hoovers have dreams. Dad Richard imagines himself becoming the next Tony Robbins. Mom Sheryl dreams of a big happy family. Grandpa wants to go out in a blaze of glory. Uncle Frank longs to be recognized as the nation's pre-eminent Proust scholar. Brother Dwayne wants to be a fighter pilot. And then there's Olive. The pudgy, bespectacled 7-year-old wants to be Miss America.
Put all of these dreams in an old VW van and send them to Southern California for a beauty pageant, and you get Little Miss Sunshine.
This is the first feature-length project for the husband and wife directorial duo of Jonathan Dayton and Valerie Faris, both highly respected for their work in the music video world. Perhaps nicknamed the "Little Movie That Could," Little Miss Sunshine took five years to make and, thanks to its warm reception at 2006's Sundance Film Festival, is finally seeing a U.S. release—albeit in limited theaters.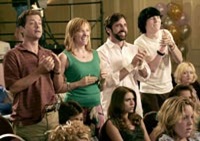 As its Sundance pedigree might suggest, Little Miss Sunshine has an eccentric veneer, but don't let that fool you. The script is far more conventional than its indie pop soundtrack (DeVotchKa and Sufjan Stevens provide the highlights) would have you believe, right down to unfortunate blips on the narrative radar involving porn magazines and state troopers that could have come straight from Super Troopers and a moment of sibling bonding that's all but gift wrapped. This said, there is a zany ethos to Little Miss Sunshine that, despite its most clichéd moments, stokes a lovely poignancy in this look at family life and the capacity for hope in the face of absurdity and calamity.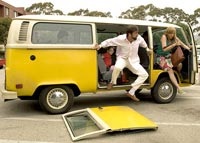 Much of the absurdity is provided by the Little Miss Sunshine contest—the attempt to get there and the pageant itself. The garish makeup and skimpy dresses on the pre-pubescent contestants is all the more jarring after spending much of the movie with the gawky Olive. Indeed, her presence at the pageant and her cringe-inducing "talent" are a sort of defacto exposé on the darkness that lies just beneath the sparkly sequins.
Each of the family members is, in one way or another, grappling with darkness in their own lives. Indeed, the script does a commendable job of presenting distinct characters—each person a universe of motivations and morals unto themselves—instead of presenting them as one griping and moaning familial mass. As such, different viewers are likely to resonate with different characters. And yet, the bond forged by their proximity to each other—by the fact they're family—is undeniable. I don't think it's a coincidence that the broken down VW van eventually requires a group effort to get in gear.
The cast is universally strong. Toni Collette doesn't seem to be physically capable of turning in a poor performance, as I have yet to see her do so since she burst onto the scene in 1994's critically acclaimed Muriel's Wedding. As a suicidal academic, Steve Carell proves his acting mettle extends far beyond his comedic turns in TV's "The Office" and last year's blockbuster The 40-Year-Old Virgin. Greg Kinnear, as Richard, uses his innate likeability to make even the most annoying of characters sympathetic. Thankfully, Richard's desperate need to be a winner is road kill on this trip. As is Grandpa. Alan Arkin's a dirty old man with a heart of gold (or at least silver).
In many ways, Little Miss Sunshine is a story about people dealing with the small deaths of their own dreams and yet still finding it within themselves to pull together to nurse Olive's dream. There are obvious missteps and flaws. Such things are always much easier to see from the outside looking in. But there is also a certain wonder in the ability of this family to hope—for themselves and for each other.
Talk About It
Discussion starters
Why do you think Richard was so obsessed with winning? What comforts does this approach to life offer? Are there inevitable pitfalls? How did this obsession affect Olive and Dwayne
Olive asks her uncle, "Do you think there's a heaven?" He hems and haws, citing others on the topic. Olive persists. "But what do you think?" Talk about his response. Do you think it was truthful? Or do you think he was trying to appease Olive in some way? Do you think his work as an academic shaped his response in some way? Why do you think Olive asked the question
How did you feel about the contestants in the Little Miss Sunshine pageant? What aspirations do you think attract people to beauty pageants? Are the value judgments germane to pageants consistent in any way with what Christians are taught to value in the Bible
Have you ever been a part of an effort in which a group of people (family and/or friends) supported, in a tangible way, the dreams of another person in the group? If yes, what was that experience like? What sort of sacrifices and rewards were involved? If no, why not?
The Family Corner
For parents to consider
Little Miss Sunshine is rated R for language, some sex and drug content. A foul-mouthed grandpa, sight gags involving the covers of porn magazines, heroin usage, frank discussion of suicide, and an innocent-yet-cringe-inducing pretend "strip tease" by a 7-year-old (she still has clothes on when she's done) all put the film firmly in R territory.
Copyright © 2006 Christianity Today. Click for reprint information.
What Other Critics Are Saying
compiled by Jeffrey Overstreet
from Film Forum, 08/03/06
The Hoover family is on the move. They're aiming their yellow Volkwagen bus across the country in order to arrive at a beauty pageant, so that 7-year-old Olive (Abigail Breslin) can pursue her dream of competing in a beauty pageant.
It's actually more complicated than it sounds. The Hoovers are having a rough time. Sheryl (Toni Collette) is offering comfort to her suicidal brother, a Proust scholar named Frank (Steve Carrell). Her husband Richard (Greg Kinnear), a motivational speaker, is at the wheel, and the heroin-addicted grandpa (Alan Arkin) is sharing the back seat with the teenaged Dwayne (Paul Dano). There's nothing like a road trip to bring a dysfunctional family together … but together for what? Harmony, or chaos?
Featuring the songs of Sufjan Stevens in the soundtrack, Little Miss Sunshine is winning the hearts of festival-goers, and now it's making its way across the country to surprise a larger audience.
Little Miss Sunshine is winning a warm round of applause and welcome from mainstream critics.
from Film Forum, 08/17/06
Stephen McGarvey (Crosswalk) says, "Some fairly harsh language and heartbreaking situations are spread across the film. We certainly see this family at its worst. However, such a strong negative portrayal makes their ultimate redemption all the more powerful. … Clever and comical, Little Miss Sunshine gives us the Hoover family's broken dreams in all their dysfunctional glory. Yet the film doesn't let us pity them as they learn to find happiness overcoming some of their flaws."
Hal Conklin and Denny Wayman (Cinema in Focus) write, "The caricatured dysfunction of the Hoover family gives Little Miss Sunshine a comical appearance. But when we stop laughing and consider the people, we are confronted with painful personal and spiritual emptiness. … With just the right amount of slapstick and drama, music and dialogue, shock and innocence, life and death, they take us on an emotional journey in which love of family becomes the value and life is the process by which it is uncovered. But this is a love that has no transcendent source or purpose and its anemic form within this family reveals a spiritual void."
Article continues below
from Film Forum, 08/24/06
Josh Hurst (Reveal) calls it "a movie so filled with compassion and grace that it just might be the year's most inspiring film anyway. … It's the best ensemble cast all year, and each one of them totally nails the performance. … It's a hysterically funny film. It's also touching, shocking, and full of surprises. And most importantly, it's redemptive. Loving your neighbor isn't always easy, and the film doesn't settle for easy or sentimental answers. So while it's not family-friendly—the R rating should be taken seriously—it just might be the best family comedy of the year."
Steven Isaac (Plugged In) admits that the big finale of the Hoovers' story moved him to tears. "I was rooting wholeheartedly for them to come out on the other side as better people and as a more intact family."
But he has trouble with a lot of what went on along the way. "There's no denying that life is sad and ugly and funny, sometimes all at once. So it's not my task here to debate Carell's and Berger's statements. What is my task is dealing with whether such truthfulness should be used as an excuse to fill up a film with better than 50 profanities and obscenities. And depictions of illegal drug abuse. And exhortations for teens to have as much sex as they possibly can."
from Film Forum, 08/24/06
Brett McCracken (Relevant) says, "The film's 'message' is clear enough … winning isn't everything in life, and being true to yourself and those who you love is more important than how you stack up in the rat race. It's certainly a lesson we can use—that 'the last shall be first' and unheralded virtues triumph in the end. And there's a nice Americana about it all—the sort of 'open road' optimism that is aided by the sagebrush Southwest scenery on full display throughout."
And yet, he says, he left the theater feeling "surprisingly empty."
from Film Forum, 09/14/06
Harry Forbes (Catholic News Service) writes, "It is important to note that there's an unfortunately high quotient of expletives and some sexual references … that would seem to limit the film's suitability to adults … . But given the overwhelmingly positive context of the story in which these elements appear—with the transformative nature of the story, and several unexpected moments of grace—many more will enjoy the film than its restrictive rating would suggest. … If you can see past the objectionable elements, this is a road trip you'll be glad to take."
Mike Parnell (Ethics Daily) says the movie "actually re-enforces the truth of the power of family. Family can be a place where people are nurtured, as what happens to Olive. Family can also be a place where people are stunted, which is what happens to everyone else. … Little Miss Sunshine will move you to cheer for Olive—not that she would win, but that she would rise above what is around her."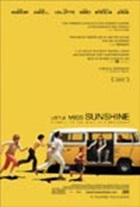 Browse All Movie Reviews By: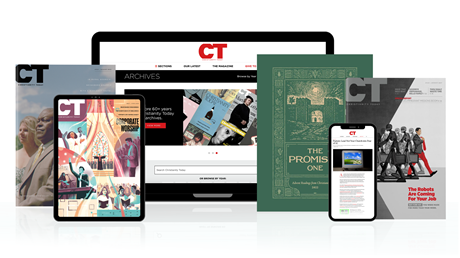 Annual & Monthly subscriptions available.
Print & Digital Issues of CT magazine
Complete access to every article on ChristianityToday.com
Unlimited access to 65+ years of CT's online archives
Member-only special issues
Subscribe
Little Miss Sunshine
Little Miss Sunshine