true
It's been almost 20 years since director Richard Donner dazzled audiences with Superman: The Movie, and turned Christopher Reeve into a super-celebrity.
In the sequels that followed, a franchise quickly devolved, becoming preposterous and forgettable. But Superman was too popular to stay buried forever, and it's clear that Bryan Singer, the director of the first two X-Men films, was excited to bring him back. At long last, the Man of Steel is stealing scenes again.
Can Brandon Routh live up to the standard set by Christopher Reeve?
Is Kate Bosworth a lovable Lois Lane?
How does Kevin Spacey's Lex Luthor compare to the one played by Gene Hackman?
Was it a mistake for Singer to leave the X-Men franchise, which was going so well until he handed it over to Bret Ratner?
Christian film critics do not agree on the answers to these questions. But almost all of them are excited about interpreting Superman Returns as a sort of allegory about Christ.
Peter T. Chattaway (Christianity Today Movies), giving the film two-and-a-half stars (out of four), writes, "[T]here is no denying that Singer has pulled out all the stops in his bid to make the biggest, loudest summer blockbuster possible—and he sprinkles the movie with welcome grace notes of visual beauty and comic absurdity."
He also says we shouldn't "make too much" of the film as Christian allegory. "The Superman movies have never shown anyone actually following Superman's inspiring lead; if anything, they have shown people waiting passively for Superman to rescue them. What's more, the Superman of the movies has shown a remarkable tendency to shrug off his responsibilities—first abandoning his powers (and thus the safety of the world) so he could sleep with Lois in Superman II, and now abandoning the world altogether for several years prior to the events of Superman Returns. In addition, whereas the first film had an almost mystical sensibility that lent itself to religious allegory, the new film does not."
Steven D. Greydanus (Decent Films) says, "Superman Returns honors and builds upon the strengths of its predecessors while gracefully minimizing their weaknesses. Where the earlier Superman films were pioneering, somewhat rudimentary efforts, Superman Returns is a mature, fully realized film that works on the level of the best modern comic-book films, Batman Begins and Spider-Man2."
Christian Hamaker (Crosswalk) says, "With Bryan Singer behind the camera, the parts were all in place for a successful rebirth of the Superman franchise. Why, then, is the final product so unmemorable? With the many bones thrown to religious viewers, why is the film so rarely uplifting? If Superman Returns makes enough money to justify a sequel, let's hope the creators spend a little more time concentrating on a rewarding story and a little less time catering to desirable demographic groups." (Note: Hamaker includes what could be interpreted as a plot spoiler in his review.)
Caution! Christopher Lyon (Plugged In) gives away the surprise in his review. But we can safely quote him as saying that the film is faithful to the spirit of the original films, even though it "mostly avoids the campy feel of those movies." As for the Christology, Lyon says, "While they give the movie some spiritual resonance, I actually found them distracting, taking me out of the Superman story and into trying to figure out what Singer and his writers were aiming for in the subtext." He concludes that the plot weakens "Kal-El's rock-solid goodness, and it gives the finale just a whiff of soap opera."
Personally, I was disappointed in the film. Superman Returns is about a hero with very little personality, who's in love with a bland and forgettable woman. He faces a villain who fails to frighten us. And while he aims to save the world, he's really responsible for the danger that the world is in.
My full review is at Looking Closer.
Mainstream critics are mostly pleased, though a few, like Manohla Dargis (New York Times) and Roger Ebert (Chicago Sun-Times), are not—and Ebert goes so far as to spoil the movie's big surprise.
Note: Normally, Film Forum would have included more Superman reviews from other Christian media. But several websites to which we typically link posted their reviews early, violating agreements with the studios to hold their reviews until opening day. And more, some Christian critics have spoiled some of the film's big surprises. So be very careful which reviews you choose to read.
More Superman Returns reviews will be included in next week's Film Forum.
Is
Click

worth seeing? Not remotely.

Blending the ideas that drove Groundhog Day and Bruce Almighty, Click introduces us to Michael Newman (Adam Sandler), an architect and family man who obtains a remote control that gives him god-like powers over his life—so, of course, he uses the device to indulge his fantasies and to gain advantages in his career.

This gives audiences plenty of opportunities to laugh at his mean-spiritedness and self-absorption. And then, after we've had our fun, it serves up a conclusion that assures us we can walk away with a clear conscience.

But Christian film reviewers are not fooled. They see this for what it is—a crass, indulgent bit of "entertainment" that contradicts its own moral lesson.

Russ Breimeier (Christianity Today Movies) says, "Click has its heart in the right place but its head in the toilet, and thus works against itself despite some great moments. When it releases to video, I suspect those who are interested in the movie's more wholesome moments will also grab their remotes and click right past the bad parts."

Harry Forbes (Catholic News Service) says Sandler "shows more depth as an actor than he has before, suggesting it might be time he put away the sophomoric shtick. … All in all, [the writers] should have opted for a classier approach, and made a film appropriate for a much wider audience. That being said, no one's going to argue with the film's ultimate rousingly affirmative conclusion: Family comes first."

Marcus Yoars (Plugged In) says he "wanted to like this movie. It's been a while since I've seen a flick with core messages so uplifting and valuable for our worked-to-death society. I wanted to laugh, cry and leave the theater with a desire to love my family more and live every day as if it were my last. Instead, I left wishing I had one of those nifty universal remotes for myself—so I could skip all the tart and tawdry stuff and chew on the five minutes that are worth clicking to."

"Were the film honest in its convictions about family life and paternal love, rather than a weak excuse for crude jokes and sitcom-style gags, it might deserve the benefit of any doubt," says Christian Hamaker (Crosswalk). "Instead, this cold-hearted, unfunny film deserves something else: the cold shoulder."

Mainstream critics are trying to persuade audiences to change the channel.
Dethroning
The King
In The King, a Navy officer named Elvis is discharged, goes home to Corpus Christi, Texas, and seeks out his estranged father. He's not quite prepared for what he finds there. His father (William Hurt) is now a Baptist preacher who isn't interested in letting his parishioners know the truth about his past and his forgotten son. To make matters worse, Elvis is immediately attracted to his father's beautiful daughter—and before long, Elvis is shaking, rattling, and rolling the family's picture-perfect lives.
Yes, once again Christians are portrayed on the big screen as especially rotten individuals.
Peter T. Chattaway (Christianity Today Movies) says, "And while I would like to say that it provides a complex, many-shades-of-grey look at the nature of repentance or the consequences of sin, the film's shallowness in certain crucial areas makes it difficult to be so positive. I'm all in favor of warts-and-all depictions of Christians, and generous viewers might be willing to give the most positive spin possible to David's actions. … But the closer you look, the more you realize that warts are all this film has to offer."
Mainstream critics are offering mixed reviews.
Nick Cave's violent
Proposition
Rock singer Nick Cave, whose albums frequently explore the dark territories between the gospel story and tales of human depravity, has now brought his imagination to the big screen in a violent Western tale called The Proposition. Directed by John Hillcoat, this dusty, daunting film features performances by Guy Pearce, Danny Huston, John Hurt, Emily Watson, and Ray Winstone.
Josh Hurst (Reveal) writes, "Though The Proposition does indeed share much in common with Cave's music—it's dark, bloody, and theatrical, with an undercurrent of dialogue with the Divine—the film is also overlong, unbearably harsh, and overbearingly violent, with very little payoff in the end."
Harry Forbes (Catholic News Service) praises the "desolate ambience" and the performances. And he concludes that the film is "sometimes absorbing but more often tedious. … The film is not without moral complexity as nearly all the characters are faced with ethical dilemmas and the line between 'good' and 'bad' is very fine. But for all its metaphorical purpose … the intense savagery in this gritty, somber tale will not be to every taste."
Mainstream critics are praising the film as a vital new Western and, in fact, as one of the year's best films.
An inspiring work of
Wordplay
Which is more entertaining—a crossword puzzle, or a movie about crossword puzzles?
Wordplay takes us into the world of Will Shortz, the genius crossword-designer at The New York Times, showing us the devotion of crossword fans and the many creative agents who contribute to a puzzle's construction.
Christian Hamaker (Crosswalk) says the film, "like the fictional Akeelah and the Bee from earlier this year, portrays the development of particular talents through practice and diligence. Although the personalities on display are not all entirely admirable, the film's focus on dedication, joy and community is inspirational. It's more fun than most summer blockbusters and a respite from the other nonfiction films … currently in release."
Mainstream critics have plenty of good words for this one.
A hero
Waist Deep

in compromise

The central character of Waist Deep, a security guard named O2, is an ex-con trying to get his life back on track and to be a good father to his young boy. But when his car—and his son—are stolen by a drug lord named Big Meat, O2 decides that the ends justify the means. And the means, well, that involves starting a gang war and designing a robbery.

Before long, viewers are waist deep in moral compromise.

Bob Hoose (Plugged In) says the move "never rings true." He describes it as "a typical gutter-mouthed action flick on steroids, careening wildly between bloody grotesqueries and teary Vaseline-lensed sentimentality."

"Buried somewhere in director Vondie Curtis-Hall's gritty but empty urban drama is a story about the love between a father and son," writes David DiCerto (Catholic News Service). "But be warned anything positive it has to say is drowned out by the bullets and brutality. And the morally murky means by which they go about raising ransom is also problematic."

Mainstream critics call it a waste.
More reviews of recent releases
Cars: Greg Tubbs (Ethics Daily) calls it a "hybrid of a different and delightful kind. It combines the sleek, 'wow'-worthy visuals of Pixar's computer animation with the rich, old-fashioned storytelling of classic Disney. … Pop the hood on Cars and you'll find an engine purring with soul, humor and solid life-lessons, fueled by pure heart."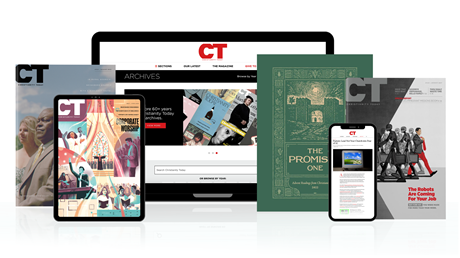 Subscribe to Christianity Today and get access to this article plus 65+ years of archives.
Home delivery of CT magazine
Complete access to articles on ChristianityToday.com
Over 120 years of magazine archives plus full access to all of CT's online archives
Subscribe Now
Superman Returns, but Is That a Good Thing?
Superman Returns, but Is That a Good Thing?