Members of one of the largest churches in New Mexico are fighting to bring accountability to church elders who they believe are mishandling church property, misusing their authority, and covering up misbehavior.
Two groups formed after Pete Nelson resigned in February as senior pastor of the 14,000-member Calvary of Albuquerque, affiliated with the Calvary Chapel network of 1,300 independent churches, mostly in the West and Southwest. Nelson said he wanted "to pastor and lead a church and to be accountable to that local church." He was unable to do that with the "current structure" at Calvary of Albuquerque.
Nelson's sudden announcement on a Sunday morning took church members and staff by surprise. Nelson has not been in touch with the congregation or spoken publicly since he left. But it wasn't Nelson's disappearance that shocked them. Nelson's resignation letter, which was leaked to the press, alleged the church's former pastor Skip Heitzig was exercising behind the scenes control two years after he had left to pastor another Calvary church in California.
Heitzig had retained his position as chair of Calvary of Albuquerque's elders board, which included a significant number who did not live in Albuquerque. These were all loyal to Heitzig. According to Nelson's letter, Heitzig, as chair, forced off or blocked local church members from joining the elders board. Heitzig did not return calls requesting comment. Assistant Pastor Chip Lusko told CT, "I think there were some inaccurate facts in his resignation letter." However, he declined to comment specifically.
Heitzig attempted to place Calvary of Albuquerque under the jurisdiction of a "mega-board." That structure would permit Heitzig to manage Calvary Albuquerque, the church's two radio stations, and his Calvary church in Southern California. (The church's stations are not part of the Calvary Satellite Network, the broadcast arm of the Calvary organization.)
Under the Calvary structure, pastors and elders have little or no requirement to disclose finances or decisions to church members. At Calvary of Albuquerque, little information was disclosed publicly. The church says members who wanted information were allowed to set up private, one-on-one appointments with the pastoral staff.
Chuck Smith founded the Calvary Chapel movement in the '70s when he left a denominational church. Smith had resisted the oversight of his denomination, and he now teaches that the senior pastor is solely accountable to God. "The pastor is ruled over by the Lord and recognized by the congregation as God's anointed instrument to lead the church, with the board guiding and directing," Smith writes in Calvary Chapel Distinctives. Though there is no standard for church government, most Calvary Chapels follow the so-called "Moses model," which gives the senior pastor extensive authority to run the church as he sees fit.
Bring Back Pete
In the days after Nelson's departure, Calvary of Albuquerque brought in speakers, including evangelist Franklin Graham, who said Nelson was unfit to run a mega-church, but he praised Heitzig, church members told the local news media.
Church members became suspicious. "All these friends of Skip were brought in to praise him and they would dig Pete," said one five-year member. On top of that, the member said the church wasn't providing information on what was happening.
That church member set up a website called www.BringBackPete.com, and 1,800 people signed his petition asking "to have Pete return as pastor in good standing, having control over all areas previously controlled by [Heitzig]."
Another church member, John Ackerman, and five other long-time members formed a second group to advocate for accountability within the church leadership. Ackerman, who has attended the church for 19 years, is an ethics professor at the University of New Mexico, and former chief executive of a public utility company.
"Fiscal accountability was virtually non-existent," he told CT. Ackerman, his group, and 1,000 members publicly met with the board and asked that the church's four non-local elders resign, a reconstituted board with new elders appoint an interim pastor, and the board put in place structures of accountability.
"We have observed a behavior pattern over an extended period of time that we concluded the [church's] bylaws and the conflict of interest policy mandated the resignation of the four out of state directors," Ackerman told CT.
Following the meeting, the board declined to implement those three changes. 
At the same time, Greg Zanetti, a former elder, went public with his complaints about the church's lack of accountability. Zanetti had attended Calvary of Albuquerque for 16 years and is a financial advisor, a general in the New Mexico National Guard, and a former chair of the county Republican Party.
In November 2004, Zanetti wrote the board a letter opposing the mega-board that Heitzig and Paul Sabre, another board member, backed. In addition, Zanetti alleged:
Heitzig removed $166,000 of Calvary-owned stage equipment and sent it to his new church in Ocean Hills, California.


"Absentee board members are more loyal to Skip as an individual than they are to Calvary Albuquerque as an organization."


Attempting to transfer control of the radio stations, which were collateral on church loans, away from Calvary of Albuquerque was a "breach of fiduciary responsibility to Calvary Chapel of Albuquerque."


Calvary of Albuquerque's continued subsidy ($500,000 annually) of Heitzig's radio program was poor stewardship. "Financially, this has been a losing proposition for many years. Subsidies paid by Calvary of Albuquerque to support the Connection over its history total approximately $6 million."


Reform efforts stall
The Calvary of Albuquerque board has made a few changes recently. Two out-of-state elders have resigned, including Heitzig. Elders named an interim pastor and hired a public relations firm to quell the storm.
These are not enough for Ackerman, although he says they have decided not to force change through a lawsuit and reform efforts seem to have stalled. Heitzig recently sent a letter to church members thanking them for their support. Ackerman and other members are deeply concerned that the board will re-appoint Heitzig as senior pastor within the next year.
Critics inside and outside the Calvary Chapel movement hope the problems in Albuquerque encourage other Calvary Chapels to strengthen their own accountability procedures.
Michael Newnham runs a blog for Calvary Chapel critics. In his opinion, the Calvary network of churches would benefit from better means to hold pastors and elders accountable to church members.
Newnham told CT, "The feeling I get from the people that are involved in this, even though they're hurt, they want to see some responsibility. They want to see accountability. They love Calvary Chapel. But they can't stay in a place where it doesn't seem to be accountable and the leadership seems more involved in their own personal empires than in the sheep."
Though Calvary Chapel has resisted imposing normative regulations and standards for its churches, it did recently begin Calvary Chapel Outreach Fellowships, through which pastors can officially affiliate with the movement, or be disaffiliated when extreme measures of discipline are necessary.
Newnham says Calvary Chapel's top leaders are not doing enough to hold pastors accountable for improper or even immoral actions. Several public scandals have erupted within the last year, including a lawsuit between the two board members of Calvary Satellite Network. A separate sexual harassment lawsuit was filed last December by a former CSN employee against the network's president. These scandals and others, say critics, are evidence of significant problems and not isolated incidents.
Related Elsewhere:
Michael Newnham's blog is PhoenixPreacher.com.
A press release from Skip Heitzig is available from Calvary of Albuquerque's website.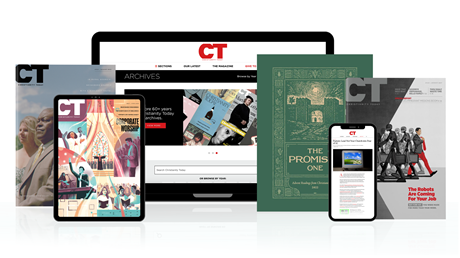 Annual & Monthly subscriptions available.
Print & Digital Issues of CT magazine
Complete access to every article on ChristianityToday.com
Unlimited access to 65+ years of CT's online archives
Member-only special issues
Subscribe
Unaccountable at Calvary Chapel
Unaccountable at Calvary Chapel