"If you died today, are you 100 percent sure you would go to heaven?" In a country where more people believe in an afterlife than believe in God, it's likely an effective opening question. Or evangelists could, if their potential converts are patient enough, simply read Bill Wiese's account of being catapulted into hell followed by Don Piper's description of being in heaven.
Readers fascinated by the afterlife are quickly buying 23 Minutes in Hell and 90 Minutes in Heaven. And for the shy evangelist, both authors have speaking ministries which could accommodate the skeptical friend.
If you print it, they will buy
Despite vivid descriptions, the books are short on details. The authors spend a combined 54 pages recounting their trips to the afterlife. One hopes that such momentous experiences would produce loquaciousness rather than speechlessness. Still, the accounts keep the curious reading.
"November 22, 1998. That was the night I was catapulted out of my bed into the very pit of hell," Bill Wiese writes in 23 Minutes in Hell. "My point of arrival was a cell that was approximately fifteen feet high by ten feet wide with a fifteen-foot depth."
Two enormous beasts awaited him in the cell. "These creatures were not of this natural world. … 'Evil' and 'Terror' stood before me. Those creatures were an intensely concentrated manifestation of those two forces." Now that's detail you wouldn't deduce from the Bible.
For those considering the comforts of heaven, Don Piper, a Texas pastor, tells his story. In 1989, Piper was heading home from a Baptist conference when he hit a truck head on. "A light enveloped me, with a brilliance beyond earthly comprehension or description." 90 minutes later, Piper returned to life.
Sales of both books are boosted by the authors' speaking engagements. Published on March 7 this year, 23 Minutes in Hell has sold more than 54,000 copies, according to its publisher, Charisma House.
According to Revell, publisher of 90 Minutes in Heaven, the book was a surprise hit. It released in September 2004 and Revell estimated first-year sales would be less than 10,000. Publicity for the book was limited to "one half-page ad in a Christian magazine," according to the publicist. "It since has taken off, and now has more than 800,000 copies in print (more than 500,000 sold in 2005 alone)."
Books on the afterlife have the added bonus of crossover appeal. 23 Minutes in Hell is being advertised on Rush Limbaugh and other secular radio shows. "Books on the afterlife seem to resonate well not only with Christians but also with those interested in the supernatural," says Woodley Auguste, senior publicist for Charisma House.
Charisma House knows the appeal of the afterlife. Since its release on October 7, 2003, Heaven Is So Real by Choo Thomas has sold more than 500,000 copies, including international sales, and the book is still doing well, says Auguste.
Horrible hell
Hell, Wiese says, "was hot—far beyond any possibility of sustaining life." (Thankfully, it being hell, everyone but Wiese had already died.) "My flesh should disintegrate from off my body at any moment. The reality was that it didn't." Lots of other things happen in hell, says Wiese, which don't normally happen on earth.
"I was extremely nauseous from the terrible, foul stench coming from these creatures. It was absolutely disgusting, foul, and rotten. It was, by far, the most putrid smells I have ever encountered. … The odor was extremely toxic, and that alone should have killed me." Somehow it didn't.
Wiese was also given information that he ordinarily wouldn't have known. The creatures in his cell were speaking in a blasphemous language, Wiese says which he was supernaturally able to understand. Then, "one of the creatures picked me up. The strength of the beast was amazing. I was comparable to the weight of a water glass in its hand. … Instinctively, I knew that the creature holding me had strength approximately one thousand times greater than a man."
Jesus told Wiese to tell people that hell is real. Wiese says he was brought to hell in order to warn others about its torment. Twenty-three minutes after first being catapulted from his bed, Wiese woke up. He was lying on the floor of his living room, screaming in horror. His wife, hearing his screams, woke up and brought Wiese a glass of water.
Heavenly heaven
If Wiese's trip left him eager to return home, Don Piper's visit to heaven left him regretting he returned to earth. His trip began when he saw a truck coming the opposite direction on the highway. It swerved into his lane. Piper writes,
In my next moment of awareness, I was standing in heaven
Joy pulsated through me as I looked around, and at that moment I became aware of a large crowd of people. They stood in front of a brilliant, ornate gate. … As the crowd rushed toward me, I didn't see Jesus, but I did see people I had known. As they surged toward me, I knew instantly that all of them had died during my lifetime. Their presence seemed absolutely natural.
Piper continues. "Heaven's light and texture defy earthly eyes or explanation. Warm, radiant light engulfed me. As I looked around, I could hardly grasp the vivid, dazzling colors. Every hue and tone surpassed anything I had ever seen."
But in a mere 15 pages, Piper's visit to heaven is over. He is back in his car, at the scene of the accident.
Interestingly, Piper's vision corresponds to American Christians' view of heaven. "Nearly all Christians think that union with God, peace, and tranquility, and reunion with relatives are likely to await them," writes Alan F. Segal in Life After Death: A History of the Afterlife in Western Religion.
So, either Piper proved American views of the afterlife correct, or he saw what he expected to see, because he expected to see it.
The gospel truth?
Wiese is adamant that his visit to hell was real and that it corresponds precisely to the Bible's description of it. He states flatly, "I saw the liquid fire that falls like rain. I felt the extreme heat, and I smelled the stench of burning things. I do not believe the Scripture references are merely symbolic or allegorical; I believe they speak of real fire."
However, biblical scholars do believe the Bible's descriptions of the afterlife are symbolic or allegorical. "We're dealing with metaphorical, analogical language about eternity," says Scot McKnight, Karl A. Olsson professor of religious studies at North Park University and author of The Jesus Creed. "Ghenna, hell, is a graphic image of the burning pit outside Jerusalem," McKnight says.
McKnight and Wiese would agree that hell is a real place where people will suffer in the absence of God. However, McKnight says, "Most people's perception is rooted in Dante rather than the New Testament."
"The primary vision of heaven in the Bible encompasses two necessary elements: worship and fellowship," McKnight says. "We have to be careful in making these things too literal." Biblical images of heaven always include the worship of a fellowshipping body. "That's the big idea of heaven," McKnight says.
However we try to understand heaven or hell, we won't be able to grasp it. "God has surprised us with a lot of things," McKnight says. "Eternity will be much grander than anything we have known."
Related Elsewhere:
23 Minutes in Hell and 90 Minutes in Heaven are available from Christianbook.com and other book retailers.
Other Christianity Today articles on the afterlife include:
Article continues below
Harleys in Heaven | What Christians have thought of the afterlife, & what difference it makes now. (June 6, 2003)
Hell's Final Enigma | Won't heaven's joy be spoiled by our awareness of unsaved loved ones in hell? (April 24, 2004)
Christian History Corner: How the Early Church Saw Heaven | The first Christians had very specific ideas about who they would meet in the afterlife. (August 9, 2002)
What's a Heaven For? | C.S. Lewis saw belief in heaven not as wishful thinking, but as thoughtful wishing. (Oct. 26, 1998)
The Believer's Final Bliss | The regeneration of man requires that old things must pass away and all things become new. By John Murray (July 7, 1958)
The Glories of Heaven | While heaven will be glorious, the greater glory will consist in our transformation. By Stanley C. Baldwin (May 22, 1964)
The Hope of Heaven | Have Christians forfeited their rightful anticipation of eternity? By L. Nelson Bell (May 24, 1968)
Illusion or Reality? | Heaven is a place. There is a city we are going to see and walk in. By Edith Schaeffer (Mar. 12, 1976)
Heaven Can't Wait | I have seen the electrifying results of what can happen when the reality comes alive. By Philip Yancey (Sept. 7, 1984)
Heaven: Not Just an Eternal Day Off | As if anticipating the question, "Will life on the new earth be boring?" the Bible points to much activity there. By Anthony Hoekema (Sept. 20, 1985)
What Will Heaven Be Like? | Thirty-five frequently asked questions about eternity. By Peter Kreeft (from Tough Questions Christians Ask, 1989)
The Eternal Weight of Glory | If only we could have the positives of earthly life without the negatives. By Harry Blamires (May 27, 1991)
Afraid of Heaven | We do not yearn to be near God because we do not find sin utterly repugnant or goodness rapturously attractive. By Kenneth Kantzer (May 27, 1991)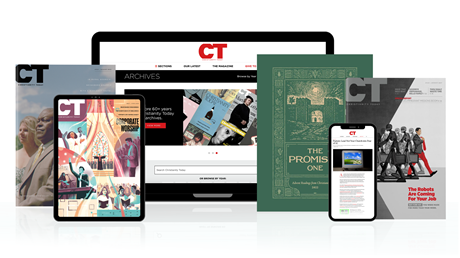 Subscribe to Christianity Today and get access to this article plus 65+ years of archives.
Home delivery of CT magazine
Complete access to articles on ChristianityToday.com
Over 120 years of magazine archives plus full access to all of CT's online archives
Subscribe Now
Travel Writing from the Afterlife
Travel Writing from the Afterlife