true
"War is hell," they say. So is war propaganda.
Both of these observations are powerfully illustrated in Clint Eastwood's new film Flags of Our Fathers, which is based on James Bradley's book about the lives of the six U.S. Marines who appear in the ubiquitous photo called "Raising the Flag on Iwo Jima."
As the film opens, we watch three servicemen—John Bradley (Ryan Philippe), Rene Gagnon (Jesse Bradford), and Ira Hayes (Adam Beach)—climb a steep slope. When they reach the peak, they triumphantly lift an American flag.
But this is not the moment in that famous 1945 photo taken by AP reporter Joe Rosenthal atop Mt. Surabachi on a small Japanese island. No, this is a recreation on a peak made of papier-mâché, staged for a cheering crowd.
The Marines are standing in Chicago's Soldier Field, under a sky full of festive fireworks, waving to the Americans who have taken such comfort from that dramatic black-and-white portrait. They're taking part in a vigorous military propaganda effort, persuading patriotic Americans to purchase war bonds. And it works—the cheering people open their wallets to show their support for those troops still fighting against Germany and Japan.
Rosenthal's image captured America's imagination. It inspired us to strive for victory, and brought comfort to the worried families of Marines. Thus, it was printed, imitated, and reenacted to keep spirits high—and to keep the dollars coming in. "The country was tired of war," says a retired captain (Harve Presnell) as he thinks back. "One photo, almost all on its own, turned that around."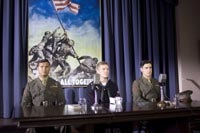 Thus, we see Bradley, Gagnon, and Hayes, the three from the photograph who survived, welcomed as heroes for surviving the greatest siege in American military history. But as they wave and smile, they are haunted by the fact that Soldier Field is nothing like Mt. Surabachi at all. Their own flag-raising was not the glorious moment that everyone seems to believe it was. And, in their opinion, the real heroes were killed on the island.
All told, about 26,000 lives—almost 7,000 Americans and over 19,000 Japanese—died on and around Iwo Jima. (The Japanese perspective will be revealed in Eastwood's companion sequel, Letters from Iwo Jima, in February.) And the suffering didn't end when the Marines came home. The horrors continued, playing like a highlight reel in their heads—driving them to silence, depression, and worse.
The subject of violence preoccupies Eastwood in film after film. Having played a heroic gunslinger so many times, the 76-year-old Hollywood legend seems determined to de-glamorize violence and revise our definition of heroes. As in his masterpiece—Unforgiven—his characters often employ violence for the best intentions, but then carry burdens of doubt and damage afterward.
Flags of Our Fathers is ultimately about war heroes—why we need them, how poorly we misunderstand them, and what it's like for Marines branded as heroes. Eastwood shows us that there is often a vast chasm between what happens in combat and what is communicated to the nation via the media and the government.
It's a timely reminder. But it is not, as some might fear, an indictment of the government as manipulative and dishonest. Clearly, the campaign to represent Iwo Jima's "heroes" was a masterful work of public relations and spin. And yet, Eastwood leads us to wonder if some degree of deliberate misrepresentation might have been worth it after all, considering how many lives the exploitation of that photograph may have saved.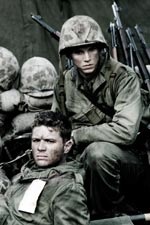 Eastwood's film succeeds more fully in asking profound questions than providing any satisfying answers. But unfortunately, the film falls short of translating the power of that memorable book penned by James Bradley (with Ron Powers).
To be fair, a lot can be accomplished in 400 pages that cannot be achieved in two hours of screen time. Bradley's Flags recounts his investigation into the experience of the one man in the famous photo whose face can be seen in profile—his father, Navy Corpsman John Bradley. According to James Bradley, John refused to speak of that nightmare, and it wasn't until after the veteran's death that James unearthed not only his father's story, but the stories of all six Marines.
It's just too much for one film. Eastwood seems to understand this, so he focuses his attention on coverage of the battle and the PR tour, foregoing detailed portraits of the Marines.
And, with the help of producer Steven Spielberg, he delivers a galvanizing vision of the war, empowered by Tom Stern's fantastic cinematography and further innovations in the special effects that made Saving Private Ryan so memorable. The spectacle and sound design inspire awe even as they make us flinch and turn away from the screen. And the film's muted colors give it the feel of archival footage.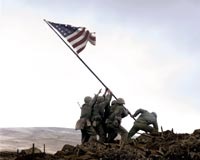 Yet, while the re-creation is utterly convincing—an end-credit montage of archival war photos show us that Eastwood did his research—the characters get lost. The film might have worked better if it had focused on contrasting two of the Marines' experiences—the way Chariots of Fire juxtaposes the tales of two Olympians—or if it had been expanded into a miniseries to detail these lives more fully. The memorable biographies contained in Bradley's book are reduced to sketchy impressions here. The cast of talented young actors—especially Philippe, King Kong's Jamie Bell and Saving Private Ryan's Barry Pepper—do the best they can with characterizations that border on the bland. Eastwood takes us deep into the thick of the battle, but not far enough into the lives of the characters fighting it.
The only character who really comes to life is Ira Hayes, a Native American, formerly portrayed by Tony Curtis in 1961's The Outsider. During the tour, Hayes suffers derision and persecution at home for his ethnicity, easily inspiring our sympathy. But we get more than his bouts of misery and drunkenness; we get glimpses of his confusion at being an Indian and an American hero, and some saddening pictures of his life after the war. Adam Beach (Windtalkers) gives Hayes dimension, and it may be enough to earn him some acting honors.
On the other hand, some of the peripheral characters are little more than annoying caricatures, the most grating of which is Pauline (Melanie Lynskey), Gagnon's spotlight-seeking fiancée.
The film's other weakness is its structure. Penned by William Broyles Jr. and Paul Haggis, the script constantly yanks us from the maelstrom of bullets and blood, to the troubling public relations tour back home, to the veterans' present-day storytelling, and back again. In doing so, it keeps the viewers constantly off-balance. And after a while, it seems like the sequences are spelling out redundant, and obvious, points.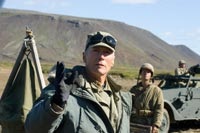 "The right picture can win or lose a war," says the veteran. Will Eastwood's picture have lasting significance? Many war films have shown us that "war is hell," but the greatest—films like All Quiet on the Western Front, Apocalypse Now, Full Metal Jacket, Grave of the Fireflies, Saving Private Ryan, and The Thin Red Line—tell memorable stories through the eyes of unique and unforgettable characters. It's unlikely that Flags will be ranked among the great films about combat.
It is likely to be remembered instead for its nagging questions about the ethical compromises that often seem necessary in order to reinforce a nation during wartime. Like The Manchurian Candidate, The Man Who Shot Liberty Valance, and Three Kings, Eastwood's film might increase our reluctance to trust what our media and government tell us is happening. But it might also make us more patient and understanding if events are sensationalized for the greater good.
When the sequel—Letters from Iwo Jima—opens in February, Eastwood will show us the same battle through the eyes of the island's Japanese defenders. When we can compare and contrast the two films, we may discover that they cohere into a monumental cinematic achievement and a profound meditation on war, virtue, and human nature.
It will be interesting to see if American moviegoers will be as willing to buy tickets for a movie about the enemy as they are to watch a film about their own heroic Marines. Christ encouraged us to consider our enemies and—what is more—to love them and pray for them. It is an act of humility and compassion to remember the fallen on both sides of the war, and art is one of the most powerful avenues for that sort of contemplation. Thus, Eastwood should be applauded for embarking on such an ambitious two-part project.
Talk About It
Discussion starters
Do you think the young Marines on their way to Iwo Jima had a good idea of what they were facing? What might they have imagined about war? How might the realities have conflicted with their expectations
What do you admire about the Marines as they are portrayed here
Discuss the personalities and experiences of the three main characters—Bradley, Gagnon, and Hayes. Why was it difficult for them to work in the public relations campaign when they returned
Does the film make you wonder whether there is a difference between the realities of current military action, the way that action is portrayed by the media, and the way it is characterized by the government? Discuss.
Is it ever appropriate to distort the facts, or exaggerate details, in order to comfort Marines' families or inspire support for the troops
Has this film changed your impression of the famous Iwo Jima photograph? If so, how?
The Family Corner
For parents to consider
This film deserves its R rating for the harsh violence, the profanity, and the horrifying carnage of the battlefield (which is just as graphic, perhaps worse, than what is revealed in Saving Private Ryan).
Copyright © 2006 Christianity Today. Click for reprint information.
Article continues below
What Other Critics Are Saying
compiled by Jeffrey Overstreet
from Film Forum, 10/26/06
Bullets fly and bombs explode in Clint Eastwood's new film Flags of Our Fathers. The historical recreation of the historic siege of Iwo Jima is awe-inspiring in its intensity and grisly detail. But the movie isn't just about combat. It's about other kinds of conflict—wars of words, battles fought for the hearts and minds of a nation, and private conflicts with addiction, depression, and prejudice.
But one thing unites the three central characters of this story—they all took part in the famous flag raising on Mt. Surabachi on that small, rocky Japanese island, a moment captured by AP photographer Joe Rosenthal. And that photograph had a significant impact on American patriotism.
All told, the battle of Iwo Jima was a triumph for U.S. forces, but that victory came at a heavy price. More than 26,000 Marines were killed or wounded on that island, and 22,000 Japanese defenders died there as well. In Eastwood's complex adaptation of James Bradley's book, we see through the eyes of the Marines who fought there. And then we follow them home to learn about further challenges that awaited them.
David DiCerto (Catholic News Service) raves that the performances are "superb," and he praises Eastwood's direction, saying he has delivered a powerful work about heroism. "Eastwood does not subvert the traditional ideal of valor, but honors it by reminding us that the heroes of Iwo Jima were not supermen, but ordinary boys who rose to the occasion, sacrificing their lives to do what was needed, not for glory, but for the greater good and the guy next to them in the foxhole."
Christian Hamaker (Crosswalk) praises the film for its refusal to "offer easy notions of patriotism or jingoistic symbolism. … " But he's not entirely impressed. "[T]he movie is fragmented and often didactic. It never fully engages our interest, despite some effective moments. Its derivative qualities and somewhat cynical message leave these Flags flying at half-mast."
Marcus Yoars, Steven Isaac, and Bob Neven (Plugged In) combine forces to review the film. They conclude that, " … throughout the course of its objectively depressing, meticulously tiring depiction of war, it seems to be trying to say that nothing about the taking of that singular picture and the military's subsequent use of it was, for lack of a superlative, good. … It's sufficient to simply report that the overwhelming emotional effect of the film is to make you mistrust the government—and let the chips and facts fall as they may."
Article continues below
But they add that the film does teach us "what a true hero is."
Mainstream critics are impressed, although many consider it a flawed success.
from Film Forum, 11/02/06
Flags of Our Fathers: Steven D. Greydanus (Decent Films) writes, "Tendentious voiceovers aside, Flags of Our Fathers remains a thoughtful exploration of the tensions and ironies of the cult of heroism."
from Film Forum, 11/09/06
Denny Wayman and Hal Conklin (Cinema in Focus) say, "Flags of our Fathers" is a difficult film to watch because of the horror of war itself, but it is a film worthy of our viewing because it explores the humanity of this event which turned the nation's discouragement to determination."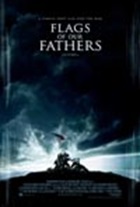 Browse All Movie Reviews By: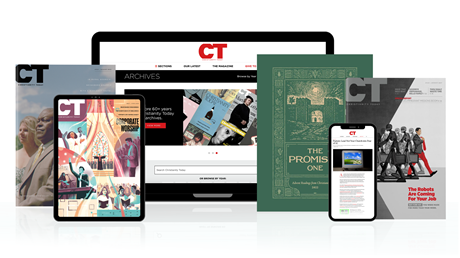 Subscribe to Christianity Today and get access to this article plus 65+ years of archives.
Home delivery of CT magazine
Complete access to articles on ChristianityToday.com
Over 120 years of magazine archives plus full access to all of CT's online archives
Subscribe Now
Flags of Our Fathers
Flags of Our Fathers