true
"Now our city of peace has crumbled/Our book of faith's been tossed/And I'm just out here searchin'/For my own piece of the cross"—from "I'll Work For Your Love."
My Old Testament professor in seminary would tell his students on a weekly basis that "we must be careful not to say too much, but we also must be careful not to say too little" about a particular text. Such is the risk in discussing Bruce Springsteen's Magic.
While his words certainly are not scripture, many of us have used their dense layers of meaning to help reflect on our own faith. No one should be surprised. Springsteen's theology has been the subject of numerous magazine articles, books, and even seminars. Churches work his songs into their liturgies. Biblical allusions populate all his albums, with some cuts being influenced by authors such as Flannery O'Connor. At times, it seems the self-described "lapsed Catholic" has a better understanding of the gospel than many artists who perform in the Christian genre.
Musically, Springsteen draws from his rock albums to forge a pop sound on Magic that belies the anger on many cuts. The anger is directed primarily at the Bush Administration and its policies he has called "Orwellian." Even the political lyrics, however, are intended on a more personal and grander level that grows richer with multiple listenings as connections are made to previous compositions.
He continues to explore familiar biblical themes of alienation and community, grace, hope, faith, betrayal and friendship while repeatedly showing how they all are inter-related. A less thoughtful artist would be content to repeat the past, but Springsteen refuses to remain there. Age and experience offer new perspective.
In 1975, Springsteen opened his landmark Born to Run album with the song "Thunder Road"—"The screen door slams, Mary's dress waves." With Mary standing on the porch, the quixotic suitor declared "There's magic in the night," and exhorted her to join him on the open road to "case the promised land." The protagonist declares he lives in "a town full of losers and I'm pulling out of here to win." With pianist Roy Bittan's opening chords, the listener was invited to join Springsteen on his grand quest every bit as much as Mary.
Now, on what supposedly is to be his last album with the E Street Band, Springsteen focuses on a young man who is preparing for a "Long Walk Home." There are no names, no audacious claims. Road weariness has set in: "Last night, I stood at your doorstep/Trying to figure out what went wrong." He's given up on believing the Promised Land will be found on the open road in his car with the top down and redemption under his dirty hood. Instead, he's trying to find his way back home on foot, and at least part of this journey has to be made alone. He tells the unknown woman, "Hey pretty Darling, don't wait up for me/Gonna be a long walk home."
The wonderful magic no longer holds allure but has turned sinister. The magician of the title track sneers that he'll saw his volunteer in half, "And the freedom that you sought's drifting like a ghost among the trees/This is what will be, this is what will be."
On "Promised Land," from the Darkness on the Edge of Town CD, a back-stiffened young man heads straight into a storm that is "going to blow everything down/That ain't got the faith to stand its ground." With the World Trade Center and his own community of Atlantic City fallen, Springsteen ended The Rising with the mournful "My City of Ruins," but with the determination of Nehemiah to "rise up" and rebuild the walls.
But there has been no rebuilding of the walls. Rather, the foundations have been shaken. The faith for which he prayed is hard to come by and just as hard to hold onto. Springsteen keeps wrestling with the connections of faith and works. In "I'll Work for Your Love," a song laden with Catholic imagery (excerpted above), he declares to his lover (God?), "I'll work for your love/What others may want for free/I'll work for your love."
While Springsteen believes there is a "righteousness" that must be attained, he is conscious that all his works by themselves would not be enough. As the couple prepares to make love, the man speaks what may be a veiled reference to Leviticus 16:19, of all places: "I watch your hands smooth the front of your blouse/And seven drops of blood fall." In the Levitical passage, blood is sprinkled on the priest's finger seven times as an act of atonement to cleanse the temple's mercy seat.
Shed innocent blood continues to haunt Springsteen. On "Last to Die," he paraphrases and builds on the 1971 Congressional testimony of John Kerry (for whom Springsteen campaigned): "Who'll be the last to die for a mistake/The last to die for a mistake/Whose blood will spill/Whose heart will break/Who'll be the last to die."
The question sears the conscience. Of course, the truth is we do live because one man died as the result of a betrayal and a "mistake" we keep making. Perhaps we need to take more stock of that sacrifice, let it haunt us, and give us reason to hope as we make our long walk home.
Unless specified clearly, we are not implying whether this artist is or is not a Christian. The views expressed are simply the author's. For a more complete description of our Glimpses of God articles, click here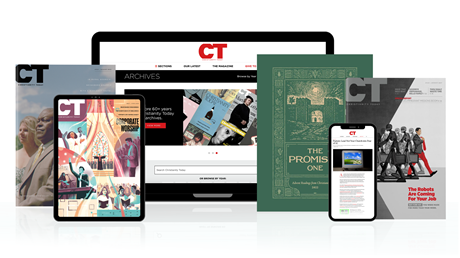 Annual & Monthly subscriptions available.
Print & Digital Issues of CT magazine
Complete access to every article on ChristianityToday.com
Unlimited access to 65+ years of CT's online archives
Member-only special issues
Subscribe
Magic
Magic