Dwight McKissic resigned from the board of trustees at Southwestern Baptist Theological Seminary on June 20. The announcement follows a series of conflicts—mostly about private prayer languages—between McKissic, seminary president Paige Patterson, and the other Southwestern board members.
"My involvement as a trustee has been a huge distraction from my ministry priorities for the past nine months," McKissic explained in his letter of resignation. "I've devoted too much mental, physical, emotional, and even spiritual energy to matters resulting from the aftermath of my [August chapel] sermon … I simply want to return to the place I was prior to being a trustee."
While the Baptist Faith and Message does not contain any policy on speaking in tongues, McKissic caused a stir in August 2006 when, during a seminary chapel sermon, he discussed his personal use of private prayer languages. According to The Dallas Morning News, Patterson did not have the sermon posted on the school website because he did not want to imply that Southwestern approved of McKissic's views on the issue.
In his resignation letter, McKissic continued to express surprise at the reaction to his sermon. He referred to a Lifeway poll that indicated most Southern Baptists accept the practice of private prayer languages. Many Southern Baptists have traditionally refrained from speaking in tongues, a belief reflected in the SBC mission board's policy of not accepting candidates who use 'ecstatic utterance as a prayer language.'
In response to McKissic's sermon, the board of trustees adopted a statement at their October 2006 meeting to ensure that the seminary would not "endorse in any way, advertise, or commend the conclusions of the contemporary charismatic movement including 'private prayer language.'" McKissic offered the sole dissenting vote.
Tensions continued to mount as board chairman Van McClain sought McKissic's removal from the board. In a statement on his church's website, McKissic responded to the threat by saying his removal would be "nothing but a twenty-first century lynching of an independent thinking black man … Because I will not join the 'good old boys club,' I'm subjected to removal as a trustee."
McClain later withdrew his motion to remove McKissic from the board. "I accepted our mutual words of grace and 'putting the past behind' as genuine," McKissic wrote in his resignation letter. According to Associated Baptist Press, McKissic also apologized for his lynching statement.
Following their truce, McKissic spoke out at the SBC meeting in San Antonio in support of a motion that some said would limit trustee hiring and firing according to the contents of the Baptist Faith and Message.
The motion states that "The Baptist Faith and Message is neither a creed nor a complete statement of our faith nor final or infallible. Nevertheless we further acknowledge that it is the only consensus statement of doctrinal beliefs approved by the Southern Baptist Convention and as such is sufficient in its current form to guide trustees in their establishment of policies and practices of entities of the Convention."
McKissic said, "It's really a simple matter. Are we going to let the parents make rules for the house, or our we going to let the children rule the house? The agencies and entities should be subordinate to the Southern Baptist Convention."
The controversy has not stopped with the motion's passing vote of 2,137 to 1,565. Much confusion has surfaced on what the motion actually means for SBC entities.
McKissic said he did not intend to sever his ties with Southwestern, its staff, or the SBC.
He wrote, "My love, respect and appreciation for Dr. Patterson remains … my love for SWBTS will also remain. I remain committed to the SBC."
Related Elsewhere:
Southwestern's board of trustees has 40 members, who serve staggered terms.
The IMB's current policy on tongues are a change from the 2005 guidelines, which eliminated candidates who used any form of glossolalia or "prayer languages."
Associated Baptist Press and Baptist Press posted articles about McKissic's resignation:
Wade Burleson blogged about the implications of the SBC's vote on doctrinal statements that are outside The Baptist Faith and Message
The SBC's crackdown on tongues was one of our top stories of 2006.
Other Christianity Today articles about the SBC and Southwestern Baptist Theological Seminary include:
The Wall Is the Castle | When Christians combat each other, they fail to protect what's important. (June 11, 2007)
Pastor/Blogger says Hebrew prof's gender cost her tenure at seminary | Southwestern Baptist's board chair calls hiring a "momentary lax of the parameters." (January 23, 2007)
Ghost Growth | Baptist report: Some 'failed' church plants never existed. (December 11, 2006)
Costly Complaints | Southern Baptist pastor claims blog criticism led mission board to recommend his removal. (March 1, 2006)
Tongues Tied | Southern Baptists bar new missions candidates from glossolalia. (February 1, 2006)
A Kinder, Gentler Conservatism | New Southern Baptist leader promises broader involvement. (June 28, 2006)
Young, Restless, Reformed | Calvinism is making a comeback—and shaking up the church. (September 22, 2006)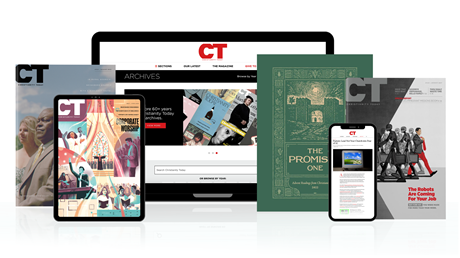 Subscribe to Christianity Today and get access to this article plus 65+ years of archives.
Home delivery of CT magazine
Complete access to articles on ChristianityToday.com
Over 120 years of magazine archives plus full access to all of CT's online archives
Subscribe Now
McKissic Resigns as Southwestern Seminary Trustee
McKissic Resigns as Southwestern Seminary Trustee