Reviews

|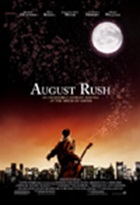 "I believe in music the way some people believe in fairy tales." So says a boy named Evan (Freddie Highmore) at the beginning of August Rush, and right from the start, it is clear that we in the audience are being asked to believe in both of these things as well. Evan says he can sense music in everything around him, and as he stands outside, closes his eyes, and waves his hands through the wind and blades of grass, the film invites us to experience the sounds around him not as so much noise but as delicate instruments in a subtle, graceful symphony that only Evan can hear.
If this film is guided by any one template, though, it is not that of the symphony or the fairy tale, but rather that of Oliver Twist. Just as the Charles Dickens novel concerned an orphaned boy who runs away, falls in with the wrong crowd, and then learns of his true heritage, so too August Rush concerns a boy, Evan, who was abandoned at birth but makes his way to New York City convinced that he can find his birth parents—both of whom, it happens, were talented musicians.
If this film is a "fairy tale," it is mainly because the parents are still alive, albeit living in different cities, and they seem to share an almost mystical bond with each other and with their son, even though they have never met him before.
In flashbacks, we see how Lyla Novacek (Waitress's Keri Russell), an acclaimed classical cellist, met and shared a romantic evening with Louis Connelly (The Tudors' Jonathan Rhys Meyers), a singer and guitarist with an Irish rock 'n' roll band. And before they meet, on a rooftop overlooking Washington Square, they each perform in concerts that are edited together in such a way as to suggest that they were meant to make beautiful music together, ...
1