true
Sleuth was a successful Tony-award winning play by Anthony Shaffer that was quickly adapted as a movie in 1972. The DVD is somewhat hard to find, though it might be re-released in conjunction with the theatrical release of this "reinterpretation." If so, there's no question which version I would recommend first.
In the original, Laurence Olivier starred as Andrew Wyke, a wealthy mystery novelist who finds out his wife has been cheating on him. He decides to invite her young lover—Milo Tindle, played by Michael Caine—to his rural mansion and confront him about it. Wyke admits to an affair of his own, and since he's no longer interested in his wife, he makes an unusual offer to Tindle involving an insurance scam and a staged robbery at his mansion. Tindle is only interested in obtaining divorce papers from Wyke, skeptical and reluctant to accept Wyke's proposal, but then … well, to go any further would spoil the battle of wits that ensue as you begin to wonder who's playing games with who.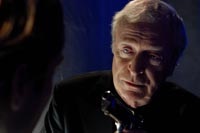 The behind-the-scenes trivia for this latest edition is every bit as twisty as the plot. Michael Caine returns, only now in the older role of Wyke. Stepping into Tindle's shoes is Jude Law, who previously handled a classic Caine role in the 2004 remake of Alfie. And if that weren't enough, this film was directed by Kenneth Branagh, whom some have likened to Olivier for his acclaimed reenactments of Shakespeare's works. Kind of a strange full circle, eh?
Strange doesn't really do justice in describing the newer film, which like its predecessor relies almost entirely on dialogue. I was thoroughly impressed with the first two-thirds of the new movie, only to be drastically disappointed with the final act. Like any performance, how it ends is usually how you best remember it: in this case, stilted, clumsy, and abrupt.
The problem is not the acting. Caine and Law give two of the strongest performances you'll find in 2007, and it's an absolute delight to watch these skillful actors in their verbal sparring. Caine has aged gracefully into the older part, reveling in all the playfully twisted facets of Wyke's character. Egomaniacal celebrity, lonely old man, scorned husband—it's an interesting performance that juxtaposes charm with coldness.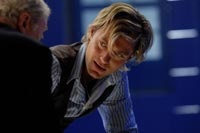 Law is the greater revelation, however, clearly enjoying the opportunity to work with the equally sharp dialogue and dynamic character traits of Tindle. His acting range explores new reaches that should pleasantly surprise viewers (especially those unfamiliar with the story). The original Sleuth earned Oscar nominations for both Olivier and Caine (they lost to Marlon Brando in The Godfather); it wouldn't be too surprising to see Caine and Law earn some recognition here as well.
Credit also Branagh (one of my favorite actors and directors), even when some of his work falters like this one. He treats the intricate story, in all its emotional highs and lows, with the same respect he would a work of Shakespeare, matching powerful dialogue to some interesting camera shots with aid of production designer Tim Harvey and cinematographer Haris Zambarloukos.
Wyke's residence may look like a charming rural mansion on the outside, but the interior is cold and dark concrete, decorated with modern art and steel as much as state-of-the-art lighting and security cameras (all administered by remote control). It's a reflection not only of Wyke's personality, but also the tense battlefield for our two leads to slug it out for the duration of the movie. Branagh uses the environment to keep us off guard and establish subtext, whether looking through a security camera down onto the driveway to compare the size of Wyke's and Tindle's cars, or looking through a glass to distort one character's size in conjunction with the dialogue. Though some of it feels pointless in its flashiness (e.g., a cascading projection of the two actors on a wall above the fireplace), it's never boring to watch.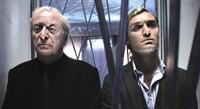 The screenplay's the thing. I call this a "reinterpretation" since the filmmakers and actors did not intend it as a straight remake, or else they would have stuck to Shaffer's original screenplay. Instead, this is a new screenplay by celebrated playwright/actor Harold Pinter (who makes a brief cameo in this movie). So why call it by the same title and cause confusion? Consider this film Harold Pinter's Sleuth, borrowing greatly from the general story of Shaffer's work while also streamlining, modernizing, and imprinting it with his own style.
Streamlining isn't a bad idea. The original was overlong at 138 minutes; this one moves briskly at 88. The story is still (mostly) the same and the script retains the clever subtext and posturing of the first film—this can be a very funny movie at times. However, Pinter still found enough room in the shorter screenplay to pile on the profanity, and while I suppose that's to be expected, it starts to feel excessive after a while.
My real problem is with the finale. Acts I and II build in tension, stakes, and plot twists, and the original story took that naturally to the next level, as each character tries to trump the other, neither one any more honorable or less likeable than the other.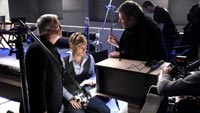 Taking this new Sleuth on its own merits, the ending is far less satisfying because it's more hazy and ambiguous. There comes a point where Pinter's screenplay takes a weird left turn from the original story, slowing things down to a crawl with one final proposition that feels strangely out of character. Without giving details, it could be interpreted at face value as mutual admiration for each other's wits and intellect … or more subtly as a desperate plea for companionship between two heterosexual males experiencing homosexual attraction for the first time.
Not enough happens with it for a definitive answer concerning Pinter's screenplay, and that's part of the frustration. But the primary point is that it's a finale that feels out of step with the tone of the movie to that point—and a complete letdown to its preceding build. Though the original story wasn't exactly a mystery, it kept you guessing as it built toward its final showdown. This one causes you to question whether there will actually be a showdown before ending it all too suddenly.
If you were watching a classic styled mystery, you would expect the investigator to learn that the butler committed the murder in the ballroom with the revolver or something; you wouldn't expect the investigator to take the butler out for pizza after accusing him. That's not a perfect analogy by any means, but this film suffers from a similar lack of follow through when it's all over. It's not the fact that it takes a left turn, but that the left turn is out of character with the rest of the film. In spite of its strengths for the first two-thirds, you're better off tracking down the original Sleuth than this one.
Talk About It
Discussion starters
What do you believe are Andrew Wyke's motivations in this movie? Does he act out of anger? Vengeance? Or does he simply like to mess around with people? Do his motivations change by the end of the film? Why does he go to such great lengths?
What about Milo Tindle? Do you believe he's telling the truth about the reasons he loves Marguerite Wyke, or does he have other motives? Do his motivations change by the end of the film? Why does he go to such great lengths? How does he compare and contrast with Wyke?
Which is valued more in Sleuth: heart or intellect? What does the story teach us about ego and pride?
The Family Corner
For parents to consider
Sleuth is rated R for strong language, including plenty of f-bombs and much more. There are also some gunshots involved, though nothing graphic or bloody. The film's story is built on strong adult themes like adultery and divorce, and the two central characters are anything but honorable.
Copyright © 2007 Christianity Today. Click for reprint information.
What other Christian critics are saying: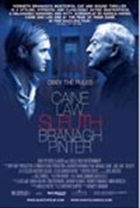 Browse All Movie Reviews By: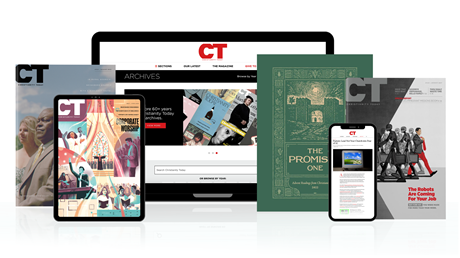 Subscribe to Christianity Today and get access to this article plus 65+ years of archives.
Home delivery of CT magazine
Complete access to articles on ChristianityToday.com
Over 120 years of magazine archives plus full access to all of CT's online archives
Subscribe Now
Sleuth
Sleuth