true
Christian music legend Larry Norman died Sunday of heart failure, according to his brother Charles Norman. He was 60.
Norman, a blonde, long-haired rocker who is often called the father of Christian rock music, was a giant in the Christian music industry, said Chris Willman, senior music writer for Entertainment Weekly.
"His influence outweighed his sales so much that it's comical," Willman said. "He certainly had a heart for evangelism — almost to his detriment, I might say. He really could've been a star if he were singing about something other than Jesus."
Norman's 1972 Only Visiting This Planet album is regarded as one of the top contemporary Christian music albums of all time. His many hits were at the cutting edge, said Larry Eskridge, associate director of the Institute for the Study of American Evangelicals at Wheaton College.
"The song 'Why Should the Devil Have All the Good Music?' was one of his enduring trumpet blasts against the stodgy, old Christian establishment," Eskridge said. "'I Wish We'd All Been Ready' fit with the end times, apocalyptic feel that was in the air at the time."
"I Wish We'd All Been Ready" was also featured in the 1972 end times film A Thief in the Night. In concerts, the singer gave his trademark "One Way" gesture, pointing an index finger toward heaven.
Eskridge said Norman was an icon during the Jesus People of the 1960s but distanced himself from the movement when it became a fad and eventually faded.
Norman became less prominent on the music scene after suffering head injuries in an airplane accident 30 years ago, and he later had severe heart problems. He dictated a message to a friend just before his death.
"I feel like a prize in a box of Cracker Jacks with God's hand reaching down to pick me up," Norman said. "I have been under medical care for months. My wounds are getting bigger. I have trouble breathing. I am ready to fly home."
He officially retired in 2001, the same year he was inducted into the Gospel Music Association's (GMA) Hall of Fame along with Elvis Presley and Keith Green.
"His flame burned the brightest in the '70s, but he set a lot of things in motion that reverberated through those decades," said GMA President John Styll. Norman's songs have also been recorded by contemporary Christian artists such as Rebecca St. James, DC Talk, and Audio Adrenaline.
Styll called Norman a Bob Dylan figure for the Christian world because he combined political and social commentary with good music.
"He sang about gonorrhea on Valentine's Day," Styll said. "Another group today wouldn't sing that. It was pretty raw."
Although Norman left a large footprint, he also became estranged from the music industry because of strained relationships. He was diagnosed with bipolar trauma and clashed with fellow singers in the Daniel Amos band and Randy Stonehill, who said they were mistreated financially and personally, according to the Encyclopedia of Contemporary Christian Music.
Stonehill declined to take questions from Christianity Today about his relationship with Norman, but in a statement, he said he knew Norman better than anyone else and that the singer introduced Stonehill to Christianity.
"For as brilliant and insightful as Larry was, I'm not sure that he understood himself completely," Stonehill said. "This issue became apparent in the way he consistently seemed to 'derail' relationships throughout his life."
Stonehill said that he and Norman experienced friction and distance for 20 years before standing on stage together for the last time in 2001.
"It's a strange sorrow that leaves you feeling hollow, like someone knocked the wind out of you," he said. "The light of hope, however, that lifts my spirit is the knowledge that Larry's profound contribution to the work of God's Kingdom is eternal and that his struggle with his own demons is over."
David Di Sabatino, who is working on a documentary on Norman that will be released later this year, said that the 1980s were a real turning point for Norman.
"He implodes on a personal level, his marriage unravels, his peers want him to be more accountable, and he throws a fit. From that point on, something degenerates inside of him," Di Sabatino said. "He's like King David. The highs are higher than most and the lows are like, 'whoa.'"
Di Sabatino said Norman was unpredictable and often exaggerated stories.
"There's a possibility that he's living in Thailand and this is all a ruse. That might offend a lot of people, but that's how he was," Di Sabatino said. "I don't believe that, but then again, if you told me that's where he was, I wouldn't bat an eye."
Even though Norman has been out of the music industry for a while, Di Sabatino believes his music may see a rise in interest.
"He stands at ground zero and carved out this place for people like Amy Grant and Michael W. Smith," Di Sabatino said. "His death now will introduce other people to his music again."
Related Elsewhere:
Christian Music Today reported on Norman's last concert in 2005 in "Farewell, Larry Norman."
Larry Norman's brother, Charles, posted a message on his website.
YouTube posts videos of some of Larry Norman's classic performances.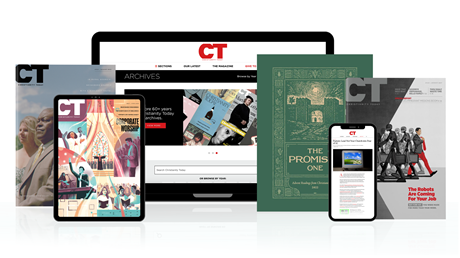 Subscribe to Christianity Today and get access to this article plus 65+ years of archives.
Home delivery of CT magazine
Complete access to articles on ChristianityToday.com
Over 120 years of magazine archives plus full access to all of CT's online archives
Subscribe Now
Larry Norman, 'Father of Christian Rock,' Dies at 60
Larry Norman, 'Father of Christian Rock,' Dies at 60