Veteran administrator Dennis Hollinger takes over August 1 as president of Gordon-Conwell Theological Seminary, relieving interim president Haddon Robinson. Hollinger, who previously led Evangelical Theological Seminary in Myerstown, Pennsylvania, will also serve as professor of Christian ethics. Charlotte pastor James Emery White, who preceded Robinson, lasted only one year, leaving in June 2007. Hollinger spoke with CT editor at large Collin Hansen about contemporary challenges for theological education.
What experience and insight do you bring to Gordon-Conwell after your stint as the president of Evangelical Theological Seminary?
One of the things I bring is a combination of higher-ed administration, including the last four years as seminary president, 11 years of pastoral ministry, and 11 years of full-time seminary teaching.
Tell me a little bit about your personal formation. What theologians have influenced you?
The writings of C. S. Lewis have been very significant. I'm eclectic in my theology. I have drawn from the wells of Wesley, Calvin, Augustine, and the Anabaptist tradition. One thing that characterizes my own life and my approach to ministry and theological education is holding together what people tend to pull apart. My book Head, Heart and Hands reflects that approach. Those oriented toward the head have said that if we get our biblical and theological knowledge down, that will really put us in the good spot for the rest of our lives. The heart-oriented folks say that if our hearts are strangely warmed by God, that will develop Christian maturity. Others focus more on the action side. What I do in that book is argue that not only must all three be present, but also that they really need to nurture each other. That insight stems from my background of having worked in a number of different denominational settings.
Do you see the tensions between evangelicals stemming primarily from the head, the heart, or the hands?
Our perspectives are never purely theological. We're shaped by our context. We're shaped by our personalities. We're shaped by our experiences in life for good and ill. When we do theological education we need to be aware of the context that has shaped us. That carries over into ministry, because then we recognize the way in which we take the Word of God. It's transcendent, but we always bring it into the midst of a very specific context, meeting people with their unique personalities, hurts, and struggles, particular cultural backgrounds, and particular geographical locations.
What are some of your top priorities as you prepare to take over the seminary?
I don't think it's the job of a president to individually develop a vision and come in and impose it on an educational institution. My hope would be to develop a collaborative process between trustees, faculty, alumni, the larger church, and through that process to determine the best ways to do theological education today. One of the goals I have is to help the seminary develop world Christians who can effectively and faithfully lead the church, especially as it faces some daunting issues from the culture and from within — theological issues, cultural issues, and the like.
What are some of those internal and external challenges?
We are continually struggling with issues surrounding the nature of the church. There are so many different models out there. We have to prepare people for a wide assortment of churches. We tend to be a bit monolithic in our vision, thinking that one approach will do it. We have a lot of debates going on in ecclesiology, where evangelicalism has not been strong.
We face a lot of ethical issues, and that is my area of expertise. There are significant bioethics issues and continual issues in sexuality, such as homosexuality. We continually need to face the racial issues. I think the Obama campaign has certainly demonstrated that we have a lot of unfinished business in that area. Part of the task in theological education is to help people navigate their way amidst the complexities and do so in a way that isn't politicized. That's one of the dangers we have when we jump into these issues. We're known more for our political stance than we are for our principled orientation and our theological undergirding.
There is significant diversity within the broader seminary community. How would you describe Gordon-Conwell's unique contributions?
Outsiders often overlook our three campuses, which do rather unique things. The South Hamilton campus is a fairly classical approach to theological education. The center for urban ministries in Boston is focused on urban contextual education. The Charlotte campus follows the adult-education model with weekend classes and short-term intensives. We'll be focusing on more online models, particularly hybrid models that combine online education with classroom experience. So my sense is that Gordon-Conwell is well poised for the future to cover the spectrum of delivery systems and address a broad spectrum of issues, because we have multiple campuses.
One of the keys that Gordon-Conwell will be working on is how we maintain the integrity of those three orientations while utilizing the unique resources for the other campuses. We want that urban fervor to come up to South Hamilton and some of the classical to go down to Boston. That's one of the challenges: that we not end up with three seminaries, but be able to really draw the strengths of each and enrich the other campuses.
Inerrancy is a perpetual concern for seminaries, as we've seen with Westminster Theological Seminary and the revised statement of faith for the Evangelical Free Church of America, which is affiliated with Trinity Evangelical Divinity School. How does this ongoing concern about inerrancy affect Gordon-Conwell?
Gordon-Conwell has always had a strong commitment to the inerrancy of Scripture while recognizing the broad genre of Scripture — that is, that God did not reveal himself to us in just one way. When we talk about the truthfulness of Scripture, we also have to recognize that his richness speaks to us in multiple ways through Scripture. Sometimes we have allowed our views of inerrancy to lead to very monolithic interpretations of Scripture. We need to be careful about that. When we're studying a poetic genre we have to understand that as poetry, which is not the same as an historic rendition or an apocalyptic rendition or a prophetic utterance. Gordon-Conwell has a strong history of trying to emphasize those things. Certainly the Gordon Fee and [GCTS Old Testament professor] Douglas Stuart book How to Read the Bible for All It's Worth, which is used in so many colleges, reflects that.
Another controversial issue is gender roles. How do you anticipate managing the ever-present complementarian/egalitarian debate at Gordon-Conwell?
I haven't been there yet to get all of the nuances. I can simply tell you that one of the criteria that they had for president was a person who would be supportive of men and women in their preparation of ministry. That doesn't mean that everyone at Gordon-Conwell is, but it was significant enough institutionally that that was one of the criteria established in terms of presidential characteristics.
Is that a longstanding rule for Gordon-Conwell?
I don't know. I do know that A. J. Gordon himself had a fairly strong support of women in ministry going back more than 100 years ago.
Will you continue to write in your field of social ethics and bioethics?
I hope to. My contract gives me four weeks a year for writing and research, and I want to continue to keep up in the field and do some writing. I doubt that's going to happen in the first year. I'm just about ready to send a manuscript into Baker. I have a contract with them for a book called The Meaning of Sex: A Framework for the Moral Life.
Collin Hansen is a CT editor at large and author of Young, Restless, Reformed: A Journalist's Journey with the New Calvinists.
Related Elsewhere:
Previous Theology in the News columns are available on our site.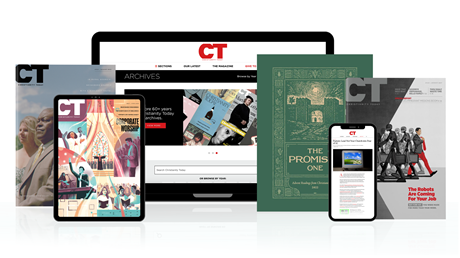 Subscribe to Christianity Today and get access to this article plus 65+ years of archives.
Home delivery of CT magazine
Complete access to articles on ChristianityToday.com
Over 120 years of magazine archives plus full access to all of CT's online archives
Subscribe Now
Coordinating the Head, Heart, and Hands
Coordinating the Head, Heart, and Hands