true
Tyler Perry is both a Hollywood anomaly and an enviable success story. Since exploding onto the movie scene just six years ago with Diary of a Mad Black Woman, Perry has produced film after film (including Madea's Family Reunion, Daddy's Little Girls and Why Did I Get Married?), often several in a single year, based on his original stage productions. Almost without exception, each of his films share the same attributes—they are shot on minuscule budgets, receive scathing to tepid critical reviews and end up raking in boatloads of money.
Oh, and Perry usually shows up dressed as a woman.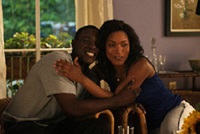 Perry's latest film is no exception. Tyler Perry's Meet the Browns is not a remarkably well-written, directed or acted film. But Perry seems to have tapped into something very few other African-American filmmakers have, and it apparently continues to guarantee his success: Perry makes clean morality plays for African-American audiences about issues that are not being addressed by mainstream Hollywood cinema.
Saturated with biblical morality and the importance of family and faith, Perry tackles the issues facing lower and middle-class African-American families. Perry, recently named one of the most powerful people in Hollywood by Entertainment Weekly, knows what it's like to grow up on the margins of society. He's never been shy about proclaiming Jesus Christ and his church body as the only lifeline worth holding on to when times get tough.
In Meet the Browns, Brenda (Angela Bassett) is a single mother living in inner city Chicago where life is a daily struggle to keep her three kids fed. Usually indomitable, Brenda begins losing hope after she unexpectedly loses her job, her power is shut off, her babysitter quits and her high-school basketball star son, Michael (Lance Gross) considers selling drugs to help make ends meet.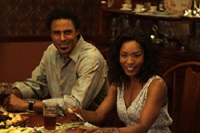 Then a letter arrives from Georgia announcing the death of a father she never knew and an invitation to attend the funeral. Reluctant at first, but increasingly desperate for any kind of help, Brenda trundles her family onto a bus and heads to the Deep South. But if Brenda thought that living in the big city would prepare her for any sort of eccentricity, she obviously never met the Brown clan and their mischievous, crass Southern manners.
Hysterical Leroy Brown (David Mann) is a flashy fashion plate—if this were 1972. Outspoken Vera (Jenifer Lewis) has never met an acidic opinion she didn't like. And Madea, the indomitable, law-breaking, spirited grandmother is, well, Madea. (I confess I have never understood why watching Tyler Perry in drag is such a draw in each of his films; thankfully his/her role in this film is mercifully short.)
But Brenda's foreign, over-the-top family aren't the only Georgians she finds herself rubbing elbows with in the small, sleepy Southern town. Harry (Rick Fox), a college basketball scout who, serendipitously enough, had shown an interest in Michael back in Chicago, also happens to live just down the road from Brenda's relatives and finds that his interest in Brenda just might be even more powerful than his interest in her son's blistering talent. For her part, Brenda, who has three children from three different men, is averse to getting into another relationship. After a lifetime of hooking up with only the wrong kinds of men, trust is an exceptionally rare commodity.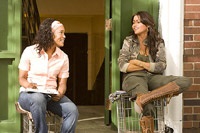 As Brenda struggles to get to know the family she never even knew existed and discover where she fits in to her father's will, she must allow herself to believe in the possibility of second chances, new love, and the unstoppable power for good found only in the synergy of a loving family.
Meet the Browns is a morality tale, unabashedly enthusiastic of its assertions that the family unit and the local church are to be the bulwarks in life's rough seas—be those seas habitually absent fathers, the menace of drugs, or making the decision to take the right road when the wrong one is so much easier and more profitable. Throughout the film, Brenda and her children encounter an unconditional love they have never before experienced. While bureaucracy fails to protect the downtrodden, the family and the church rally to ensure Brenda is loved and cared for. With community unity straight out of the book of Acts, the local church is more than a place to worship or hear a sermon; it is a safe harbor and a place of rest in very real trouble.
We can all learn something from their categorically unqualified love as well as their instantaneous readiness to give Brenda another chance at happiness, no matter what her past mistakes. Just as a dilapidated house in the film receives an extreme makeover, so too is it possible, the film argues, for a life and a soul to be reborn.
With such a muscular and imperative message, it's a shame then that Meet the Browns fails on so many levels.
Populating his films with eccentrics and oddballs, Perry's films exist in a state of schizophrenic flux, simultaneously serious drama and absurd, cartoon comedy. Much of the comedy in this film so zany, excessive and over-the-top that is feels jarringly out of place. The humor in Meet the Browns doesn't simply lighten tense situations, it obliterates all thought of them. It is a levity that, while unarguably hilarious, acts as a disservice to the overall story.
Perry's films operate like fairy tales. Not the sort in which enchantment lies around every corner, but the sort of Disney-fied world in which every problem has a silver lining and each disaster always works out for the best. You can see every plot detail coming from a mile away because fairy tales always have happy endings. And while there is a degree of satisfaction that comes from such wish fulfillment, it is not remotely realistic.
It is difficult to criticize a filmmaker so unapologetically optimistic, but Perry does a disservice to his audience and his craft by painting in wide generalities and simplistic brushes, rarely pausing long enough to really dig deep into the issues he only gives surface treatment.
Tyler Perry is not trying to be Spike Lee; that much is obvious. If anything, Perry is trying to present a different (and more family friendly) perspective to some of the same issues raised by Lee and other African-American filmmakers. And in doing so, I think he has found a significant and even indispensable voice. But by refusing to really get his hands dirty, to wallow in the muck long enough to show the truth of the matter, his work appears shallow and uninformed, thus begging the question: Is his work honest?
>Talk About It
Discussion starters
For Perry, God and family can help weather any storm. Can you recall some instances in your own life where your faith and family saw you through a particularly difficult time?
At one point in the film, a character extols, "God always makes a way." Do you believe that's true? How have you seen him work?
Brenda has obviously made more than one life-altering mistake in her life. Do you believe in second chances? Talk about a time when you had a second chance. How does forgiveness—from others and/or from God—factor into that?
The Family Corner
For parents to consider
Tyler Perry's Meet the Browns is rated PG-13 (for drug content, language including sexual references, thematic elements and brief violence. Although there is drug content, it is always in an anti-drug context. There is one instance of gun violence that stems from this particular plot line. The language is, by and large, quite mild. Sexual references are mainly contextualized within the plight of single-mothers. The lead character's saucy Columbian best friend wears revealing clothing.
Copyright © 2008 Christianity Today. Click for reprint information.
What other Christian critics are saying: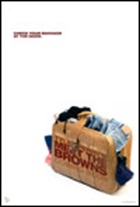 Browse All Movie Reviews By: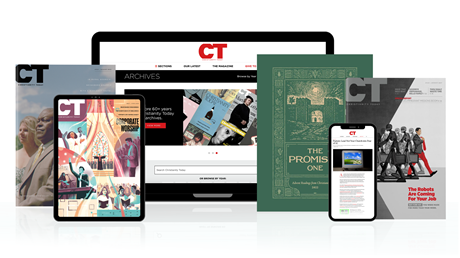 Subscribe to Christianity Today and get access to this article plus 65+ years of archives.
Home delivery of CT magazine
Complete access to articles on ChristianityToday.com
Over 120 years of magazine archives plus full access to all of CT's online archives
Subscribe Now
Tyler Perry's Meet the Browns
Tyler Perry's Meet the Browns