For book endorsements, you couldn't top what Eugene Peterson said about The Shack by William P. Young. "When the imagination of a writer and the passion of a theologian cross-fertilize the result is a novel on the order of The Shack," wrote Peterson, professor emeritus of spiritual theology at Regent College. "This book has the potential to do for our generation what John Bunyan's Pilgrim's Progress did for his. It's that good!"
Bunyan's masterpiece didn't just invigorate his generation. Pilgrim's Progress is an all-time best-seller, an English-language classic. So Peterson's praise for The Shack is impressive indeed. Both books employ allegory to convey core convictions. Whereas Bunyan allegorized the journey of faith, Young tackles the question, "Where is God in a world so filled with unspeakable pain?"
Allegory is a notoriously tricky literary device. Many attempt it. Few succeed. Bunyan's central character, Christian, experiences the doubts and temptations that believers endure.Young is more ambitious. Each person of the Trinity becomes a character in The Shack. The Father is Papa, a deliberately peculiar name for an African American woman. Jesus, true to reality, is a man from the Middle East. And the Holy Spirit is Sarayu, an Asian woman.
When authors experiment with allegory, they risk only failure and ridicule. Christian history, on the other hand, is littered with theologians who experimented with new conceptions of the Trinity. All they got for their efforts was the lousy title of heretic. To be fair, the Bible does not provide a finished formulation of the doctrine. It took a succession of ecumenical councils over the course of centuries to finally articulate the biblical view of the Trinity.
Christians today generally do not share the early church's enthusiasm for Greek metaphysics. We show little patience for theology that can't be expressed by a single proof text. We really don't mind theology, so long as its application is obvious and immediate. So discussions of the Trinity often garner, "So what?" glares. Even so, the doctrine is Christianity's unique description of God. It won't hurt us to explore why the incomprehensible Trinity has endured as a hallmark of Christian orthodoxy.
What is the orthodox Trinitarian doctrine of God? Along with the Hebrews, Christians believe that God is one (Deut. 6:4, James 2:19). Yet Christians also teach that God is three persons: Father, Son, and Holy Spirit (Phil. 2:6, Heb. 1, Acts 5:3-4). Finally, Christians affirm that each of these three persons is God (Matt. 28:19-20, 2 Cor. 13:14). The Council of Nicea in 325 was especially crucial for the church's understanding of the Trinity. Meeting in what is now Turkey, church bishops rejected Arianism, which compromised Jesus' full divinity by teaching that God created him. The subsequent Council of Constantinople in 381 solidified what we now recite as the Nicene Creed. This includes these famous lines about Jesus: "begotten of the Father before all the ages, Light of Light, true God of true God, begotten not made, of one substance with the Father, through whom all things were made."
Modalism, an earlier challenge to Trinitarian doctrine, actually upheld both the unity of God and the divinity of Jesus. But modalism, popularized in the early third century by Sabellius, taught that the one God reveals himself in successive modes as Father, Son, and Holy Spirit. These are not three distinct persons but rather three different names or functions for the one God. One common but mistaken analogy of the orthodox Trinity depicts modalism. The same bucket of water may appear as ice, liquid, or steam. But that water cannot simultaneously exist in every mode. God, on the other hand, exists simultaneously as Father, Son, and Holy Spirit. 
Dionysius, bishop of Rome from 259 to 268, attacked modalism as heretical. Modalism twists Jesus' words and makes him out to be deceptive or even a liar. After all, the Gospels, especially seen from John's perspective, recount the relationship Jesus shares with the Father. If God is not three at once, then how could Jesus pray to the Father? And what about Jesus' baptism, when the Holy Spirit descends on him like a dove and the Father says, "This is my beloved Son, with whom I am well pleased" (Matt. 3:16-17). Furthermore, modalism erred in teaching that the Father suffered with Christ as one and the same person. It also ran afoul of the leading Greek philosophies of the age, especially divine impassibility, the idea that God cannot suffer.
Given the doctrine's complexity, it's no surprise that we turn to analogies for help. But every analogy breaks down. "Most analogies drawn from the physical realm tend to be either tritheistic or modalistic in their implications," Millard Erickson writes in Christian Theology. Following Augustine's lead, Erickson therefore opts for analogies drawn from human relationships, though he admits that they, too, fail to convey the deep beauty of this central Christian confession. 
"We do not hold the doctrine of the Trinity because it is self-evident or logically cogent," Erickson writes. "We hold it because God has revealed that this is what he is like."
This should be enough to answer our "So what?" question. We care about the Trinity because this is how God has shown himself to us in the Bible, even if we have to put the puzzle pieces together.
But we should also carefully study the Trinity in order to learn from this dynamic relationship. Modalism and Arianism misrepresent the wonderful fellowship within the Godhead from all eternity. The Trinity reminds us that God did not create us because he was lonely. God even draws believers into fellowship with himself through the work of Christ and the agency of the Holy Spirit.
The Trinity is no mere abstraction. It is God's plan of salvation in action. God the Father, desiring to restore fellowship between himself and his Creation, sent his incarnate Son, who willingly gave his life as a substitute for sins. After defeating evil by raising his Son from the dead, God sent his Holy Spirit as the seal of salvation for all who believe. So what? Nothing less than fellowship with God is at stake.
Verses for the Fortnight
"And when Jesus was baptized, immediately he went up from the water, and behold, the heavens were opened to him,and he saw the Spirit of God descending like a dove and coming to rest on him; and behold, a voice from heaven said, 'This is my beloved Son, with whom I am well pleased.'"
–Matthew 3:16-17
Collin Hansen is a CT editor at large and author of Young, Restless, Reformed: A Journalist's Journey with the New Calvinists.
Related elsewhere:
USA Today reported on criticisms of The Shack's theology.
The Shack is available from ChristianBook.com and other retailers.
Previous Theology in the News columns are available on our site.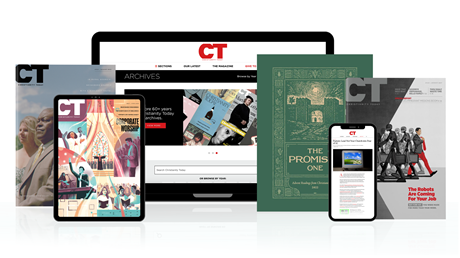 Annual & Monthly subscriptions available.
Print & Digital Issues of CT magazine
Complete access to every article on ChristianityToday.com
Unlimited access to 65+ years of CT's online archives
Member-only special issues
Subscribe
The Trinity: So What?
The Trinity: So What?