Reviews

|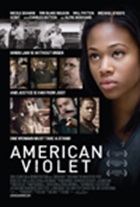 American Violet was made by documentary filmmakers and it is based on true stories, but it's not a documentary. Still, the reality of the tale is chilling—the war on drugs has gone awry and targeted some of society's most vulnerable people, people like Dee Roberts.
Dee (a composite character based mostly on Regina Kelly) was a poor young mother of four young children living in a small Texas town in 2000. She was working her shift in the local diner when agents from a drug task force swooped in and arrested her on charges of selling drugs in a school zone.
In a recent interview with CT Movies, Kelly said that for most of her life the drug task force had been conducting high-profile raids on the housing project where she lived. "But I felt like, 'Well, if you don't put yourself in that predicament [associate with drugs], you won't get in trouble,'" she said. But her arrest opened her eyes.
Working at the behest of a crooked DA (in this case Calvin Beckett, played by Michael O'Keefe), the police used military-style tactics to intimidate poor, African-American residents of housing projects, arresting and indicting people based on the word of one dubious informant. (Yes, Texas law at the time allowed for an indictment based on the word of one informant.) Once indicted and with no money to hire competent representation, the pressure to take a plea bargain was intense. And the more people that pled guilty—the more "convictions" he had—the more money the DA was given from the federal government to fight his own war on drugs. Those without resources to fight back—mostly poor minorities—became the casualties of the war.
Played with southern sass by newcomer Nicole Beharie, Dee assumes her own arrest must ...
1