I have mixed feelings about wish lists. They rob Christmas of creativity, surprise, and personal contact, but they also make shopping much, much easier. And it's nice to know that if I pay attention to the lists, gift recipients won't roll their eyes and return the gifts before the tree is by the curb.
To cut down on my family's December stress, I make my own wish list each year, feeling vaguely guilty (do I need those pearl earrings?). "Get better gifts," orders Amazon.com's wishlistmeister. I don't like his tone.
This year, though, Amazon has vastly improved its wish list, and now I can ask for anything I want from any online supplier. It doesn't even have to be a merchant: it can be a food bank, a cultural or educational organization, a humane society, a church—any organization that has a website and accepts money. All I have to do is put an "Add to Wish List" button on my Favorites or Bookmarks toolbar.
And 2009 is a good year, I think, to bypass the pearl earrings and go straight for the better gifts: gifts that will help people whose income went down more than ours did, or who lost their jobs or their homes, or who have unmanageable medical expenses, or who aren't sure they will be able to afford Christmas dinner. According to a November 27 Associated Press story,
food banks across the country report about a 30 percent increase in demand on average, but some have seen as much as a 150 percent jump in demand from 2008 through the middle of this year …. The U.S. Department of Agriculture said earlier this month that 49 million people, or 14.6 percent of U.S. households, struggle to put food on the table, the most since the agency began tracking food security levels in 1995.
Contributions can't keep pace. David R. Francis writes in the November 30 Christian Science Monitor:
Donations to the nation's largest nonprofits, including prominent universities, hospitals, and foundations, are expected to fall 9 percent this year, according to a survey by

The Chronicle of Philanthropy

last month. That's the steepest drop the publication has reported in 17 years of surveying the 400 largest charities in the United States.
What to do?
Set up your Amazon wish list and add-to button.
Go to your favorite charity's website. If you don't have a favorite charity, or if you'd like to be sure that the charities you support are using your money wisely, go to Charity Navigator. There, you can sort charities by name, location, purpose, budget, and rating. You can look at Top Ten lists and articles on how to give wisely; you can read users' comments on various charities; and you can even learn how much each charity's CEO earns.
Navigate to the Web page that describes the program you want to support, or that tells how to donate.
Click on your "Add to Wish List" button, and follow the instructions.
Hey, the earrings are still on my wish list (I add them anew every year), along with the coffee grinder, the Harry Potter DVD, and the espresso cups. I'm not saying that Christmas should be turned into a social justice rally. I plan to add even more items to my list (rationale: a really long list allows friends and family to be creative, and even the recipient might be surprised at what she gets), and I'm already ordering wrappable gifts for the kids and grandkids.
I'm just saying that a little less for me and a little more for others, multiplied by however many people also put charities on their wish lists this year, could add up to a merrier Christmas for everyone.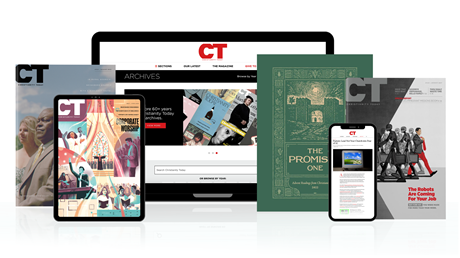 Annual & Monthly subscriptions available.
Print & Digital Issues of CT magazine
Complete access to every article on ChristianityToday.com
Unlimited access to 65+ years of CT's online archives
Member-only special issues
Subscribe
Holiday Generosity: Now a Click Away
Holiday Generosity: Now a Click Away