When Donald Miller's Blue Like Jazz was edited to become a movie, Miller decided to make some edits of his own—to his own life. He begins to apply some film narrative techniques—for instance, a character needs to do something good before an audience will love him. Miller writes about hiking the Inca Trail in Peru, bicycling across the country, finding his father who he hadn't seen since childhood, and creating an organization for the fatherless in Portland. Before he began a 65-city book tour in September, Miller spoke with Christianity Today about creating a better story for himself.
In A Million Miles in a Thousand Years, you write about making better stories for ourselves. Do you think that's a Christian idea?
No, that is just a good idea. The agenda behind this book is to help people understand how story works and how that could affect your lives. It's more universal. I mean it would be kind of like saying if you wrote a book about how to fix a television. As a Christian, how do you bring the gospel into that? Well, if you brought the gospel into that, you'd be just annoying because people want to know how to fix their television. I try not to spiritualize things that don't need to be spiritualized. And yet, you know, it is written from a memoir perspective, and I'm a Christian, and so that comes into this book.
Should Christians latch onto the idea that God works through the stories in our lives?
I wouldn't go that far. I think this book is much more utilitarian. I think it's very hard for us, for Christians, to understand that it's okay to read a book, for instance, on how to manage your time. There's nothing wrong with that. It doesn't have to be a Christian message and you don't have to proof text with Bible verses. You can imagine going on Amazon and seeing reviews on a book on time management that just harasses the author, you know, elevating experience over doctrine. This is just a book about finding more meaning in your everyday experiences.
So you wouldn't want readers to over-spiritualize what you're trying to say.
I would beg them not to. I think that because I'm a Christian they're looking for doctrinal statements, and I don't give doctrinal statements. So this is a book in that category: this next year you can live a much more meaningful life. Christians might say that you can't live a more meaningful life without Jesus. Well, that's absolutely not true. You can. You can enjoy a sunrise whether you know Jesus or not. It's not wrong for us to take something to somebody who doesn't know the Lord and show them the sunrise and say, "Isn't this beautiful?" I think that your audience is going to be the audience that does not understand this book. I apologize for that. There's nothing wrong with writing a book that's not overtly spiritual.
I didn't want to abuse Scripture. I didn't want to have a really great idea for a book and then go, okay, now how can I bring the Bible into this so it has a spiritual feel? Because we've all read those books and we just go you could have left all the Scripture out of this and it would have been fine. In fact, by putting Scripture into it, that's really not what that specific text is actually about. They're just making it serve their purpose. So I didn't want to do that with the text.
Where does Jesus fit into better storytelling?
Well, I think in the grand epic Jesus is the hero of our stories. And our stories, as they were, are subplots in a grand epic and our job is not to be the hero of any story. Our job is to be a saint in a story that he is telling. And that's a book that I'll write in the future. But this book was really much more of a practical idea, an introductory idea, if you will.
You use some self-deprecation because you seem to be tired of talking about yourself. Why did you write a memoir?
The reason I like writing a memoir is because it isn't preachy. You get around that authoritarian Do what I say. Live the way I want you to live kind of voice that a lot of people just can't listen to. By talking about myself I'm kind of coming through the back door, a sort of Trojan Horse approach.
God gave us the ability, unlike other creatures, to introspect. There's a lot that we can learn about God by studying the human condition, and we are our best examples of that. Can you be self indulgent? Sure. But I think we can spend so much time analyzing whether or not I'm being selfish that you just become selfish. At some point you just have to live.
I think we elevate this idea that if a person has written a book about their story, they must think that they matter. They must think that they're better than other people. And the truth is you walk into a coffee shop, you sit down with a friend and you're just telling your story. If I really sat down and wrote a book about all the things I wanted to talk about, about myself, nobody would read it. So with a memoir, you have to actually sit down and go, "What is the reader going to get out of me sharing this story? Where are they going to find themselves in this story?" And if the reader can't find themselves in the story, then there's no reason to tell the story.
Would you say that you're leading the meaningful life that you suggest people lead?
I like my life very much, and there's not a whole lot that I would change. It's been a long time since I've woken up in the morning and wondered what life was about. I'm not super excited about all the work that has to be done. It's very depressing to deal with our crisis of 27 million kids growing up without dads. But at the same time, it makes my life much more meaningful than if I just sat around and watched television.
We have about a hundred kids that we're mentoring in Portland. We have seven churches that are running our program, and we have about two hundred churches that are on a wait list to start our program. Life is about providing mentors for these kids or wrapping up this book or the richness of friendships. But other people have to take responsibility and figure out their own lives.
When people read parts of the book where you are more self-aware or maybe "meta," it might lead them to think it's more postmodern. Would you describe it that way?
I don't know what postmodern means. I've never been to an emergent church. I've never read a book about postmodernity. I'm not just saying that to get off the hook. One of the things that is so frustrating is when readers will use the word emergent [to describe me]. I attend a 150-year-old Lutheran church. We do liturgy. My theology is Reformed theology. I just had a beer with Brian McLaren once and we didn't talk about the church. I study literature and I read memoirs to figure out how to write a better one, although this will be my last memoir for a long time.
What do you want people to take away from this book?
I guess I want them to have an enjoyable read and really think about the life that they're living and ask themselves, Am I living a meaningful existence? Am I serving others? Am I sacrificing? When the credits roll, what am I going to feel when it's all said and done?
Related Elsewhere:
See also today's review of A Million Miles in a Thousand Years.
A Million Miles in a Thousand Years is available at ChristianBook.com and other book retailers. Tour dates and tickets for Donald Miller are listed at amillionmiles.com. The Blue Like Jazz film project has raised about half of the money needed to start shooting a movie.
Christianity Today profiled Donald Miller and spoke with him before and during the Democratic National Convention. CT also interviewed Miller about his mentoring initiative. CT also interviewed author Susan Isaacs, who will be appearing with Miller on tour.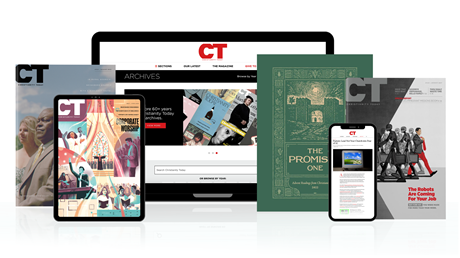 Subscribe to Christianity Today and get access to this article plus 65+ years of archives.
Home delivery of CT magazine
Complete access to articles on ChristianityToday.com
Over 120 years of magazine archives plus full access to all of CT's online archives
Subscribe Now
Donald Miller: Make a Better Narrative
Donald Miller: Make a Better Narrative