true
I might as well admit it / like I even have a choice / The crew have killed the captain / But they still can hear his voice / A shadow on the water / a whisper in the wind / on long walks with my daughter / who is lately full of questions about You
(from "In Stitches")
You can't envy David Bazan for the scrutiny he faces from his Christian fans. Bazan, a fairly soft-spoken songwriter, was thrust into the limelight of the Christian indie rock scene in 1999 when his band Pedro the Lion made a great little record called It's Hard to Find a Friend, featuring some gut-wrenchingly honest songs about faith like "Secret of the Easy Yoke." As Pedro's acclaim grew in both Christian circles and the rock press at large, Bazan became almost a symbol of what Christian indie rock could be: artful, honest, cool, doubting, faithful—a lot of labels were pinned on Pedro the Lion, and a lot of hopes. There was hardly anybody invested in faith and music who didn't see Pedro as some kind of sign of the times, whether it was a youth pastor who could finally turn his students on to a Christian band that voiced the doubts they felt while still sticking with the faith, or a jaded Christian music fan who rediscovered that Christian rock didn't have to be sub-par. Presumably, Bazan's career trajectory also set off alarm bells for those who believe in the inherent wrongness of "crossing over" from the safety of the Christian subculture to "the world."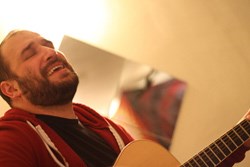 What a journey it's been since then. According to a recent cover story in The Chicago Reader, one observer at this summer's Cornerstone Festival noted as Bazan walked off the stage, "People used to compare him to Jesus, but not so much anymore."
It is worrisome to think that Bazan's new record, Curse Your Branches—the first full-length under his own name and probably the best he has ever made—could cause those people to feel justified. Sadly, it seems inevitable that someone will point to a series of steps Bazan has taken away from the faith—first he left Christian record labels, then stopped playing churches. Then came the drinking, and the swearing, and the doubts, and before you know it he's made an anti-God record.
Except that is simply not true. It's clear that Bazan's struggle with the conservative Pentecostal faith of his upbringing has been important to his music—and in recent interviews, he describes himself as agnostic—but Curse Your Branches is the first Bazan album to be wholly concerned with God. It's also his most musically accomplished, with Bazan playing most of the instruments, and singing with a new confidence in his always-weary voice. The music of Curse Your Branches owes a lot to '60s pop-style arrangements, and even a song like "Lost My Shape" is more full fleshed out, with acoustic guitar and pedal steel, than the stripped-down ballads of Pedro the Lion.
From the first track, Curse Your Branches is a challenge, if not to the entire biblical narrative, then certainly to traditional evangelical interpretations of that narrative. "Hard to Be" starts off with a bouncy pop account of the Fall, and then a pause; the music stops for just a split second, and Bazan sings, "Wait just a minute—" as the music kicks in and the rest of the record follows from those four words. The songs, for the most part more energetic than Bazan's last few offerings (thanks in part to the creative lead guitar of Josh Ottum), challenge a number of theological concepts, from original sin to the existence of God himself.
All this plays out without delving into heady philosophy or devolving into angry ranting; it's an intensely personal record. Song after song intertwines theological paradoxes with Bazan's descent into alcoholism and his alienation from his family, like "Bless this Mess," which rewrites the Beatitudes to apply to the singer's own life. The album's final track, "In Stitches," connects all the pieces of the record: faith, family, doubt, and drinking, and its two final verses go a long way in articulating the difficulties of belief: even when it seems not to make sense, as God's response to Job's suffering, for some of us it remains unshakable. As Bazan told Paste magazine recently, "I'm cutting strings with that version of God, only to find out that there could be another version of him that is truer or something." This may be disturbing for some Christian listeners, but Bazan has made a brave, true, and personal album that bears witness to a struggle as old as Jacob's wrestling match with the angel.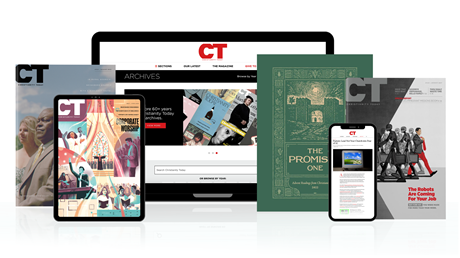 Subscribe to Christianity Today and get access to this article plus 65+ years of archives.
Home delivery of CT magazine
Complete access to articles on ChristianityToday.com
Over 120 years of magazine archives plus full access to all of CT's online archives
Subscribe Now
Curse Your Branches
Curse Your Branches