Reviews

|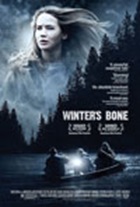 Ree Dolly (Jennifer Lawrence) is an Ozark teen with the weight of the world on her shoulders. Her mother has been rendered almost catatonic by mental illness, her methamphetamine-dealing father is missing, and her younger brother and sister are counting on her for survival. Ree ekes out what existence she can for her impoverished family, chopping firewood to keep out the chill and hunting squirrels to ward off the hunger. But things get even worse when the local sheriff (Garret Dillahunt) shows up to inform Ree that her father used the family homestead to secure bail and then disappeared. If Ree can't produce her father—dead or alive—for an impending court date, she'll lose what little she has.
Winter's Bone is the story of Ree's urgent search for her father, which consists mostly of confronting one menacing criminal family member after another in a frustrating quest for information. No one is talking, everyone wants to stop Ree from asking questions, and it's clear that the clan's strict code of silence will be enforced with violence. But Ree has enough courage and desperation to keep her going, and with the help of her childhood friend Gail (Lauren Sweetser), her drug-addicted Uncle Teardrop (John Hawkes), and the occasional kindness of neighbors, she keeps searching.
It's is a hard film to classify. It's been described as a psychodrama, a Western, a suspense/thriller, and a whodunit. The story is rather faithfully adapted from Daniel Woodrell's novel of the same name; Woodrell calls his fiction—which is always centered in the Ozark region of his own upbringing—"country noir," and that is an apt description of the film as well. But this is "noir" all shot through with light, bleakness that is somehow ...
1