true
Rhoda Williams (Brit Marling, who also co-wrote the film with director Mike Cahill) has just been accepted into MIT's astrophysics program. She's young and bright, but reckless. While driving home drunk from a party one night she slams into another car, killing a pregnant woman and her young son. The woman's husband, John (William Mapother), survives but stays in a coma for months.
So instead of going off to college, Rhoda goes to jail for four years. The next time we see her, she's being released, moving back in with her family, and getting a job as a janitor to avoid other people. When she goes to John's house to apologize for ruining his life, she loses her nerve, claims she's offering a free trial from a local cleaning service, and winds up cleaning his house over the successive weeks. And it needs cleaning, as John, once a successful composer, has turned into a reclusive drunk. These weekly interactions slowly change both Rhoda and John.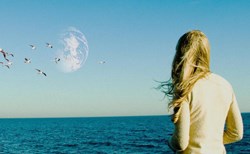 While all of this is unfolding, a newly discovered planet is moving closer to Earth, finally hovering in the sky at about five times the size of the moon. When authorities try to make contact with the planet, they discover this is some sort of second Earth, with a duplicate of each of us living on it. Plans are made for an initial visit.
One of the most striking things about Another Earth is the juxtapositions. Rhoda is an aspiring scientist, John is an artist. Lives are being lost and ruined while a whole new planet full of life is discovered. An emotion-drenched drama is unfolding in a grieving man's house while a staggering scientific discovery is looming in the night sky. These contrasts work well and add extra dimension to the human experiences and emotions.
The other striking thing is the sparse nature of the movie. In the first third of Another Earth, there is very little dialogue. When Rhoda goes to jail, we merely see her sitting in a holding cell—then being released years later. We know nothing of her prison experience. Though she lives with her family, they are minor characters who make only the briefest of dispassionate appearances. There's a kind of hollow emptiness, mirroring the expanses of space suddenly on everyone's mind as well as what has become of the interior lives of our two main characters.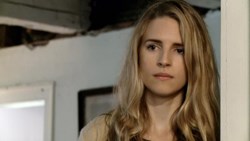 Instead of lots of dialogue and detail, we get close-up camera angles, interesting plays of dark and light, long moments of solitude filled with unspoken curiosity, regret, pain, and a myriad other emotions. Instead of overtly identifying these emotions and giving voice to them, the writers/director let them sit and breathe and silently fill the screen—and then the audience. Mostly this is successful, but in a few scenes this technique begins to feel too quiet and a bit overlong. And fans of fast-paced action may get restless in some of these moments. 
The presence of Earth 2, as they call it in the film, is pretty low-tech. There are several scenes of a large planet hovering in the sky, like someone has held up a huge mirror to the Earth. But mostly we learn about this new discovery and her inhabitants through radio and television broadcasts (reminiscent of the way Signs handled the arrival of aliens). The science fiction isn't the point here, it's the human reaction. Rhoda and John discuss what they'd like to say to their alternate selves, and in a quiet moment alone Rhoda wonders if the other Rhoda is better than her—has she made the same mistakes? And while Rhoda seems eager to explore this new world, even entering a contest to get to go to the other Earth, John is more fearful of the unknown.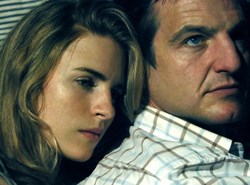 Marling and Mapother are mostly effective as Rhoda and John. Marling has a somewhat ethereal look with her angular face and long flowy hair. She gazes a lot in Another Earth, but her character has a lot to think about, and Marling (as well as the interesting camera work) makes these moments full of meaning. Mapother (whom Lost fans will recognize as creepy Ethan) is slightly less effective as John. He portrays his character's slow process of coming out of his depression well, but every now and then I was aware that he was acting. Some of his lines felt a bit fake and forced. 
One of the strengths of the script is that it shows us that process of John slowly reinhabiting his life, of Rhoda slowly starting to feel joy again, of the two of them developing a slow, tentative friendship. These step-by-step journeys are often the most fascinating part of a story and are so often fast-forwarded in films. The script also shines in that it captures well the "what if" feeling we all experience at some point in life, without having to spell that out. I'm not sure the words "what if" are actually spoken at any point in the film, but the wondering ache is there, palpable, haunting, relatable.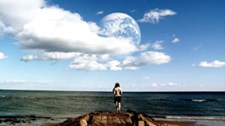 As slowly as Another Earth unfolds, it ends just as abruptly. Honestly, it took me a couple hours after the film to realize what had happened. But I liked the realization, as well as the fact that the film stayed with me for a bit. Perhaps Another Earth's biggest strength is that it makes you think—about what is, about what could have been, about what could be. 
Talk About It
Discussion starters
When Rhoda gets out of jail, why does she take a reclusive, menial job instead of pursuing college again? Why does she strip nearly everything out of her room?
What role does the act of cleaning play in both Rhoda and John's life? What does this physical act do to these characters on an interior, emotional level?
What does the blind janitor represent? Why does he do the things to himself that he does?
If you could meet an alternate version of yourself, what would you say?
In her essay for the contest to win a trip to Earth 2, Rhoda mentions that being an ex-con makes her an unlikely candidate and yet perhaps the most likely. What does she mean? She also writes that the first explorers were outcasts. Why do you think this is so? What role do outcasts play in our culture? During biblical times?
At one point a voiceover asks what we would like to see if we could be outside ourselves and looking at ourselves. What would you like to see? What do you think you'd see?
The Family Corner
For parents to consider
Another Earth is rated PG-13 for disturbing images, some sexuality, nudity, and brief drug usage. The disturbing images are of the crash scene, where we see brief glances of the bloody bodies. The sexuality is between an unmarried couple and the scene isn't too gratuitous. We don't see any nudity then—but we see the briefest of backside nudity when a female character disrobes on cold snowy night, presumably to try to kill herself. The brief drug usage is in an opening party scene, where Rhoda gets drunk and/or high and then gets in the car crash. Due to the slow, quiet nature of the film it would likely be a tough one for younger audiences. But for older, mature teens, it might be a good conversation starter about actions and consequences, and about loss and regret.
Copyright © 2011 Christianity Today. Click for reprint information.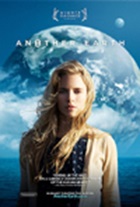 Browse All Movie Reviews By: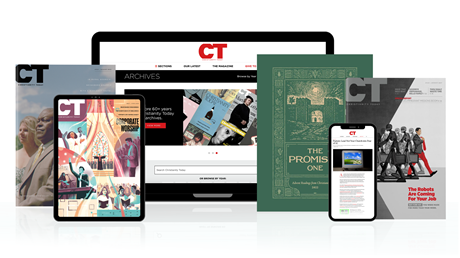 Annual & Monthly subscriptions available.
Print & Digital Issues of CT magazine
Complete access to every article on ChristianityToday.com
Unlimited access to 65+ years of CT's online archives
Member-only special issues
Subscribe
Another Earth
Another Earth