true
When evangelicals hear that there's a new movie about their brand of Christianity, they get nervous. All too often they are presented as idiots or villains. Stereotypes about narrow-mindedness, intolerance, cultish mind-control, and harsh subjugation of women abound.
Carolyn Briggs' 2002 memoir, This Dark World: A Memoir of Salvation Found and Lost, hit a number of those notes. When their church leaders counsel her not to get a college degree; when they counsel her husband to forgo a plum job opportunity because they instead need the headship of the church leaders; when she refused medication during a complicated pregnancy and scoffed at taking shelter during a tornado—well, it sounds to many evangelicals like a pretty kooky church, if not a cult. But don't expect the general public to make that distinction. CT's review of the book said it was "likely to win plaudits for its savaging of evangelical Christianity as the source of one woman's oppression, and her abandonment of that faith as a fount of liberation."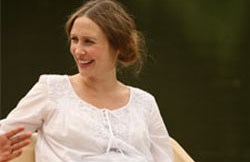 News that This Dark World, retitled Higher Ground, was coming to movie screens did not cause Christians to throw out the red carpet. And yet—what a surprise. This movie presents a church that is really endearing. It's a small community, and we meet them first in the 1970s as a gang of Jesus Freak hippies, gathered for a joyous, noisy river baptism. The guys are long-haired and bearded and have amiable, sweet expressions. The women wear prairie dresses and have personalities.
Corinne—the lead character played by Vera Farmiga, who also directed the film—is extra-bright but subdued, an observer. When, in an early scene, her boyfriend makes love to her in a meadow, he has an ecstatic experience while she waits it out, occasionally furrowing her brow.
The character in the film who lights up the sky is Annika. She is funny, creative, shapely, sensuous, and mischievous. Her husband describes her as loving "drama, art, and nature." She counsels Corinne not to let the sexual fires in marriage die, and imparts that she likes to draw pictures of her husband's penis. (We see Annika's bedroom later on and yes, she certainly does.) When a cop pulls the two over and tells Corinne she was exceeding the speed limit, Annika puts on a foreign accent and explains to the cop that she was having an underwear emergency and that Corinne was trying to help her.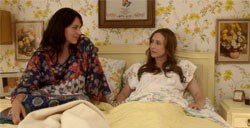 When the two are relaxing in a boat on a river, Annika begins to pray aloud in tongues. Whatever your opinion of that gift may be, it certainly sounds beautiful here. This is a Hollywood movie, and a woman is praying in tongues, and it is beautiful, and she is beautiful. Wonders never cease.
In fact, prayer and worship are consistently shown as inviting, peaceful, and joyous. A small group sits in a living room singing "The Sweetest Name I Know," and they're practically floating away. Any viewer would get the impression that those who don't love Jesus and pray with others are missing one of life's great joys.
Realistically enough, there are a couple of negative figures: an overbearing pastoral counselor who announces "I consider myself a prophet," and the pastor's wife, who corrects Corinne a couple of times about proper feminine behavior. But even she is well-meaning, not vile. The tension here is not between Corinne and an oppressive church, not at all. The tension is within Corinne.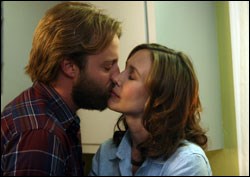 She can't make her faith work the way she thinks it should. She can't pray with relaxed whole-heartedness, like Annika does. She can't grab hold of the gift of tongues, though she stands in the bathroom coaching the Holy Spirit as you would a little league batter: "Come on Holy Spirit. Come on Holy Spirit," followed by a stuttering, but self-extinguishing, blast of consonants.
She can't hold still when her husband wants to kiss her—she can't keep herself from turning her lips away at the last moment. And, when tragedy strikes, she has a hard time fighting her way through to a survivor's faith.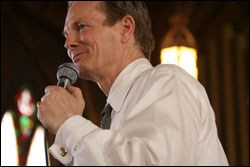 This is, to some extent, a movie about doubt, and that's a topic most Christians already know about. It's a commonplace around churches that "everybody has doubts," and knowing that it's common actually helps. So we support each other when we're struggling. We pray for each other. We just keep on showing up for prayer and worship, even when it seems God doesn't. Sometimes, we just have to wait it out.
So Christians will empathize with Corinne's struggle. When she pours out her heart to the church she says, "I need all this to be real but I don't know how to make it real," and the camera cuts away to show us the pastor nodding. It's a blessing to see that—to have permission to admit that.
Some reviewers have compared Higher Ground to Robert Duvall's The Apostle (1997), and it is a similarly positive portrayal of Southern evangelical faith. But before you organize a congregational outing with the church bus, note that R rating. Among the tools employed by this clever and sometimes very funny movie are flashes of raunchy humor that are definitely not for children, and probably not for every adult at your church either. Apart from that, this is a movie that will be touching for anyone who ever asked Jesus into his heart, and years later felt, as Corinne confesses, "I'm still waiting for him to make himself at home." Yet, she concludes, "I won't let go until he blesses me."
Talk About It
Discussion starters
Was there a time when you had a faith experience so strong that you thought you would never doubt again? What would that person want to tell you today?
When a character is disabled by illness, it troubles Corinne's faith. But in an earlier scene, when their bus plunges into a river, they attribute their rescue to God. Why weren't they angry that God let their bus go into the river? Or joyous that the disabled character was saved from death? Is there a pattern to our expectations of where God's responsibility begins or ends?
There's more accurate quoting of Scripture in this film than any for a long time. See if anyone in your group can name the scripture behind the fantasy moment when Corinne steps outside the church and is surrounded by all kinds of dogs. Next, see if anyone caught the pastor's flub of a familiar verse. [Answers: The pastoral counselor had prayed with Corinne, "Lord, it's either inside with you, or outside with the dogs" ("Blessed are those who wash their robes…that they may enter the city by the gates. Outside are the dogs and sorcerers and the sexually immoral and murderers and idolaters." Rev 22:14-15.) The pastor gives thanks that Annika was delivered from "the shadow of the valley of death," not "valley of the shadow" (Ps 23:4).]
The Family Corner
For parents to consider
Higher Ground is rated R for some language and sexual content. There's a scattering of F-bombs, close view of faces of a couple having sex, a fleeting view of a woman posing in lingerie, women talk about and sketch their husband's penises, and a fantasy sequence with foot-licking.
Copyright © 2011 Christianity Today. Click for reprint information.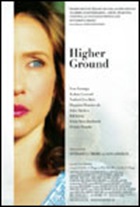 Browse All Movie Reviews By: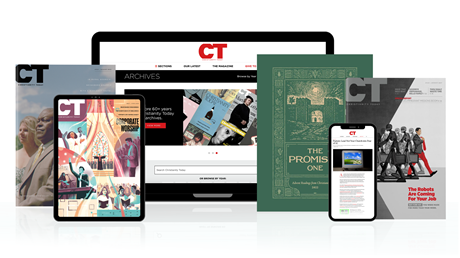 Annual & Monthly subscriptions available.
Print & Digital Issues of CT magazine
Complete access to every article on ChristianityToday.com
Unlimited access to 65+ years of CT's online archives
Member-only special issues
Subscribe
Higher Ground
Higher Ground