true
No romantic comedy that centers on a lengthy friendship between the sexes can escape that most obvious of comparisons—When Harry Met Sally, the reigning champion of the genre. The broad strokes of the classic and its successors is simple, and familiar: Boy and girl meet, probably right around a big milestone, like graduation; boy likes girl, or girl likes boy, or they like each other, and they probably kiss, but for whatever reason they don't become romantically involved; boy and girl bump into each other for years, forming a friendship of some kind, usually fondly combative; eventually, boy and girl recognize their feelings for one another and get together. Everyone's happy. And the world spins blithely on.
One Day is that story, but the lines are smudged a little. To begin with, Emma (Anne Hathaway) and Dexter (Jim Sturgess) have met before that fateful night, a booze-soaked evening after graduating from university, but Dexter, handsome and privileged, doesn't remember. Emma does: she's working-class girl from north London, bookish, a bit nerdy, who aspires to be a writer and has nursed a quiet crush on Dexter all these years. She, of course, reminds Dexter of the night he crashed her birthday party and vomited all over her.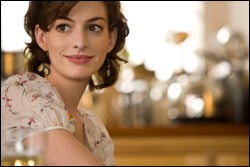 But, bygones: they spend a night and a day together—July 15, 1988—and for the next twenty years, we revisit their relationship on that same day. In twenty July 15ths, we watch Dexter and Emma's relationship growing, changing, and deepening into a true loving friendship, the kind that manages to hang on through various significant others and screw-ups and career changes, and even when someone is acting like a jerk. We laugh with them, and we feel pain with them as they pass out of starry-eyed youth into dead-end relationships and jobs and profound, searing loss.
This screenplay—written by David Nicholls, who wrote the novel on which it is based (as well as the novel and screenplay for another romantic comedy, Starter for Ten)—is often very funny, but it could have gone gimmicky and wildly sentimental. And there are a few times, especially toward the end, where it very nearly does.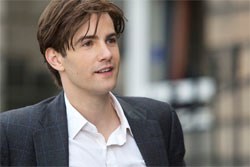 But One Day blessedly skirts Nicholas Sparks-ian territory and remains memorable. The sure hand of director Lone Scherfig certainly helps: she is no stranger to the complicated romance salted just enough to keep from drowning the audience in syrup—her previous films include the Danish Italian for Beginners and the highly-lauded An Education. Hathaway is just right as Emma, sweet and sarcastic and dorky and stunning by turns. Emma's not headstrong, but she's not a pushover either, and it's a pleasure to watch her blossom from gawky to gamine, despondent to determined. Sturgess (Across the Universe) is her match, growing the hard way into maturity.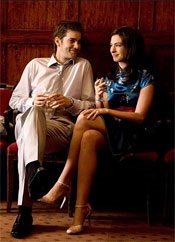 The film works because we believe this friendship. They would stay in touch despite their rocky beginnings. And when, years down the road, they've moved past their flirtations into barely even liking each other anymore, we can still believe it when they say, "I love you." And unlike When Harry Met Sally, this film has its happy ending, but then, like life itself, keeps on going. Even Emma and Dexter, with all their love and commitment, can't escape loss and disappointment.
One Day takes an innovative concept and lays it on top of a familiar plotline, and then turns the crank one more time, giving us not a story into which we escape, but one that reminds us of the sacrifice and truth and perseverance and suffering that sustains our friendships and commitments. Another important film released this year reminds us, "Unless you love, your life will flash before your eyes." One Day shows us what that love looks like.
Talk About It
Discussion starters
What do you think brought Emma and Dexter's friendship together? What kept it going?
Have you ever had a relationship like Emma and Dexter's? What happened when you ran into difficulties?
What do you think it means to love someone? What qualities belong to that love?
What qualities in 1 Corinthians 13 do you see in Emma and Dexter's relationship?
The Family Corner
For parents to consider
One Day is rated PG-13 for sexual content, partial nudity, language, some violence and substance abuse. Premarital/extramarital sex is implied several times, but not depicted graphically; Dexter and Emma go skinny dipping, though we don't see anything explicit, and they sleep in the same bed on a number of occasions. A character struggles with alcoholism and drug abuse. There are a number of profanities. An accidental death accounts for the violence.
Copyright © 2011 Christianity Today. Click for reprint information.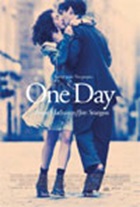 Browse All Movie Reviews By: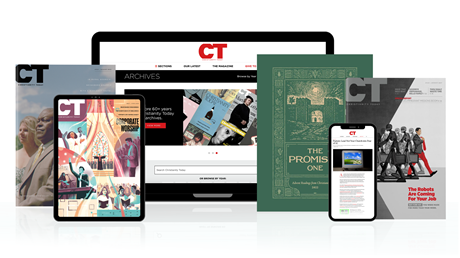 Annual & Monthly subscriptions available.
Print & Digital Issues of CT magazine
Complete access to every article on ChristianityToday.com
Unlimited access to 65+ years of CT's online archives
Member-only special issues
Subscribe
One Day
One Day