true
Everything inside of me wanted to like this prequel. I've always appreciated the original Planet of the Apes and the depth that Rod Serling brought to its script. Plus, I had more recently begun to think that James Franco, the star of the film, really knows how to act. The young actor showed signs of early De Niro for his Oscar-nominated performance in 127 Hours, making us laugh and cry in just one scene. Unfortunately, after watching Rise of the Planet of the Apes, my hopes remain unsatisfied. The prequel doesn't just fail as mindless entertainment with unconvincing visual effects, a clunky script, and a lackluster plot. It disrespects its predecessors by ignoring the philosophical implications that made their subject so pertinent.
Set in San Francisco, the new film centers on a young scientist named Will Rodman, played not so convincingly by Franco. Will is consumed by finding a cure for Alzheimer's disease because his father, Charles (an uninteresting John Lithgow), suffers from it. In doing this, he and his team of scientists test a special drug on apes that, as the opening sequence depicts, actually works.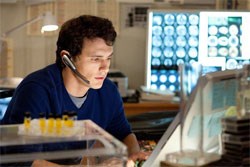 The project predictably comes to a quick end when an experiment goes wrong and leaves Will and his ailing father at home with a baby chimpanzee named Caesar, who turns out to have human-like intelligence inherited from his lab-raised mother. Will, growing more and more frustrated by his dad's condition, decides he has nothing to lose and proceeds to test the drug on Charles. And it works.
After this breakthrough, the film transitions from bland to cheesy within minutes. Will, Charles, and Caesar are one big happy family. They play together. They eat dinner together. Will and Caesar even communicate with each other through sign language. The scenes are clearly intended to depict their increasing bond, but they actually cause the relationship to seem more contrived, invoking substandard movies like Congo and Buddy.
Of course, all good things must come to an end. After an accident occurs with Will's disgruntled neighbor, Caesar finds himself locked up in a government-run facility with other apes. At first he doesn't fit in because of his intelligence and unfamiliarity with his kind, but eventually he takes over and builds an army of primates. This army, composed of gorillas, orangutans, and chimps, including one ineptly named Cornelius, plans to not just escape but to, well, take over the world.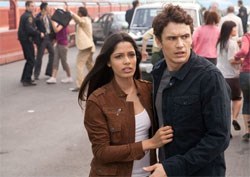 While the motivation of the apes, particularly Caesar, never becomes apparent, their breakout and attack on San Francisco lead to the action-packed finale promised in the trailer. This final thirty minutes also seems to be the very reason that director Rupert Wyatt made the film because he obviously put no effort into anything leading up to it. Alas, though, his anticipated climax does nothing innovative or thrilling. It merely follows a pack of angry apes as they run around the city and eventually make their way to, as predicted, the Golden Gate Bridge.
Wyatt shoots all of us this with no indication of space and scope. The battles move too quickly to see, and the ongoing close-ups put us, frustratingly, right in the midst of the action. This style of filming worked better in his first movie, The Escapist, an indie picture also about a prison break, but here it makes us feel like we're watching TV. As a result, the film never takes on the sort of epic quality that made the original Planet of the Apes boast of grandeur.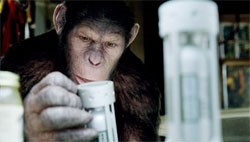 Meanwhile, the CGI and special effects look disappointingly unrealistic. But even if the visuals and the action sequences did succeed, there's still no reason to care about the film's main characters. Since Wyatt fails to develop these characters or the story around them, we don't care when Caesar gets locked up. We don't care when Charles falls ill. We don't care about Will's love interest with Caroline (Freida Pinto). We especially don't care about the outcome of the finale as the apes start taking innocent lives. It's the same reason that all the actors fall flat; none of them get the opportunity to embody a character that we find believable and sympathetic—not even Brian Cox, who plays a shady zookeeper, or Andy Serkis, who plays Caesar.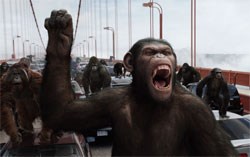 Despite the faulty plot, visuals, characters, and performances, though, the most disappointing part of Rise of the Planet of the Apes comes in its inability to look below the surface. Though still entertaining and not overly didactic, the original Planet of the Apes centered itself around some weighty ideas involving race, politics, and social class, which made its other key elements all the more fascinating. Those same ideas—undertones that challenge our worldviews and enhance our understanding of the human condition—exist somewhere in this prequel, but Wyatt doesn't really care. He's not concerned with making a film that honors the franchise he's borrowing from. He only cares about making his own, and a scene after the closing credits confirms this.
Talk About It
Discussion starters
Will and his team of scientists experiment on apes. Is there anything morally wrong with experimenting scientifically on animals? Does the Bible address this issue? Does our "dominion" over the animals allow for such experiments? Where does one draw the line between what's "necessary" and what's cruel?
By changing the DNA of humans and animals, could you say that Will is trying to play God? How do scientists in our current world do this? What are the consequences?
The film ends on an unexpected note. Did you find this ending hopeful or hopeless? Why do you think that so many films today end sadly? Why don't they end happily?
The Family Corner
For parents to consider
Rise of the Planet of the Apes is rated PG-13 for intense and frightening sequences of action and violence. The apes fight violently with one another in a scene set at the animal shelter. In the finale, the apes kill several humans, and many of the murders are explicitly violent and bloody. One character uses the Lord's name in vain during a heated moment.
Copyright © 2011 Christianity Today. Click for reprint information.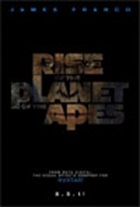 Browse All Movie Reviews By: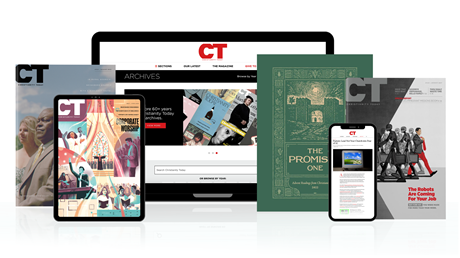 Annual & Monthly subscriptions available.
Print & Digital Issues of CT magazine
Complete access to every article on ChristianityToday.com
Unlimited access to 65+ years of CT's online archives
Member-only special issues
Subscribe
Rise of the Planet of the Apes
Rise of the Planet of the Apes